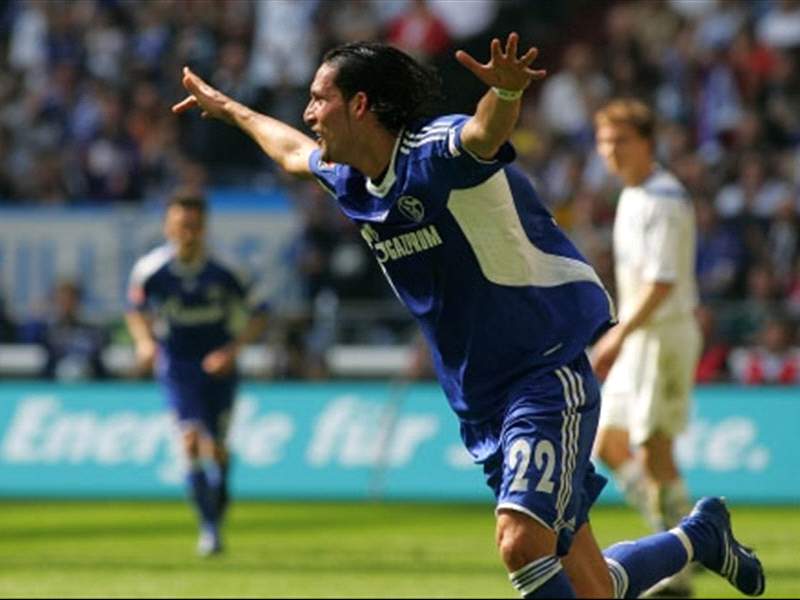 Friday
(all times local)
20:30 Bayer Leverkusen – Eintracht Frankfurt
Saturday
15:30 Bayern Munich – Schalke
15:30 Borussia M'gladbach – Stuttgart
15:30 Mainz– Nuernberg
15:30 Hoffenheim – Wolfsburg
15:30 Bochum – Freiburg
Sunday
15:30 Hannover – Hamburg
17:30 Hertha Berlin – Koeln
17:30 Werder Bremen – Borussia Dortmund
Bayer Leverkusen – Eintracht Frankfurt

It took only a draw last week for Leverkusen to pull a point clear of Hamburg and Bremen, but with the top of the table looking awfully congested, Juup Heynckes' side will need a win this week. The league leaders will again be without playmaker Renato Augusto, who was sent home to Brazil to recover from a troublesome knee injury. Toni Kroos, who scored a magnificent goal against Schalke in Matchday 11, will again deputise in midfield.
After losing twice to Bayern by an aggregate 6-1 margin, Frankfurt put their woes behind with a convincing 2-1 win over Bochum. This week's match with Leverkusen will always be tough, but if previous results (a 3-2 win in Bremen, a 1-1 draw with Hamburg) are any indicator, Frankfurt have what it takes to compete with the league's best.
Bayern Munich – Schalke

Bayern lost again to Bordeaux in midweek, and are now approaching a crisis. A match against Schalke is sure to be difficult, especially with Felix Magath on the opposing bench. Bayern look to get revenge on Magath, whose Wolfsburg side beat them 5-1 in April. The good news for Bayern is that Arjen Robben is likely to get more minutes this weekend than he has since returning from knee surgery, and he might even start.
In consecutive comeback draws with Hamburg and Leverkusen, Schalke have proven their legitimacy as title contenders. Felix Magath's side has made great improvements this year, and now face a terribly out-of-form Bayern at the Allianz Arena. Although Bayern are never to be underestimated, their home record is far from impressive, and Schalke cannot be considered underdogs.
Borussia M'gladbach – Stuttgart

Until a week ago, M'gladbach were staring relegation in the face, having taken a single point from six games. Everything changed last week, when an inspired M'gladbach side defied the odds, equalizing twice before coming up 3-2 winners in Hamburg. The Prussians will look to continue their success against a Stuttgart side that has struggled for form all season.
The crisis alarms have been sounding in Stuttgart for several weeks now, but perhaps the Swabians are finally showing signs of recovery. After drawing 1-1 with Bayern last week, Stuttgart drew 1-1 with Sevilla in the Champions League, and may have been unlucky not to have won.
Mainz– Nuernberg

Mainz, undefeated at home, face Nuernberg for the first time since the clubs were promoted. Of all the league's newcomers, Mainz have been most successful, and much credit for their eighth-place standing should be given to their excellent home record.
Nuernberg, by contrast, have been the poorest of the league's promoted sides, sporting a dreadful scoring record and a far from airtight defence. Having yet to win on the road, the Bavarians will want yo reverse their fortunes on Saturday.
Hoffenheim – Wolfsburg

Hoffe may have started the season in terrible form, but have since recovered and are now among the league's most impressive teams. Only Leverkusen have conceded fewer goals, and although the Ibisevic/Ba/Obasi attacking trident of last year has not been particularly prolific, new signing Maicosuel has been in scintillating form in recent weeks as Hoffe have risen to fifth place.
In the Champions League, Wolfsburg came out 3-0 victors away to Besiktas, and made great strides towards a knock-out round qualification. Despite draws in three of their last four league matches, Wolfsburg can never be underestimated. Striker Grafite is back following a brief vacation in Brazil, and will look to make an impression either as a starter or substitute.
Bochum – Freiburg

After a decent run of form, Bochum have since stumbled to 17th place, and have it all to do if they are to play another year in Germany's first division. Bochum are in a real goal-scoring rut and only Hertha has a worse defensive record. To their benefit, Bochum are considerably better at home than on the road, and perhaps Freiburg will be a good "rebound" team to face.
Of the three promoted cubs, Freiburg stand in the middle, in 13th place, and have exhibited the most volatile form. Their record of 23 goals conceded equals Bochum's, but Freiburg's offense has been more efficient. Mohamadou Idrissou and Ivica Banovic in particular have exhibited great form, and will look to replicate recent performances this Saturday.
Hannover – Hamburg

Hannover 's fine run of form continued last week with a narrow win over Koeln. Although some lucky refereeing calls have helped, nobody can deny that Hannover have exceeded expectations since losing strikers Mikael Forssell and Jan Schlaudraff to injuries. Hannover have lost just once at home, and will look for a good result against faltering Hamburg.
Just a few weeks ago, Hamburg had it all; an in-form team atop the league and possibly the league's best depth. Injuries have taken their toll, however, and on the heels of two consecutive draws, the northerners suffered their first defeat last Saturday. With tough fixtures against Hoffenheim, Mainz, and Bremen on the horizon, Hamburg cannot afford to slip up again.
Hertha Berlin – Koeln

After taking their first point in well over two months, Hertha appear no closer to solving their crisis woes than they were before a 0-0 draw with Wolfsburg. Last week's 2-0 loss in Dortmund saw the visitors comprehensively defeated. Given that their Bundesliga record is 1-1-9, the silver lining is that expectations are low, and things can hardly get worse.
In their second consecutive season in Germany's top tier, Koeln have left plenty to be desired, and now sit in 15th place. The good news is that, in their last four league games, the Rhine club have taken more than half their current point tally, inclusive of a 0-0 draw away to Bayern, and a 1-0 win over a rather impressive Mainz. A year ago, Koeln would have hoped for a draw with Hertha, but now, perhaps a win is on Zvonimir Soldo's mind.
Werder Bremen – Borussia Dortmund

Werder may have only salvaged a 2-2 draw late in last week's match with Nuernberg, but their record of 17 matches without a loss cannot be underestimated. Their unbeaten streak has brought Thomas Schaaf's side to second in the league, just a point behind Bayer Leverkusen. Dortmund are always tough to beat away, but if there is one side that can crack them, it's Werder.
Dortmund may not have lived up to their pre-season billing, but the Ruhr club have been resurgent in recent weeks, thanks to the fine form of striker Lucas Barrios. The Argentine has scored in four consecutive matches and will be eager to extend that streak against Werder. With just one away loss to date, Dortmund are one of the league's toughest teams to beat on the road, and will be disappointed not to take something from Sunday's match.
Clark Whitney, Goal.com