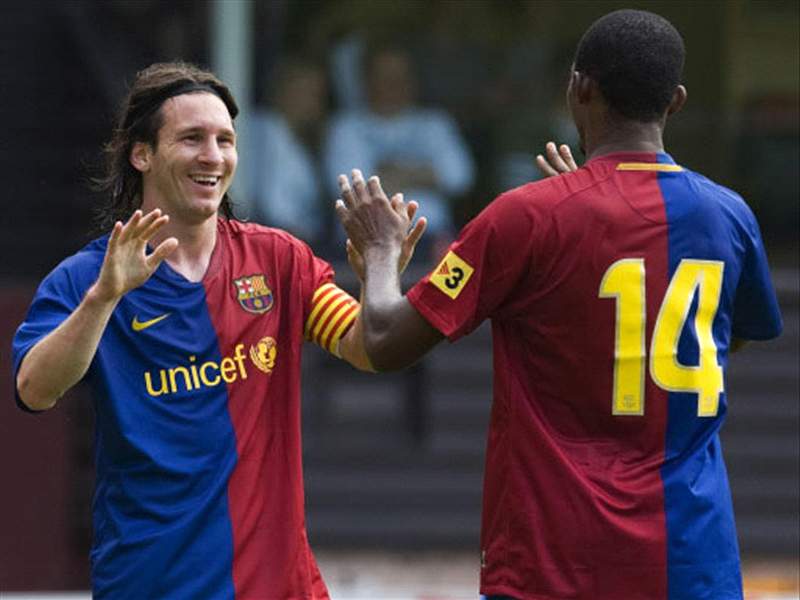 Traditionally the star player of the team wears the no. 10, and because Ronaldinho departed to AC Milan, Messi will assume the responsibility of wearing the jersey with that particular number.
Ronaldinho had worn that number for the past five seasons, but now it will be Messi's turn. The Argentine international is currently with his national team in China in preparation for the Olympic Games, and will miss Barca's UEFA Champions League qualifier later in the month.
The players' numbers were announced because they must be inscripted before the UEFA deadline prior to the Champions League preliminaries.
Messi's '19' will not be used next season, while the '20', which was used by Deco last season, goes to Brazilian winger Daniel Alves. Uruguayan defender Martin Caceres will wear the '2', Gerard Pique the '3', while Seydou Keita was given the '15' and Alexander Hleb the '21'.
As well as for Messi, there have been some other minor changes. Bojan will swap his '27' for the '11' and Gabriel Milito will wear the '18'.
List of Kit Numbers
1. Valdes
2. Martin Caceres
3. Pique
4. Marquez
5. Puyol
6. Xavi
7. Gudjohnsen
8. Iniesta
9. Eto'o
10. Messi
11. Bojan
13. Pinto
14. Henry
15. Keita
16. Sylvinho
18. Milito
20. Alves
21. Hleb
22. Abidal
24. Toure
25. Jorquera
26. Marc Crosas
27. Pedro
28. Sergi Busquets
29. Victor Sanchez
30. Victor Vazquez
31. Jeffren
Gregory Sica