Fifa has confirmed the presidential election will go ahead on Friday despite claiming it is the "damaged party" in which seven officials were arrested over corruption claims.
A string of surprise arrests were made ahead of the 65th Fifa Congress on Wednesday by Swiss legal authorities to extradite them to USA over allegations regarding the laundering of funds in excess of $100 million.
Those who were arrested by the Federal Office of Justice in Zurich included Concacaf president Jeffrey Webb, Fifa executive committee member Eduardo Li and outgoing Fifa vice-president Eugenio Figueredo
, though 14 were detained in Switzerland.
But Fifa's head of communications and public affairs Walter De Gregorio claimed the arrests actually assist Fifa and refuted reports president Sepp Blatter is trying to delay the election, insisting the world football governing body pushed for the legal action.
"Fifa initiated this process on November 18 last year," he told reporters. "Fifa lodged a legal complaint with the federal attorney that had to do with the 2018 and 2022 World Cups.
"While the timing may not obviously be the best, Fifa welcomes this process and Fifa cooperates fully with the attorney general of Switzerland and Federal Office of Justice and it corresponds to all requests for information.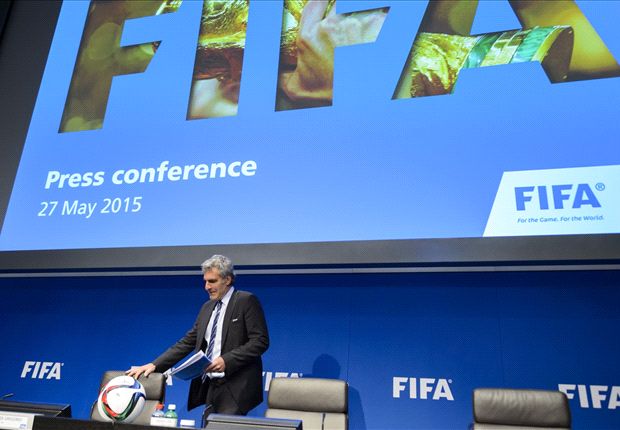 "I wish to repeat in this case Fifa is the damaged party, this leads to the fact that there were no searches within the offices of Fifa. The general secretary and the president [Blatter] are not involved.
"There was never such an idea to postpone either the congress or the election. One thing has nothing to do with the other so we go on with the agenda and the election will take place as planned."
Although De Gregorio was keen to stress in Wednesday's press conference that Fifa is satisfied with the "cleaning up" being done by legal authorities, he does not think it is fair to hold Blatter responsible for the actions of his Fifa colleagues.
"These arrests are not good in terms of image, it's not good in terms of reputation but in terms of cleaning up this is a good thing," he added. "It's not a nice day, we have other things to do, but the process goes on and we are looking forward to the results.
"The damaged part are all of us. Football fans for sure but the president is not involved, how can you say Blatter has to step down? He is the president, if he is re-elected then he is the president for the next four years.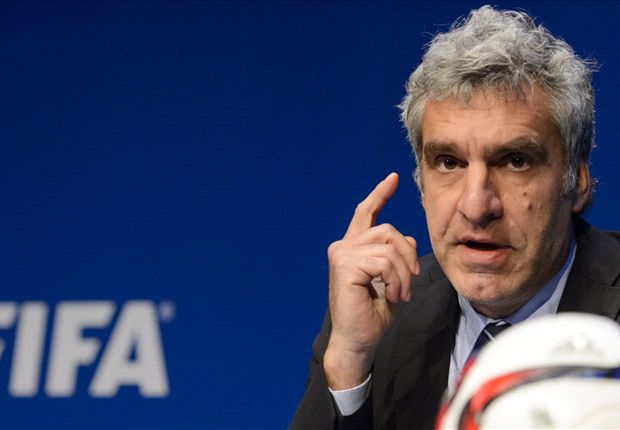 "Blatter is focused on the congress. The stress factor is higher today than it was yesterday but he is quite relaxed because he is not involved.
"He is not dancing in his office. He is just very calm, he is seeing what happens and is fully cooperative with everybody. He is not a really happy man today - saying 'oh wow, this is really cool' - but he knows this is the consequence of what we initiated. It's a surprise that it happened today but it's not a surprise that it happens."
Many football fans on Twitter have called for the allocation of World Cup 2018 and 2022 respectively to be reconsidered amid Swiss criminal proceedings, but Fifa is refusing to reconsider such a possibility despite the arrests.
"No," De Gregorio responded when asked the possibility of World Cup finals changing hands. "World Cup 2018 and 2022 will be played in Russia and Qatar.
"What do you expect from us? I mean, Russia and Qatar World Cups will be played. I won't go into speculation about what will happen after today."