The United States Department of Justice (DoJ) has confirmed that Concacaf president Jeffrey Webb is one of 14 people indicted for racketeering, fraud and money laundering following dawn raids in Switzerland.
An international law enforcement collaboration resulted in a 6am swoop at the Hotel Bauer au Lac in Zurich where officials were staying ahead of the 65th Fifa congress.

Police covered those detained with bed sheets as they led them to waiting cars, but now the DoJ has confirmed the names of those indicted along with information relating to the charges set to be brought against them.
"A 47-count indictment was unsealed early this morning in federal court in Brooklyn, New York, charging 14 defendants with racketeering, wire fraud and money laundering conspiracies, among other offenses, in connection with the defendants' participation in a 24-year scheme to enrich themselves through the corruption of international soccer. The guilty pleas of four individual defendants and two corporate defendants were also unsealed today," explained a DoJ release.
"The defendants charged in the indictment include high-ranking officials of Fifa, the organisation responsible for the regulation and promotion of soccer worldwide, as well as leading officials of other soccer governing bodies that operate under the Fifa umbrella. Jeffrey Webb and Jack Warner – the current and former presidents of Concacaf, the continental confederation under Fifa headquartered in the United States – are among the soccer officials charged with racketeering and bribery offenses."
FIFA officials were escorted out behind sheets at the Baur au Lac hotel in Zurich http://t.co/LCuxIyugth pic.twitter.com/1M8SuQMSUu

— The New York Times (@nytimes) May 27, 2015
The other leading figures to be indicted include former Conmebol president Nicolas Leoz, ex-CBF chief Jose Maria Marin and current Fifa big-wigs Edoardo Li, Julio Rocha and Eugenio Figueredo.
The world football governing body's president Sepp Blatter was not arrested, but Swiss police - working in tandem with the US Federal Office of Justice (FOJ) - revealed six figures are set to be questioned over fraud allegations following Wednesday's initial arrests.
"By order of the FOJ, six soccer officials were arrested in Zurich on Wednesday and detained pending extradition," a statement from Zurich police confirmed.
"The US authorities suspect them of having received bribes totalling in the millions of US dollars. The FOJ's arrest warrants were issued further to a request by the US authorities.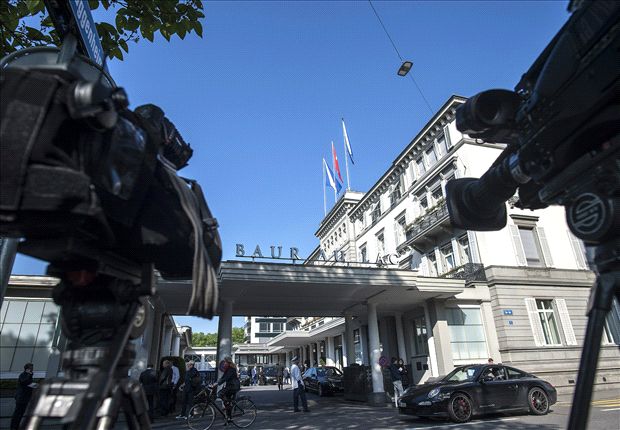 HOTEL CLAMPDOWN | Fifa officials at the Baur au Lac residence in Zurich were arrested on Wednesday
"The US Attorney's Office for the Eastern District of New York is investigating these individuals on suspicion of the acceptance of bribes and kick-backs between the early 1990s and the present day."
Zurich police confirmed the extradition process will begin immediately, subject to appeal.
The timing could not be more striking, with Blatter up for re-election as Fifa president on Friday - an election he is favourite to win against opponent Prince Ali bin al Hussein, who was reticent to pass judgement on the arrests.
"Today is a sad day for football," the Jordanian said. "Clearly this is a developing story, the details of which are still emerging. It would not be appropriate to comment further at this time."