---

EXCLUSIVE
By Christoph Koeckeis

---
Bayern Munich
striker
Robert Lewandowski
has called for comparisons with
Lionel Messi
and
Cristiano Ronaldo
to stop, insisting that the trio are different types of players.
Poland international Lewandowski has been in sensational form at the start of the 2015-16 campaign, scoring a phenomenal 12 goals in just eight Bundesliga matches, and 15 in his last seven in all competitions.
The 27-year-old's strike rate has seen him compared with La Liga's leading duo Messi and Ronaldo but Lewandowski is adamant they all play in different positions and that he is only focusing on making the most of the best moment in his career.
He told
Goal
: "They are different players, in different positions. Cristiano plays offensively on the left side, Messi centrally. I play up front. Of course I work back, take part in combinations and don't wait 90 minutes for the ball. I want to participate in the game.
"Often I am searching for space for 80 minutes. In the 81st the situation comes: I have space and can score the goal. Or I distract two defenders and create space for my colleagues. This is football, this is a team sport. We work together well, so it is easy for me.
"I am 27 and I want to be better every year, score more goals. My best time comes now. Hopefully it will carry on as long as possible! To be a striker, sometimes it is not easy. To reach the crucial situations, I have to fight in every game.
"My colleagues also take an important role. You are running, see the chance, but you do not get the ball. But you have to stay positive and concentrate fully."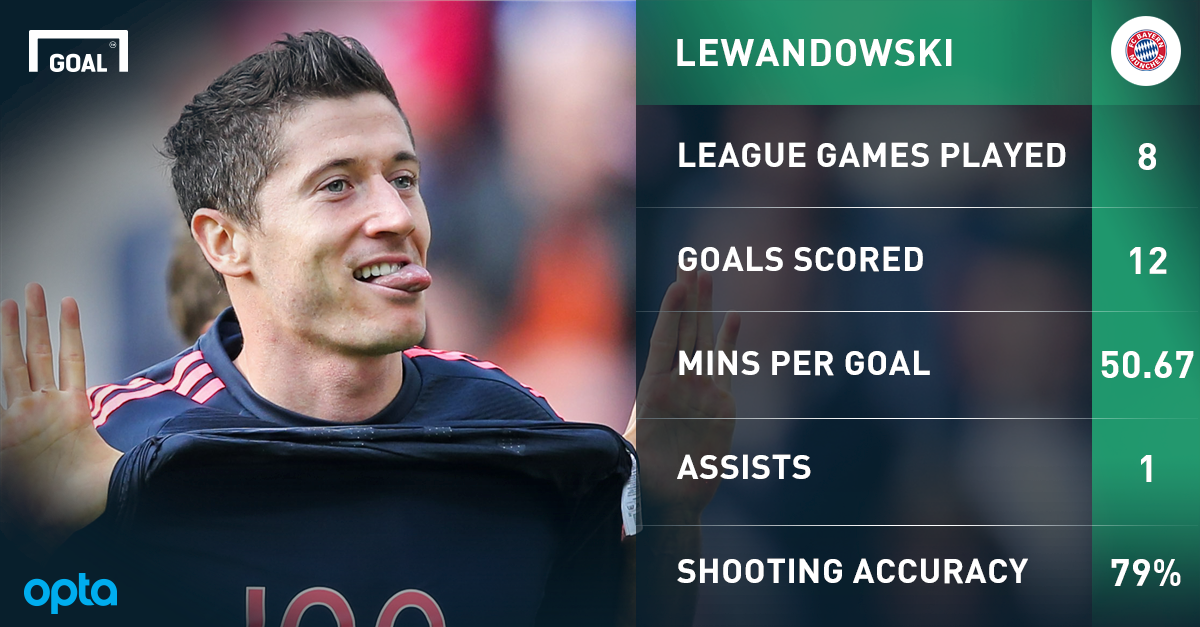 Lewandowski also provided an insight into what makes him one of the deadliest strikers in Europe and insists that it's too early to be thinking about winning the European Golden Shoe.
"I am working very hard, with the team, in every training session and after training. In my position I have to fight, also with the defenders. Of course, technique is above everything but strength is also important for me. I must always be on the move and fight for my place in the box, outside the box I must combine with my teammates.
"For me the work already starts during my leisure time. It's not just football, many other things play a big role. When I was 18, 19 years old I was very small and slim. I knew that it was not enough if I wanted to compete on an international level. That's why I had to work more than other talents.
"At the moment I am not thinking about it [winning the Golden Shoe]. If I have a chance at the end of the season to get it, I will deal with it then. Now it's still too early. The next match is the most important for me.
"As a striker you have to stay calm. I know exactly what I need to do, also with my regeneration. You are playing 60 games and then the European Championship in France; you need a lot of strength. Many small things are necessary to keep the best form."