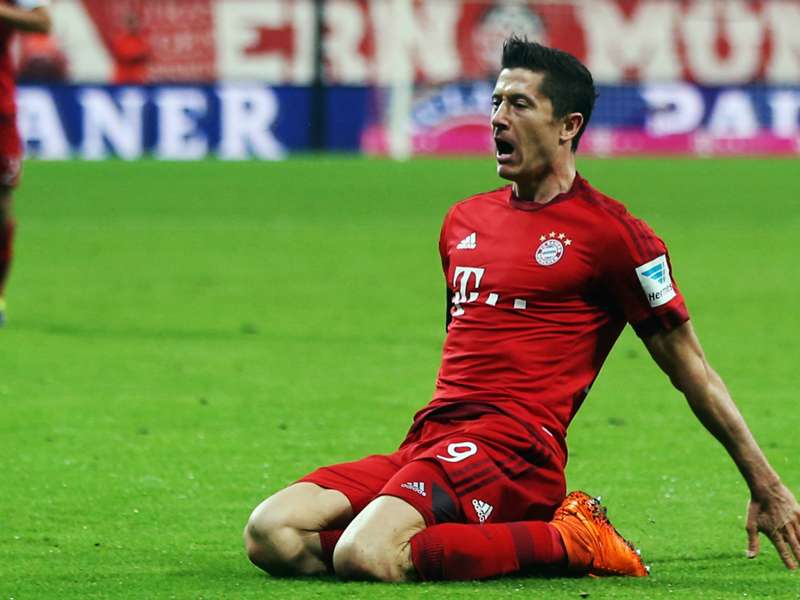 Robert Lewandowski
admits that he lost track of time on his way to scoring an unprecedented five goals in nine minutes in
Bayern Munich
's 5-1 victory over Bundesliga rivals
Wolfsburg
.
The Poland international was brought on for the second half by coach Pep Guardiola with the champions 1-0 down at the Allianz Arena and began his scoring run just seven minutes later before rounding off his landmark tally on the hour.
Lewandowski, who became the first substitute to score five times in Bundesliga history, says that he felt trigger-happy entering the field but never expected to net quite such a haul.
"I am very satisfied, that was incredible," he told
Sky
. "I just wanted to shoot, I didn't really think what will happen afterwards. After we'd been one down, we knew that we'd must improve and score twice at least... but five goals, that's incredible.
"I don't know how fast it was but it was fast. But when you're on pitch, you're just focused on football. After the fourth I looked at the scoreboard, it was the 60th minute and I only thought: 'Oooh.'
"Guardiola didn't need to say anything, I know what I have to do on the pitch but it was only one game; we have to win the next games as well. We are Bayern Munich."
Lewandowski's previous best was a four-goal performance against Real Madrid in 2013 when playing for Borussia Dortmund.
"It was the Champions League semi-final, a very important game. That was a very big event in my life," he recalled. "Now five goals, that is a great night for me - but there are many games to go, and it won't be that easy to score in every game."