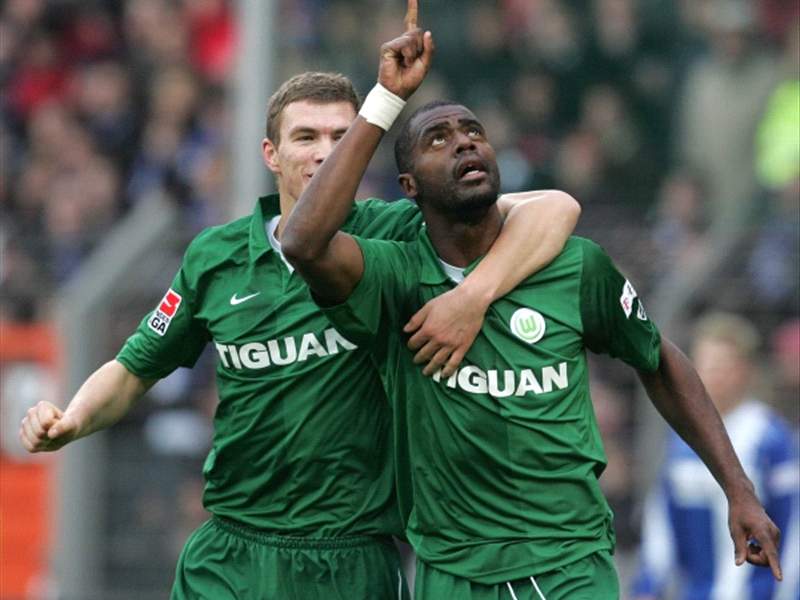 As
Wolfsburg coasted to a 5-1 win over Werder Bremen to lift the Bundesliga trophy
for the first time, the Lower Saxon club forever etched itself into German football history, being the first side to lift their inaugural championship this century.
That wasn't the only milestone reached. Forwards Grafite and Edin Dzeko officially became the deadliest duo of any Bundesliga season, racking up an incredible 54 goals between them in 34 games - an average of 1.59 goals per game from the forward line. That beats the old record of 1971-72 in which those two immortals, Gerd Muller and Uli Hoeness, hit 53 between them for Bayern Munich, Muller hitting 40 of those.
This partnership is a lot more balanced, and one can argue that it's just as efficient. The record was broken despite the fact that the two were not ever-present. In 29 starts, Dzeko managed his 26 goal haul - one every 100 minutes, give or take. Grafite's feat of 28 in 25 starts - well over a goal a game, needless to say - is arguably even more impressive.
Between the two of them they hit 66.25% of their side's goals this season, and did so in style. With explosive pace and a seemingly unstoppable sense of confidence, the goals rained in.
They especially did so in the second half of the season. The vast bulk of Dzeko's strikes have come since the end of the winter break, and the team as a whole have scored 18 times in their last five matches. Inevitably, the season ended with a five-goal rout of Bremen - Grafite netted twice, and Dzeko closed the season with a strike of his own.
Strength In Unity
The world has looked on as these two rack up the goals, but to get the real scoop on why they work so well together, we went to
Goal.com Germany
to ask Bundesliga expert
Torsten Pauly
to tell us more about this dynamic duo.
"It's key to remember that these two are both foreigners," he told us today.
"With that in mind, that they both play in a strange country, they have a great relationship on and off the pitch that sees them stick together.
"They both have pace and an eye for goal, but because they're so close they are not selfish. Always, always they look for their partner if they have a better chance of scoring.
"They're not like a target man and a penalty box striker partnership - instead they play a very similar game, so much so that it's identical sometimes. But because they work so well together they get great results."
Keeping It Up?


It goes without saying that the cream of European clubs are already looking seriously at the two forwards. Wolfsburg, while wealthy, are a modest outfit by European standards - they've already lost coach Felix Magath to struggling Schalke - and may struggle to hold on to their stars if serious bids come in.
But there is also the chance that the two may wish to stick around and finish what they've started. Both arrived in 2007, both will see their contracts end in 2011 - it may well be that the club persuades them, and they agree, to make a real tilt at the Champions League, given their automatic group stage entry for next year.
Whatever happens, though, it is plain to see that by virtue both of their style and their record-breaking feats, their partnership at Wolfsburg will not be forgotten in a hurry.
Perhaps, too, this partnership can serve as a lesson to those who only follow one of the 'big three' leagues that the Bundesliga, as well as other European competitions, have much to recommend them. Even if Wolfsburg can't hold on to them forever, there is no doubting that the boys in green have made history.
The fans in Germany, and indeed the world, will never forget Dzeko and Grafite. One feels that they will never forget Wolfsburg either. And the Bundesliga goalkeepers unfortuante enough to have met them certainly won't!
Ewan Macdonald, Goal.com