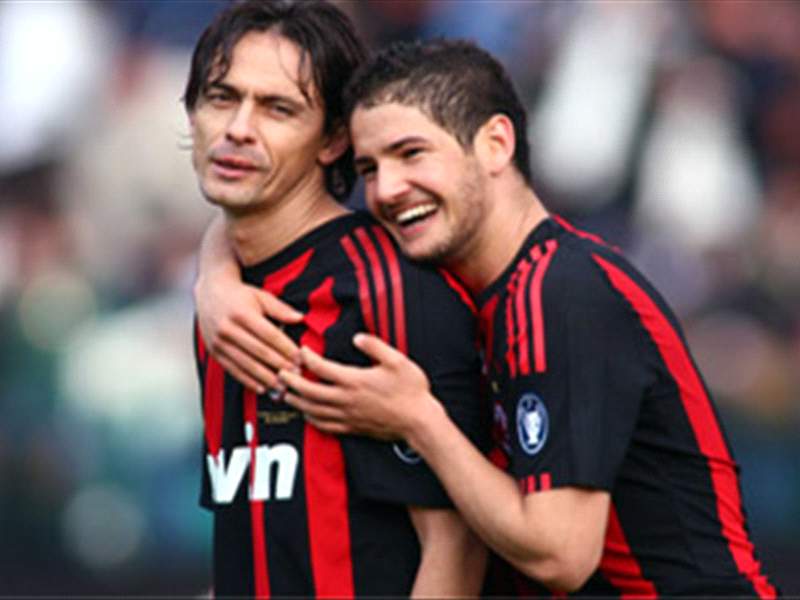 Kick-Off: Sunday, April 5 20:00 CET. San Siro, Milan
Repeat Of Last Season?
Just as it was towards the end of last season, Milan's only objective right now is to secure UEFA Champions League qualification, but via third place this time around instead of fourth like last season.
With Milan's closest challengers, Genoa, only four points behind in the Serie A table, they cannot afford to follow their usual trend of playing down to the level of their opponents, in this case Lecce.
Surely, Milan can't lose focus and drop points in the final run up of the season and fall out of the top four, can they? Well, they still leave points on the table from matches they should win, but they have improved recently despite the disappointing scoreless draw versus Napoli last time out on March 22.
The main part of this resurgence has to be the play of Filippo Inzaghi. Last season, he was amazingly consistent in scoring goals in the final months of the season. If you go by the two matches played before the scoreless draw against Napoli, then it appears as though Inzaghi is doing it again. A hat-trick at home versus Atalanta was followed seven days later by a double in the 5-1 thrashing of Siena.
Mission Impossible?
For nineteenth-placed Lecce, they know what must be done ― go out and try to get points from matches they will probably lose. Of course, that is easier said than done, but they have no other choice.
While their offence has not been very good, their defence has been atrocious. Along with bottom-side Reggina, they have conceded the most goals of any team in the league, with the total currently at 48 and sure to grow higher. In seven matches since their last victory on February 1, a 2-1 away win over Siena, Lecce have allowed in sixteen goals while scoring just four.
In order to get the points total needed to stay up in Serie A for another season they probably need to win a match at some point, as single points from draws may not be enough.
Following the international break, striker Jose Castillo recently outlined his club's current situation, and this match, when he said, "This league break helped us to work more. The morale of the squad is good."
Addressing this current match, he said, "Games like the one awaiting us on Sunday give you particular sensations. It's always exciting playing in a stadium like the one in Milan.
"We shall face an important game and the motivations in this encounter are a lot; I think and hope that we will be able to do well.
"In my opinion Milan are a team who should be attacked, even though we shall have to be careful with their ball possession."
FORM GUIDE
Milan
26/02 (UEFA Cup): Milan 2-2 Werder Bremen
01/03 (Serie A): Sampdoria 2-1 Milan
08/03 (Serie A): Milan 3-0 Atalanta
15/03 (Serie A): Siena 1-5 Milan
22/03 (Serie A): Napoli 0-0 Milan
Lecce
22/02 (Serie A): Lecce 0-2 Lazio
01/03 (Serie A): Udinese 2-0 Lecce
08/03 (Serie A): Lecce 0-0 Reggina
15/03 (Serie A): Palermo 5-2 Lecce
22/03 (Serie A): Lecce 2-2 Atalanta
TEAM NEWS
Milan
Alessandro Nesta, Kakha Kaladze and Gennaro Gattuso are out for the season, and Marco Borriello is doubtful to play the rest of the way, though he maintains that he will be able to play in May. Kaka is not certain to start despite his showing against Peru midweek. Daniele Bonera is not entirely fit and could miss out as well. Goalkeeper Christian Abbiati is out for the rest of the season, having recently undergone knee ligament surgery.
Massimo Ambrosini returns from suspension, while Marek Jankulovski faces a one-match suspension if he is cautioned.
Possible Formation (4-3-1-2): Dida; Zambrotta, Favalli, Maldini, Jankulovski; Beckham, Pirlo, Ambrosini; Seedorf; Pato, Inzaghi
Lecce
Young Italian striker Daniele Cacia is the only player sure to miss out through injury.
However, Lecce's situation could be made much worse for the next match, as they have eight players sitting one yellow card from a suspension. They are Papa Waigo, Fabiano, Raffaele Schiavi, Tiziano Polenghi, Alberto Giuliatto, Gianni Munari, Guillermo Giacomazzi and starting goalkeeper Francesco Benussi.
Possible Formation (4-4-1-1): Benussi; Polenghi, Stendardo, Fabiano, Esposito; Angelo, Zanchetta, Edinho, Antunes; Caserta, Tiribocchi
PLAYERS TO WATCH
Milan
It will be interesting to see how Alexandre Pato and Filippo Inzaghi mesh, as they have played well recently but don't necessarily complement each other's play. With nine matches remaining in the season, they will have about two months to develop something to keep the club from buying a top striker in the summer.
Lecce
Number ten Fabio Caserta will pull the strings behind lone striker Simone Tiribocchi. Striker Jose Castillo spoke this week about his side needing to attack Milan, so if he gets a chance to come off the bench he had better back up his words with good play.
PREDICTION
Lecce are ice cold at the moment, and will be lucky to get anything from this match. If they do indeed come out with the mindset to attack, however, they could push Milan back a bit. Still, Milan should win this match comfortably.
Milan 2-0 Lecce
Joel Whitehead, Goal.com