By Brian Oliver
Barely a minute into
Park Ji-Sung
's landmark appearance in the 2009 Champions League final, half the population of Korea must have been thinking: 'He's going to score!'
Victor Valdes of Barcelona could not hold Cristiano Ronaldo's free kick. He spilled the ball into the path of Park and the Korean looked sure to knock it into an empty net. But Gerard Pique reacted quicker and his challenge denied Park the glory of a goal that would have gone down as one of the most famous moments in Asian football history.
But at least he was there, on the pitch - as he would be again when the two teams met in 2011 at Wembley. That in itself was a unique achievement, as no Asian player before or since has appeared in the Champions League final.
Park had been left out of Manchester United's squad for the 2008 victory against Chelsea in Moscow – "one of the hardest decisions I ever made" said manager Sir Alex Ferguson. But his non-stop performances, especially in big games, earned him a place in the starting line-up in Rome's Stadio Olimpico a year later.
Park was revered in Korea for his match-winning efforts in the 2002 World Cup, and was a great favourite of United fans. He was also highly respected by his peers, among them Andrea Pirlo. In 2013, a year after Park had left United, Pirlo looked back in his autobiography at two occasions when he had been marked out of the game by Park. "He must have been the first nuclear-powered South Korean in history, in the sense that he rushed about the pitch at the speed of an electron," wrote Pirlo.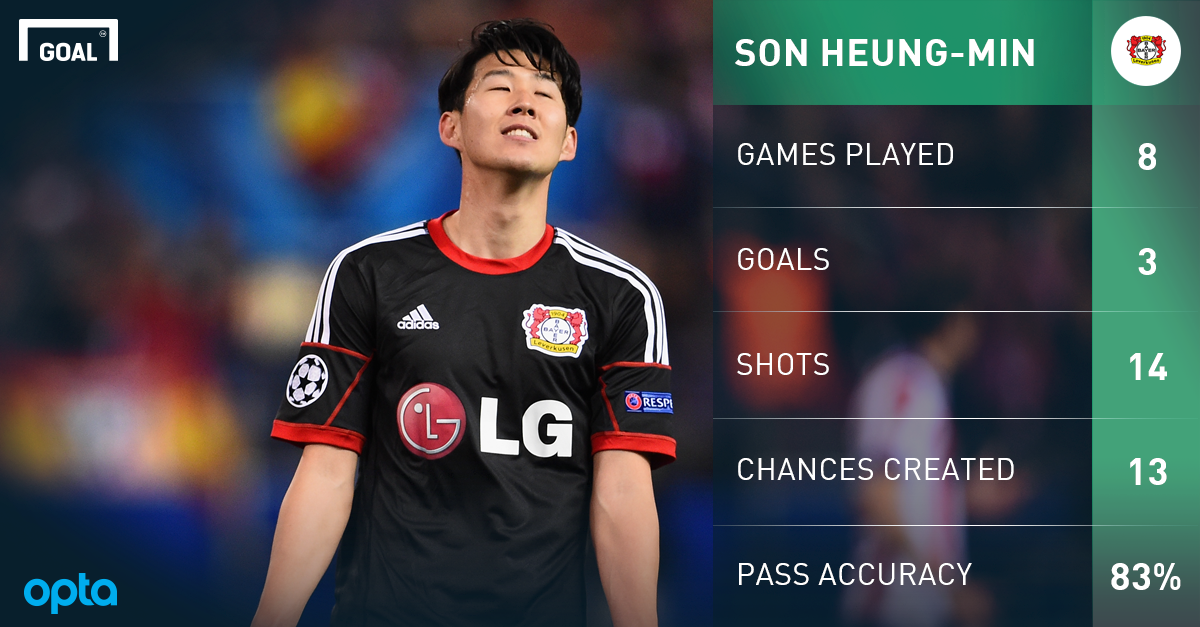 Son Heung-Min's 2014-15 Champions League stats
So, who will be the next Park Ji-Sung, the next Asian to make his mark in the final of the world's foremost club competition? Our experts at Goal's nine editions throughout Asia were asked to put forward suggestions. From the 70-plus Asians playing in European leagues, one name stands out from all the others, and it is another Korean: Son Heung-Min.
The 22-year-old Bayer Leverkusen forward, who became a Manchester United fan while his hero Park played at Old Trafford, has been nicknamed 'Sonaldo'. He has scored 14 times for Leverkusen and is very highly rated. Liverpool and Tottenham are said to be keen on signing him but if he is to match Park's achievement he may have to aim higher.
Son is speedy, talented and adventurous. He is making his name in Germany, just like the great Korean star of the 1980s, Cha Bum-Kun. Cha was the first Asian to play in any European final when he helped Eintracht Frankfurt to win the 1980 Uefa Cup. Eight years later he won it again, scoring a famous header to make the aggregate score 3-3 as Leverkusen rallied from 3-0 down in the second half of the second leg of the final. They beat Espanyol on penalties.
Another talented Korean is Ki Sung-Yueng, the midfielder who was voted Swansea's player of the year. Looking further into the future, there are three Korean teenagers on Barcelona's books: Lee Seung-Woo, Baek Seung-Ho, and Jang Gyeol-Hee.
From Japan, Shinji Kagawa is back at Dortmund after a spell at Manchester United but will not be playing Champions League football next season. He is 26 and may get another chance. Yoshinori Muto was wanted by Chelsea but opted for Mainz and the 22-year-old forward, who completed an economics degree before making his move, is one for the future. Yuto Nagatomo, Inter's 28-year-old left-back, is another talent.
Takashi Usami went to Bayern Munich as a teenager but never settled and returned to Japan, where he has been in good form for Gamba Osaka. Home comforts, and the language barrier, are among the reasons why more top Asians have not moved to Europe according to one the continent's most respected figures in football.
"After Park Ji-Sung I am disappointed that we have not seen many more Asians at the top of European football," said Peter Velappan, who was the general secretary of the Asian Football Confederation, where he worked for more than 40 years.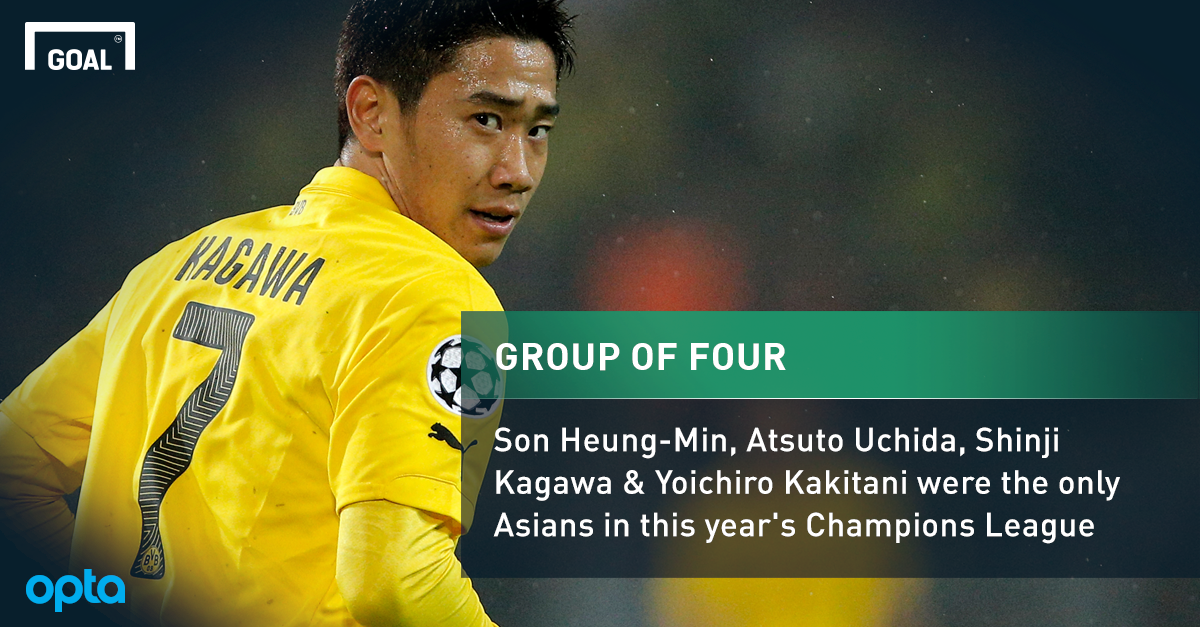 "A few went and came back, and there are plenty more who are good enough to play in Europe's top leagues, but Asian players by nature are very home-loving. They earn good salaries in the professional leagues here, there are language problems, and the culture is completely different.
"South Americans and Africans are more adventurous, but I'm sure we will see more Asians moving in future. China is beginning to produce players, the top European clubs are setting up academies in India and China, and Indonesia might be one to watch in future. Their league structure is not great but their players are technically very sound, a bit like South Americans."
Chinese hopes are pinned on the 24-year-old attacking midfielder Zhang Xizhe, whose first press conference when he signed for Wolfsburg last December was watched by 40 million viewers when it was broadcast live on Chinese state television. He has yet to break into the team.
Omar Abdulrahman, the United Arab Emirates playmaker, helps to set up goals for Asamoah Gyan at Al Ain and seems set to remain in the Gulf.
Another contender is 'the Iranian Messi' - Sardar Azmoun, a 20-year-old forward who is on loan at FC Rostov from Rubin Kazan, and who earned glowing praise from Carlos Queiroz, the Iran coach. Iran came close before; Ali Daei was on the bench for Bayern Munich in the 1999 final, but never got on to the pitch.