---

COMMENT
---
He has spent nine years with Napoli during one of the club's most sustained periods of success in history but Marek Hamsik still doesn't get looked upon by the world beyond with the kind of reverence as the likes of Ezequiel Lavezzi, Edinson Cavani and Gonzalo Higuain have at various times.
Perhaps it has been the differing nature of his impact which has left him being viewed as a second-class citizen in the company of a trio of players who have on occasion looked like world-beaters in the famous sky blue shirt.
But at the age of 28, Hamsik arrives at Euro 2016 with the chance to elevate his name high beyond his contemporaries as a player of serious international quality. While Slovakia would have to go some to cause serious ructions in France, a repeat of their commendable 2010 World Cup campaign is well within reach at the very least if Hamsik fires.
With his extravagant Mohican and trendy specs, Hamsik certainly grabs attention from football fashionistas, but his quality can often be overlooked. Having notched up 87 caps to date he has also become the central focus of a Slovakia side playing their best football since upsetting world champions Italy to progress beyond the group stage at their first ever finals tournament in South Africa six years ago.
But a string of apparent transfer possibilities, including strong links to Milan during their pursuit of a Mr X in 2011, have failed to materialise. The result has been that Hamsik has been largely ignored outside of Naples, no matter how well he has managed to perform during a stretch which has seen them record podium finishes four times in six seasons.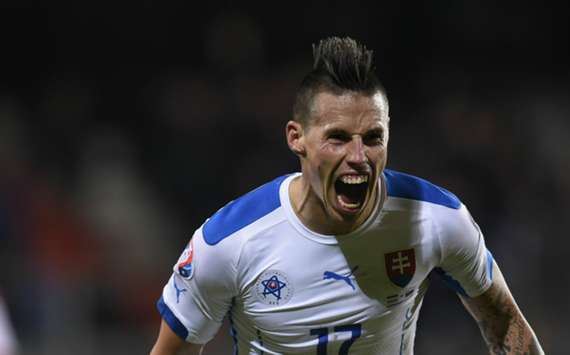 Not since the days of Diego Maradona have Napoli known such consistent success, and while nobody can claim to be held in the same regard as the Argentine legend around Campagna, Hamsik certainly belongs in the bracket just behind him alongside names such as Cavani, Higuain, Careca, Ciro Ferrara and Bruno Giordano.
Hamsik himself naturally played it cool when judging his abilities in a pre-match press conference on Friday ahead of Slovakia's Group B opener against Wales. It is a match which has been billed as Gareth Bale versus Marek Hamsik, but the midfielder was having none of it.
"I think Gareth is one of the best players in the world. I wouldn't like to compare myself to him," he told the media.
"It won't be a match between Gareth Bale and Marek Hamsik because football is a team sport. It is about team spirit and a good team performance."
But, as Robert Vittek showed in scoring four of Slovakia's five goals at the World Cup in 2010, a starring role in a major tournament can make you a national legend forever.
"I think if I could score as many goals as Robert Vittek in South Africa I'd be really happy," Hamsik added on Friday. "But whether it's myself or other players, it doesn't matter. We have to keep our feet on the ground, and it's not about myself. It's a team performance, but if I can contribute that will be great."
With a major contribution in a commendable Slovakia run, Hamsik would have every right to be mentioned in the same breath as Bale. His place amongst the pantheon of countless Napoli heroes would also be secured in Naples and beyond.