---

COMMENT By Sam Lee

---
He may only be a 20-year-old (and not a money-grabbing one), but there have already been plenty of chapters in the life of
Raheem Sterling
. Since moving from Jamaica to London at seven, he signed for
Liverpool
at 15, made his senior debut at 17, played in a World Cup in Brazil at 19 and became the most expensive English player in history just this summer with a move to
Manchester City
. Not to mention the laughing gas, there's enough to write a book already.
Sterling hasn't yet joined the many young footballers to have put their name to an autobiography – Wayne Rooney's first was published before his 21st birthday – but he did feel the need to set the record straight last week, in his first serious interview since moving to Manchester City in a deal that could be worth £49 million.
The winger, who was furiously insulted by Liverpool fans on the final day of last season and widely booed during an England friendly in Dublin during the summer, insisted that his exit from Anfield was not as rancorous as had been reported. He also stressed that, almost a year ago to the day, he had not told England manager Roy Hodgson that he was too tired to play for his country.
Sterling was widely derided when Hodgson sat before the press and revealed that the youngster, who had played only 45 minutes, would not feature in the next match against Estonia because he had been in "quite a difficult game" against San Marino. Sterling had said, apparently, 'Look, I really am feeling a little tired, I am not in my best form at the moment because I am feeling a bit tired.' Hodgson perhaps thought he was praising the youngster's honesty, but it did him no favours.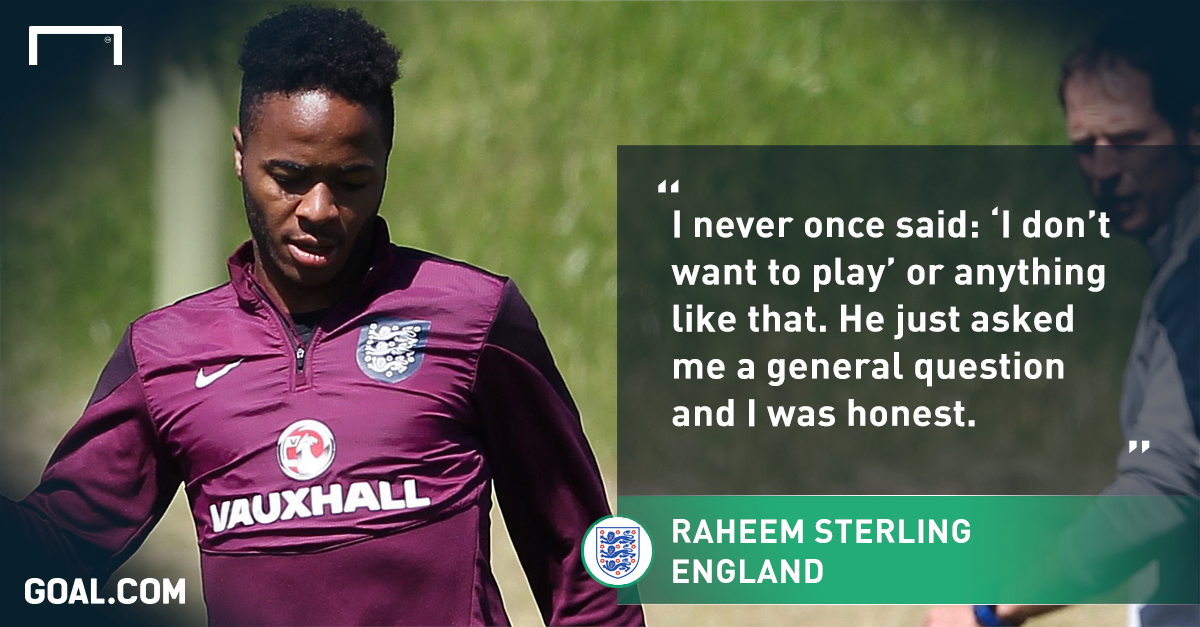 The winger now says he was misrepresented and that the incident was "so crazy", but in truth his form has struggled ever since that conversation with Hodgson last October. In among all the unjustified venom spat his way during the protracted move away from Liverpool, it was pointed out that he had not actually played well enough to perhaps justify the kind of six-figure sums he was turning down.
With Luis Suarez gone and Daniel Sturridge injured, Sterling struggled to recreate the same form as he enjoyed during the Reds' near miss in 2013-14. Regardless, he commanded a massive fee when he did get his move to the Etihad - one of the most controversial in Premier League history - but his start to life in Manchester has also been mixed.
In the first few weeks of the season he was praised for helping to bring balance to Manuel Pellegrini's team. With Jesus Navas over on the right, the sheer pace on City's flanks pushed opposing wingers and full-backs deeper and deeper. Both City widemen provided plenty of cover for their own defenders, with Bacary Sagna and Aleksandar Kolarov, in particular, thriving.
One moment during the first half against Watford in August, when he sprinted back to halt a dangerous counter-attack from his own side's corner and was warmly and roundly applauded by the home fans, hinted at just how appreciated his early efforts had been.
But as City's own form took a dip, so did Sterling's. The link-up with Kolarov, which had paid dividends in the first few weeks, seems to have broken down and both men have come in for criticism from supporters, particularly after the thrashing at Spurs when both had torrid afternoons.
But even then the England man was afforded 90 minutes. A week beforehand he was taken off just past the hour mark as he toiled against West Ham. With the Hammers camped back in their box defending their lead, Sterling had no space to deploy his lightening pace.
More worryingly, he was hooked off at half-time on Saturday. Whereas against Watford, when he was switched to a central role at the break and immediately scored the breakthrough goal, he was sacrificed for Jesus Navas against the Magpies.
With City all at sea in a chaotic first half - in which the whole defence had had shockers - he made very little impact whatsoever and failed to get the better of Daryl Janmaat even once. His exit allowed Kevin De Bruyne to move to the left, Silva to the middle and Navas to hug the right-hand touchline. It brought back that balance that City had enjoyed in the opening matches.
Silva had toiled on the right in the first half but did conjure up the equaliser in his only telling contribution. After the break both he and De Bruyne assisted the rampant Sergio Aguero twice each in the space of 17 minutes, while the Belgian scored himself from a Navas cross.
While De Bruyne can play in any of the advanced midfield positions, the problem for Sterling is that the former Wolfsburg man has looked increasingly dangerous on the left. That would also allow Silva to remain central, where he does his best work.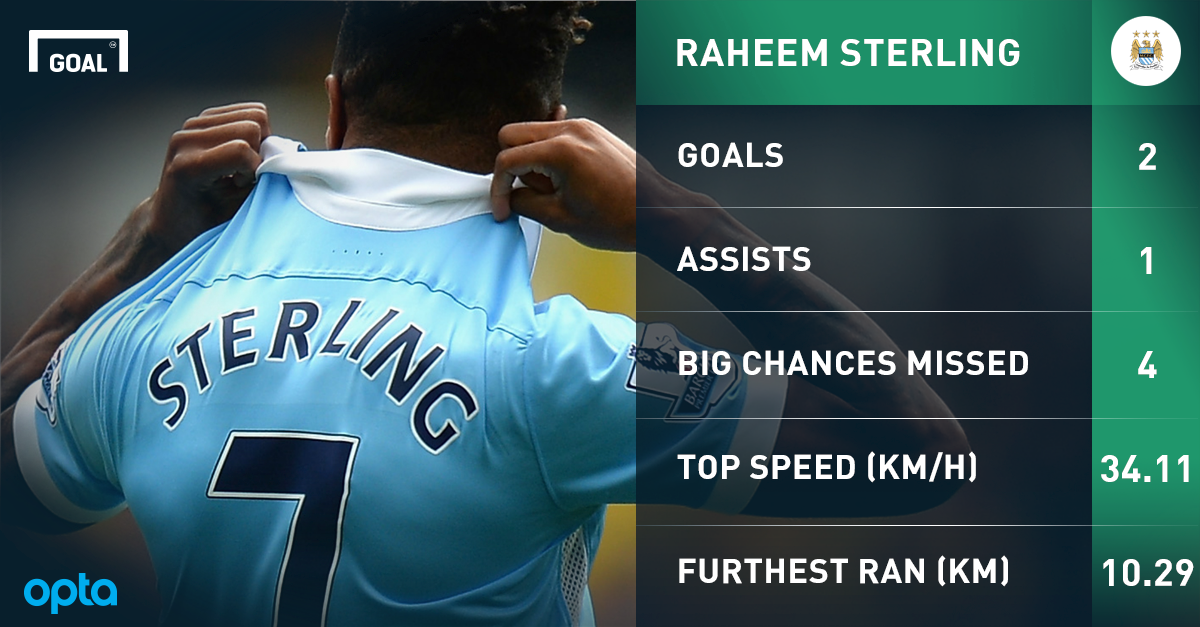 Gone in 60 seconds!Kevin De Bruyne versus Raheem Sterling

Posted by Sam Lee on Tuesday, 6 October 2015
In that same interview last weekend he also admitted he has been shocked by the quality and speed of training at City compared to Liverpool. A period of adjustment is inevitable, but he could find his place on the left under threat.
Given he often played on the right during his time at Anfield, he may be asked to switch flanks by Pellegrini. He may even now profit from Sergio Aguero's injury enforced absence. He has thrived in several positions already in his fledgling career, for both club and country, and it is that versatility which could come in handy as he looks to impose himself on this City team.
One of Sterling's many tattoos depicts a boy in a No.10 shirt with a ball under his arm in the shadows of Wembley. As a youngster growing up in Brent, he would dream of playing at the national stadium.
On Friday night he will be back in his old manor to face Estonia, the same opponents he was deemed too tired to face 12 months ago. Both on and off the pitch it has been an eventful year since then; now is the perfect opportunity to close a turbulent chapter and embark on a new one for both Manchester City and England.