By Paul Macdonald
The fact that Ronaldo has been inducted into the Goal Hall of Fame is testament to his impact on a generation of football fans. But it's even more incredible considering that the great Brazilian's career will always be tinged by a sense of what might have been.
What if the knee injuries had been avoided? What if he hadn't suffered a fit on the day of the World Cup final? And what if he showed the level of dedication and determination to hone his craft as some of his peers?
The answer may well be that there would be no argument as to the greatest player of all time. Even with all that additional baggage,
O Fenomeno
inspired a generation, from Zlatan Ibrahimovic to Lionel Messi, Karim Benzema to Neymar.
Indeed, Ibrahimovic captured the feelings of many when he said: "No one has influenced both football and the players who emerged as Ronaldo.
"He was as [good as] Pele. There was nobody like him. For me, Ronaldo is the greatest."
What was it about this robust, buck-toothed figure that set him apart? There are many, many players who were considered extraordinary, decorated with every accolade that it's possible to win in the game - many more so than Ronaldo, who was never able to claim the Champions League in his career.
Former team-mate Zinedine Zidane, another Goal Hall of Fame inductee, provides clarity: "Every day I trained with him, I saw something different, something new, something beautiful. That's what makes the difference between a very good player, and the exceptional."
In the case of Ronaldo, there was imbued genius and, particularly in his early years, a raw, unrestrained talent. The ability to bulldozer through defences, keep control of the ball and retain the composure to defeat the goalkeeper was done with striking regularity. From his breakthrough at Cruzeiro, to his move to the Netherlands with PSV, and then onto his devastating season with Barcelona in 1996-97, he was the identikit modern forward.
One of his first coaches, Roberto Gaglianone, was prescient in his view that Ronaldo would one day lead Brazil's forward line, reminiscing:"In December 1992 I said, 'I've sent a boy to Cruzeiro who is going to be Brazil's next striker. He will play in the 1998 World Cup.' They asked the name and I said 'Ronaldo'."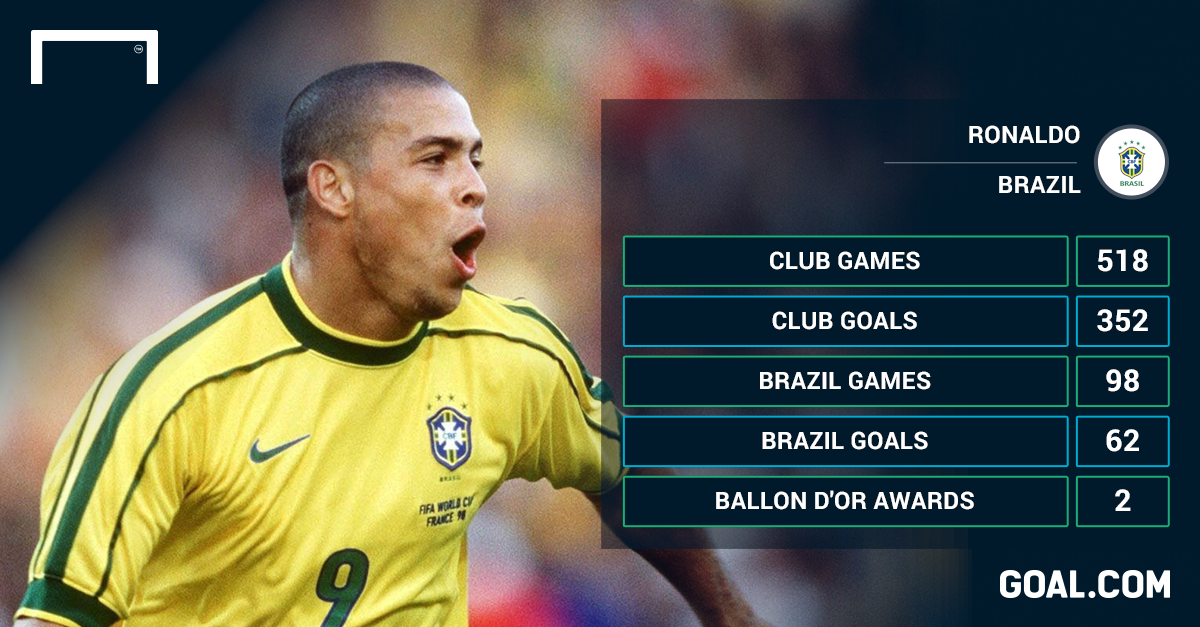 Upon reaching Spain, no one had seen the likes of him. Forty-seven goals in 49 appearances secured the Cup Winners' Cup and the Copa del Rey for what was a modest Barcelona side. Romario had blazed the trail before him, but he had Hristo Stoichkov in his pomp and Michael Laudrup. Ronaldo destroyed the league almost single-handedly. If ever a goal typified all of a player's attributes, it is his mesmerising dribble through Compostela, slaloming past six defenders before slotting home and leaving everyone including coach Sir Bobby Robson with hands on head in disbelief. That's the effect he could have on those who watched him.
His switch from Barcelona to Inter is the moment where Ronaldo's career branched off in a different direction, and probably not for the better. The move itself was somewhat acrimonious, Barca insisting he would stay, while Ronaldo felt that he wasn't being sufficiently remunerated for carrying the team. Inter swooped and his first two years in Italy were largely a success; he collected the first of his two Ballons d'Or in 1997 and guided the Italian side to a Uefa Cup triumph over Lazio the following year.
But in 1999 the knee problems began, and the rushed comebacks only helped exacerbate the injury. He barely played for three years in the build-up to the 2002 World Cup, and at the age of 25 many had totally written off his career.
As such, perhaps it was his triumphant return to form in Japan & South Korea that has helped to solidify Ronaldo's position in the good graces of many casual supporters and in the pantheon of greats. It wasn't just his brilliance on the pitch and the clinical nature of his finishing, even in the denouement of his career that enthralled so many; it was how he strived to come back from the brink, to ensure he would have his defining moment in the face of adversity. It was an achievement that everyone could relate to and that has helped to amplify Ronaldo's brilliance above many of his contemporaries.
His eight goals in the tournament, including two in the final against Germany, were a fitting way to eliminate the memories of the tumultuous preceding years.
Germany international Dietmar Hamann faced Ronaldo in that match and he told
Goal
: "I don't even think he was 100 per cent fit in that tournament, but he still scored eight goals. He took centre-forward play to a new level. When he did stepovers at full pace, I had never seen that before. Once he started running at people, that was it - the only way to stop him was to foul him.
"At the time he was the best player [in the world] and he probably still ranks among the top five players of all time."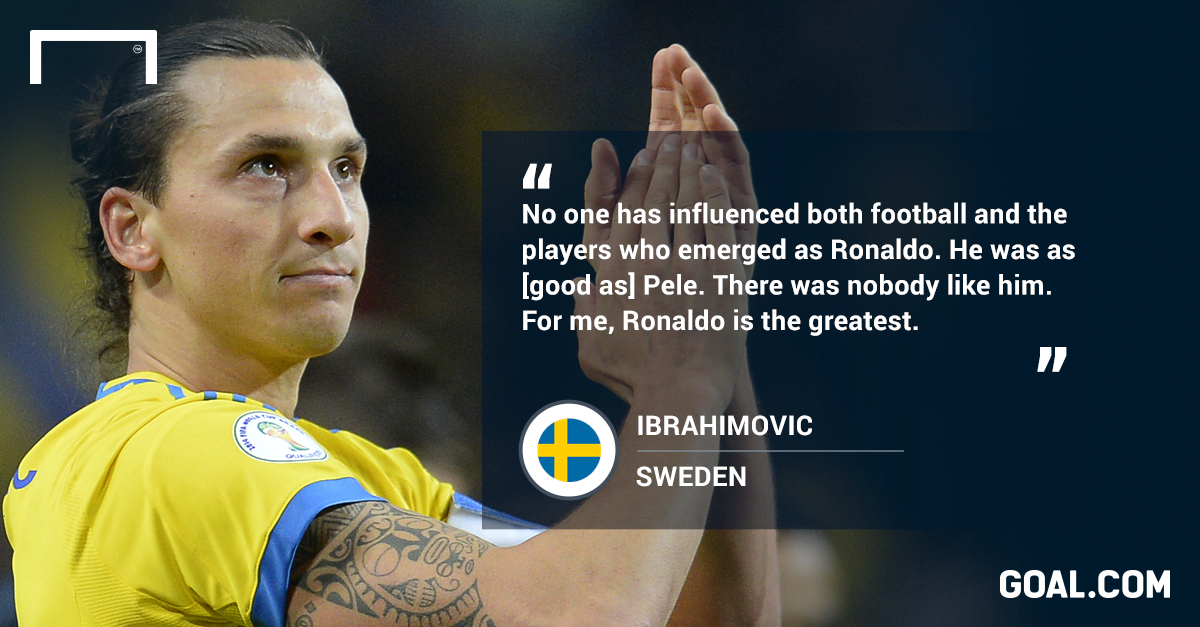 Another Ballon d'Or and switch to Real Madrid followed. Ronaldo was forced to develop into a different type of player, his ravaged knees robbing him of the pronounced pace that had shaped his style until that point. But the ability to finish never waned. Manchester United were humbled at Old Trafford courtesy of a scintillating Champions League hat-trick, with the home supporters providing a standing ovation as he left the pitch. In 2003-04 he claimed La Liga's Pichichi title for the second time, scoring 24 goals despite missing the entire run-in as a result of those knees again.
Unfortunately, that's largely where the Ronaldo we wish to remember and cherish is replaced by further injury woes and numerous ill-fated comebacks. At the 2006 World Cup he broke Gerd Muller's scoring record with his 15th strike, but still bore the brunt of criticism when the team crashed out to France at the quarter-final stage. Bad days outnumbered good. As he desperately clung on to life at the pinnacle of the sport, he was granted opportunities out of memory of his achievements rather than his current physical state.
Eventually, after AC Milan and Corinthians attempted to rekindle that which was already lost, in 2011 he gave up. In a tearful press conference he admitted: "It's very hard to leave something that made me so happy. Mentally, I wanted to continue, but I have to acknowledge that I lost [the fight] to my body."
We embrace our idols, imperfections and all. As former Brazil team-mate Emerson testified, Ronaldo's application in training was not exactly on the same level as his namesake and current superstar Cristiano Ronaldo, but often it didn't have to be.
Emerson said: "I think Ronaldo felt he didn't need to work as hard as us, that he could do in two days what the rest would take 10 days to do. And usually, he was right."
And in that sentence, Ronaldo lived up to the reputation of his nickname.
O Fenomeno
was able to do things naturally, and it is in this effortlessness and grace that we can revere our heroes. Like Roger Federer in tennis, there's a joy to be had in watching something we know to be extremely difficult executed with considerable ease. Ronaldo in his prime was able to do that better than anyone that has ever played the game, and we should never forget it.