Simba
7 points gap isn't much, warns Lechantre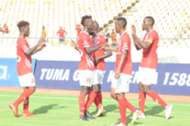 Simba Head Coach Pierre Lechantre has revealed that he finds the 7 points advantage his team has over second placed Azam isn't much and has urged his players to fight harder so that they can win the Premier League this season.
Lechantre revealed to Goal, that the competition in the Tanzanian league is so stiff and wants every one of his players to fulfill their responsibilities in order to reach their goal.
"Being 7 points ahead of our opponents isn't much, from the competition l have seen I need every one of us to be responsible in order to get the trophy at the end of the season," said Lechantre.
The French coach started his tenure with a win in his first match and will be looking to build on that great start this weekend when the league resumes.