Another FIFA World Cup™ and another early plane home for Australia but if there were prizes for dedicated supporters then the Socceroos would be in the latter stages.
At every Australia game in Brazil, the TV camera panned to the crowd for the shot of supporters cheering on the Socceroos, invariably settling on the boisterous guys and girls decked out from head to toe in green and gold.
Their uniform is unmistakable; faces painted with the Aussie flag, Southern Cross tattoos and inflatable boxing kangaroos galore.
These people are members of the 'Fanatics', an organised supporter group dedicated to ensuring there is a loud, proud Australian presence populating sporting events at home and abroad.
But their stereotypical behaviour and colourful appearance is just one small part of the fascinating, complicated culture of Australian football fans, a rich tapestry that will remain largely unknown to the rest of the world.
The powerhouse teams from Europe and South America competing in Brazil take their presence at the tournament and the hordes of devoted followers cheering them on for granted.
The same certainly can't be said for Australia, who had to fight every step of the way to earn a regular place at football's top table.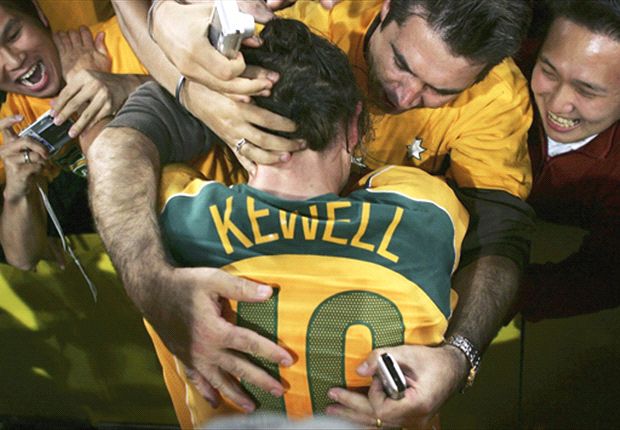 Outpouring of relief | Fans celebrate Australia's 2005 qualifying playoff win with Harry Kewell
Prior to 2006, the Socceroos had only qualified for one World Cup, the 1974 tournament in West Germany.
Football, disparaged by rugby and Aussie rules followers as an undesirable game, has fought and continues to fight a long battle for acceptance in Australian society.
Even the word 'soccer' itself has been used as a weapon by detractors in the battle waged with the more established codes.
Sometimes football has done the damage itself, with internal rivalries holding back the sport's development and contributing to the collapse of the National Soccer League.
The foundation and launch of its successor, the A-League, coincided with qualification for the World Cup in Germany, paving the way for significant increases in popularity and mainstream acceptance of the sport.
But decades of marginalisation, false starts and cruel failures (see the 1997 and 2001 qualifying losses to Iran and Uruguay respectively) have bred a resilient class of supporter, fiercely protective of their game's improved but still fragile position in the national sporting landscape.
So alongside the Fanatics in Brazil, there were plenty of less conspicuous Australian football fans. Their attire might not have been walking advertisements for national team merchandise, but their faces reflected a passion every bit as deep and powerful as any Argentina, England or Italy supporter.
This is how Australia supporters share their football experience. Now it's your turn to show your passion for 2014 FIFA World Cup Brazil™ with Hyundai's Pin Your Fan Park. Create your own Fan Park by sharing live footage of you enjoying the 2014 FIFA World Cup Brazil™. Post your supporting message, upload photos and videos and make football playlists at worldcup.hyundai.com