Name: Juan Cazares
Nation: Ecuador
Age: 18
Club: River Plate
Position: Number 10
There is a certain optimism surrounding Ecuadorian football at the present time, as the country tastes success at club and international level. LDU Quito continue to blaze a trail at home and in South America, having completed a clean sweep of the major continental tournaments in the last three years with such favourite sons as former Aston Villa midfielder Ulises de la Cruz in the squad.
Internationally meanwhile the Tricolor narrowly missed out on the 2010 World Cup, and with promising talents such as Antonio Valencia, Cristian Benitez and Jefferson Montero in the ranks, the country will be confident of going one step further in 2014. Adding to the good feeling are outstanding talents such as young River Plate enganche Juan Cazares, who is highly regarded by both his Argentine employers and Ecuadorian selectors, and will form the creative heart of a highly-rated team in Peru.
Just 18 years old, Cazares nevertheless has highly developed skill on and off the ball, and a drive and confidence to match. Speaking to Goal.com Latin America in December, the Millo youth player was happy to state that his example to follow was veteran Marcelo Gallardo, and that he dreamt of a move to his favourite league, Serie A, before too long. Yet to make his debut for River, the teenager has looked impressive at under-20 level for his nation and will hope to drive his team to at least a place in the final stage of the South American Championships.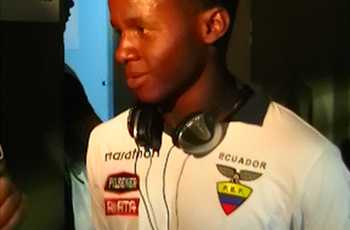 Ecuador's Juan Cazares
Name: Yohandry Orozco
Nation: Venezuela
Age: 19
Club: Zulia FC
Position: Centre/ Attacking Midfield
Yohandry Orozco is the stand-out player in the Venezuelan under-20 side, and is hoping to enhance the already growing reputation of Vinotinto football in South America and the world with an impressive showing in Peru. Born in Maracaibo, the youngster is 19 years old and has already made a number of appearances for the team; including a starring role in the 2009 championships which saw Venezuela finish above Colombia and Argentina and qualify for the World Youth Cup.
Orozco is a midfielder with a great eye for goal, he has speed, daring and enough self-belief to triumph in competitions such as this one. He will be crucial to Venezuela's game-plan, now that he is older and wiser as a footballer and ready to take responsibility for his less seasoned team-mates.
The youngster will almost certainly be a focal point for much of the attacking potency which emanates from the Vinotinto; and once the championships are over, don't be surprised if Maracaibo's Zulia start receiving enquiries from across South America and Europe for their most precious young gem.
Follow Daniel Edwards on twitter:https://twitter.com/DanEdwardsGoal
Follow Goal.com International on twitter: twitter.com/goal_intl