---

EXCLUSIVE
By Peter McVitie

---
"It was amazing!" 18-year-old striker Dominic Solanke was buoyant after his Vitesse side picked up three points with a 1-0 win in Sunday's derby match against fierce rivals NEC.
The Chelsea striker, on loan with the Eredivisie side, was unable to make the difference in the big game, but it was an occasion he relished and seemed to soak in – a constant theme of his time in Arnhem so far.
"The fans came to training yesterday and that was a good experience," he told
Goal
after the game. "There were a lot of them, they were letting off fireworks and stuff. It was amazing. They got behind us, so it was good to get the win and make them happy."
Solanke is the youngest of five players to make the move from Stamford Bridge to the Gelredome on a temporary basis this season, coming in alongside Lewis Baker, Isaiah Brown, Danilo Pantic and Nathan.
While Brown, Pantic and Nathan have generally been used as substitutes, Baker has been a superb addition to the midfield as a proper metronome of the team and a reliable creator. Solanke, meanwhile, has cemented himself as a regular starter after initially being eased into the team. A player who would probably be spending another season in youth football had he not moved to Netherlands, the teenager looks ready to seize his opportunity and absorb the learning experience.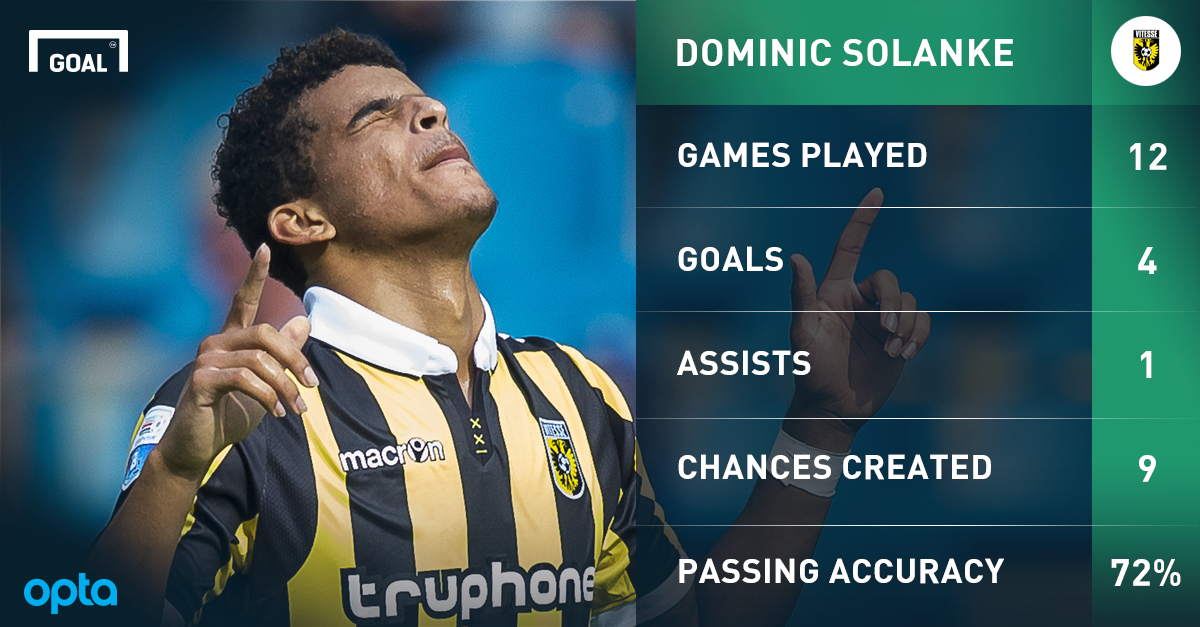 With four goals and an assist from his first 12 league appearances, Solanke has earned his place at the pinnacle of a talented side. The striker position has been a troublesome one for Vitesse since Wilfried Bony's departure. Bertrand Traore impressed in the role last term and is highly rated at Chelsea, but seems to be caught in the unfortunate position of being too young and raw to earn playing time for a team under immense pressure.
Solanke certainly looks capable of leading the line this year and while he still has a lot to learn, he already has the faith of coach Peter Bosz - one of the most talented trainers in the country.
"You can see that he's incredibly talented," the coach said of him recently. "He has exceptional qualities. I have rarely seen such a footballer, especially at that age. It's actually unbelievable when you see what he does.
"Playing against physically strong defenders who are sometimes 10 years older than him is new to him. You can see that he is sometimes still easy to push off the ball. He is learning.
"For a player of his height, he is very agile and he has above-average technique. I really expect him to be a big talent. I think it is very special that Dom is playing football with us."
Not only has he turned the head of his manager, he also has the support of his only rival for the No.9 spot at Vitesse in Abiola Dauda, who has tipped him to succeed in the Eredivisie.
For a young player in his first season in senior football, in a new team and a new country, there have not been any teething problems for Solanke.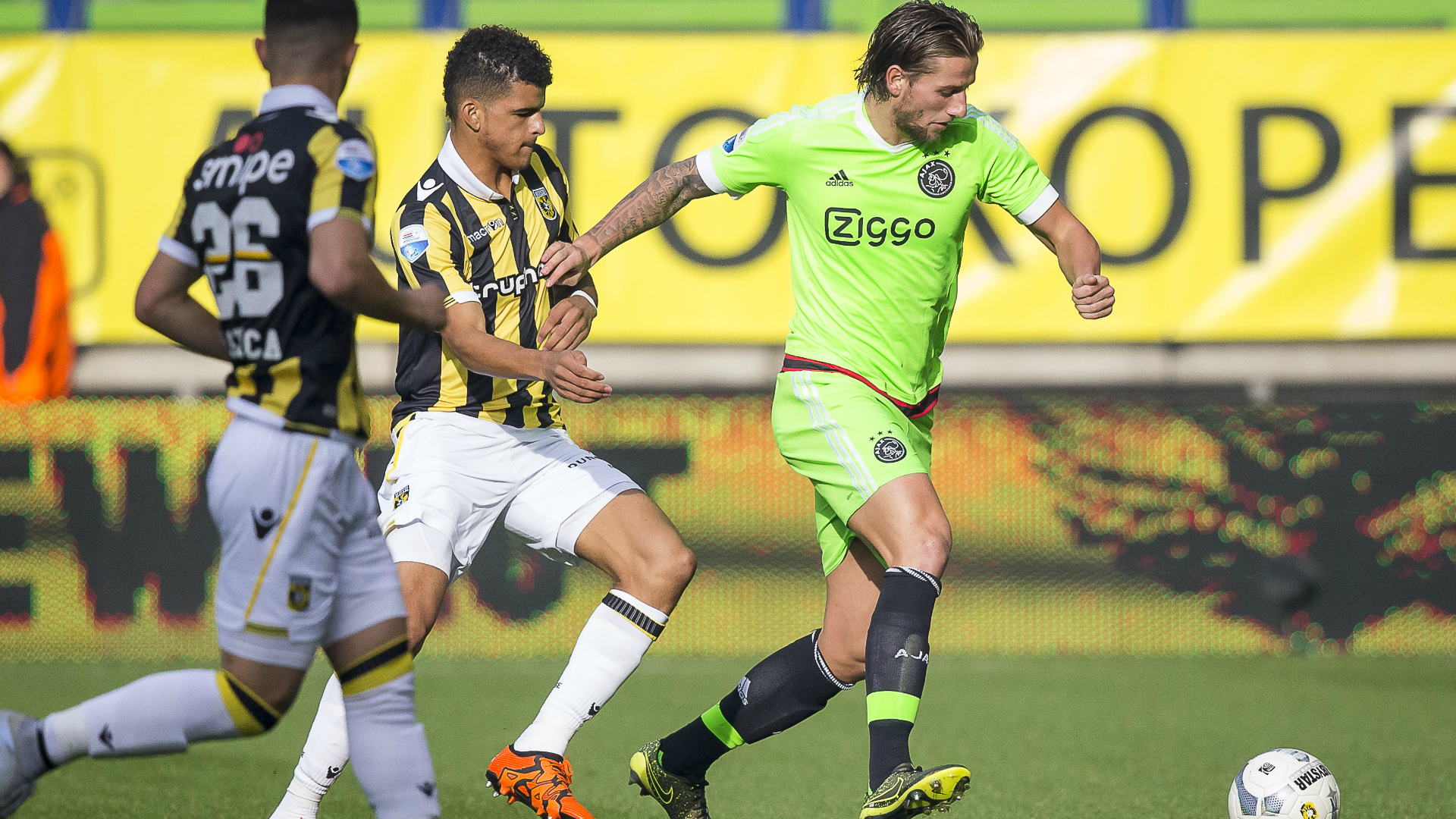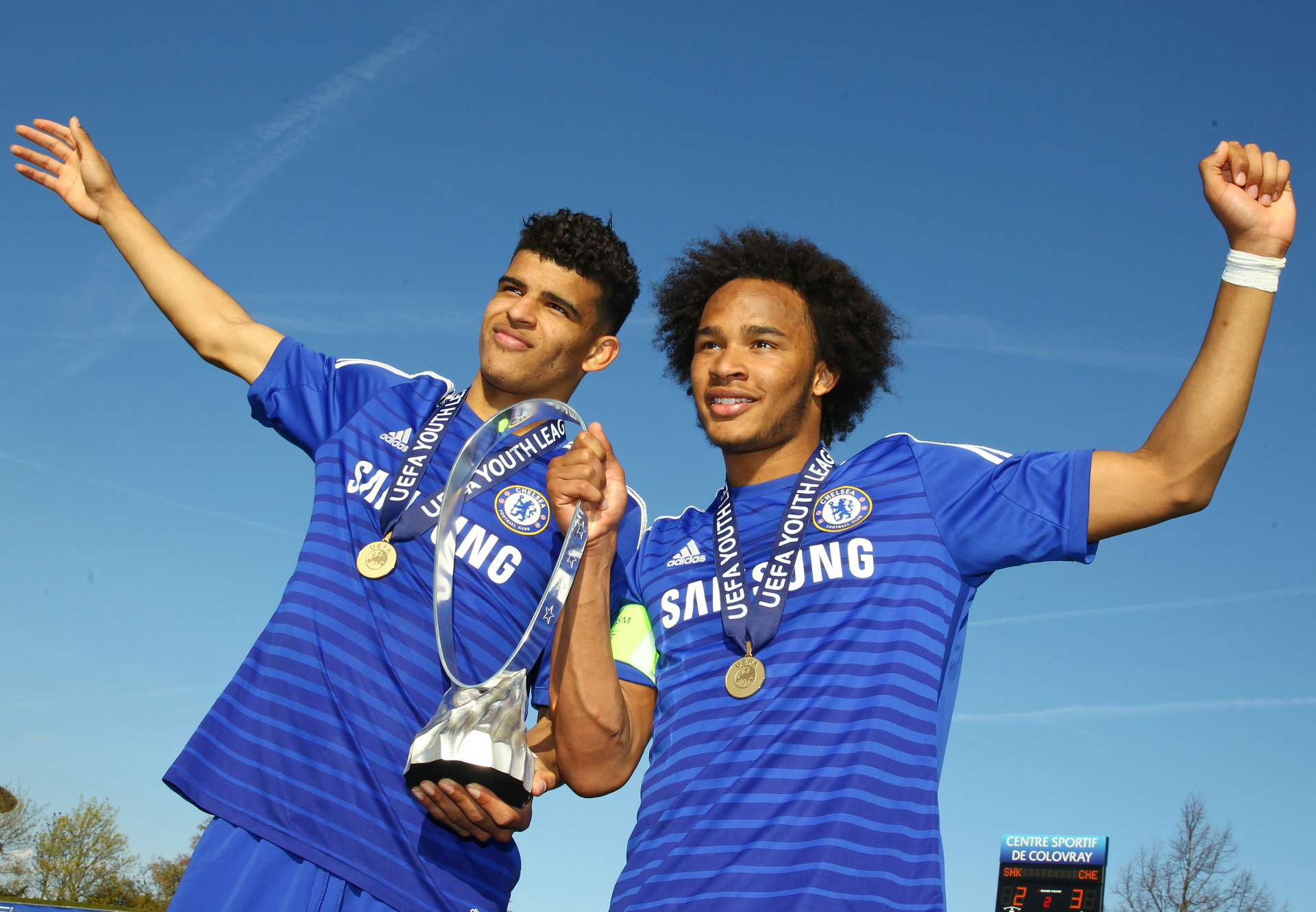 "I've settled in quickly," he said. "The other players have been really helpful. I'm happy here. It's just my first loan, so this is a good place to come and get a taste of the first team.
"When the manager has faith in you it always lifts you and makes you feel comfortable, so I'm thankful for that.
"There's always pressure in football, you just have to deal with it."
Last season, the attacker was impressing consistently for Chelsea's Under 21 team, so much so that he was given a run out for the senior squad in their Champions League win over Maribor last October. Consistent first-team football offers a new challenge, but he feels up to it.
"It's a good place to come, you can see the number of players who have come from here to the Premier League, so it's a good level.
"You need to know what to do with the ball before it comes, that's important because you're not going to get a lot of time.
"Compared to youth football this is going to benefit me much more, we're playing against men. That's always going to improve your game. You just have to adapt as quick as you can."
Sunday's clash with the Nijmegen side was a tough one. The newly-promoted team have impressed this term and have been difficult to beat. Given Vitesse's attacking nature, it was no surprise they sat deep and let their hosts dominate possession throughout the first half.
Bosz's men were forced wide – making more crosses than in all but one of their previous league games this season – which did not suit their young centre-forward. He moved wide to help create space on occasion, but with his neat touch and ability to make good runs, Solanke is more effective playing on the shoulder of the last defender and latching onto through balls. He is also sound at dropping deep and bringing other players into the game, which he looked to do more often in the second half against NEC when Vitesse found more space through the middle.
"You've got to adapt to how the other team plays, especially if they sit deep. You have to be patient and play wide, but if they are looking to get a goal like they were in the second then it opens more space.
"You've got to do your part for the team, if they are deep it's hard to create space for the midfield."
The lack of goals did not seem to affect the young striker's mood. He seems to be enjoying himself in Netherlands, and with good reason. The fierce derby match is just another big occasion for him to get under his belt. At the rate he is developing, it looks like there will be many bigger ones to come.