By Christoph Kockeis
Franck Ribery
turned down the chance to join
Real Madrid
in 2009 after
Bayern Munich
told him he was their
Lionel Messi
.
The former France international had the chance to move to the Santiago Bernabeu after falling out with then-Bayern head coach Louis van Gaal.
However, despite Madrid's best efforts - and interest from other European giants - Ribery says he was convinced to stay at the Allianz Arena after being told he would become the keystone to Bayern's side.
"I had intensive talks with Uli Hoeness, who was still president back then, and chairman Karl-Heinz Rummenigge," Ribery told
Goal
in an exclusive interview. "They told me I should not go, how the club needed me, how I was as important for Bayern as Lionel Messi was for Barcelona.
"Real tried, they wanted me. I don't know what price Bayern wanted them to pay. In the end I am happy how it ended."
Ribery, who has made nearly 300 appearances for Bayern and won a staggering 14 major trophies with the club, has been beset by injuries for much of the current campaign and missed the 1-0 win over Borussia Dortmund, along with Netherlands star Arjen Robben.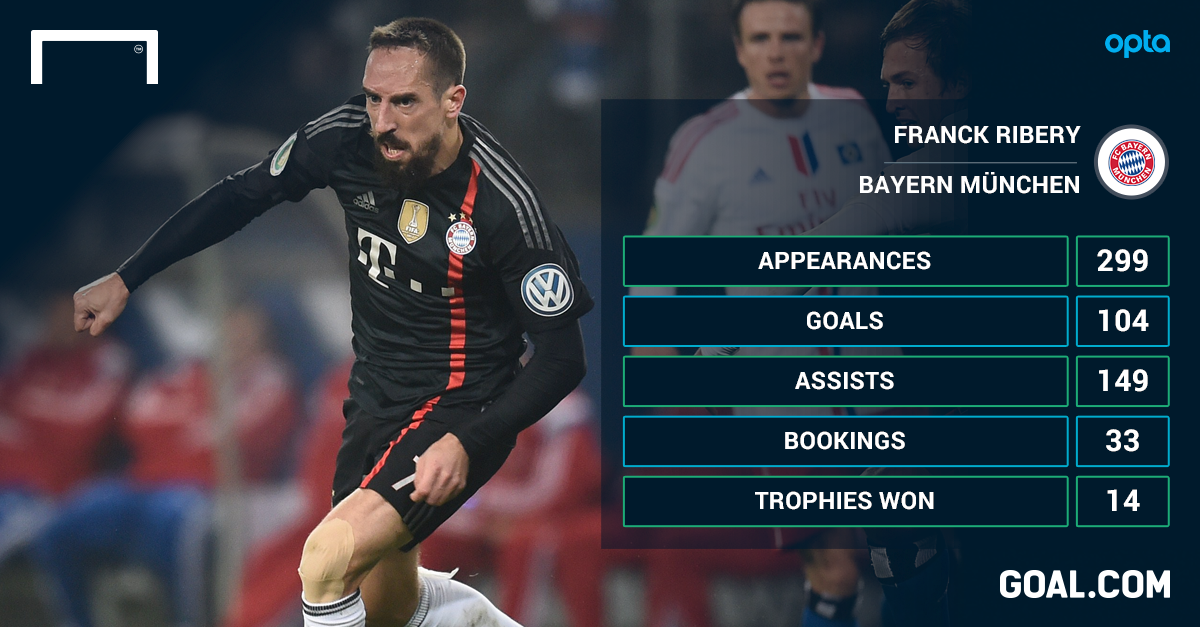 And Ribery concedes Pep Guardiola is forced to adopt a different approach when shorn of his two most vibrant attacking players.
"Arjen and I are players which the team otherwise doesn't have," he said. "We are different. We go into these one-on-one situations, attack all the time and risk being kicked. This risk is decisive for our football.
"Bayern play differently when we're not there. It would be important for all of us to be fit. With David Alaba and us, three key players are missing. We have to fight through this phase."
Having now turned 32, Ribery is entering the final two years of his contract, but the former Marseille man is planning to extend his stay in Munich - even beyond his playing days.
"To be honest, I have no idea what will happen after my career. My focus is on the next two years first. I feel great in Munich, my family does too. Why shouldn't there be a place for me within this club after 2017? Why would I not stay at Bayern? The bosses might make something possible for me. It might be as a youth coach or something else. I am open to many things.
"At the moment I am feeling very, very comfortable here, despite my injury. You never know how your body will react. I would not have imagined my ankle causing so much trouble after facing Shakhtar Donetsk. I was in top shape. Now I have to wait until it gets better."
Ribery admits he is still learning from iconic former France star Zinedine Zidane, who now coaches the Real Madrid Castilla side and visited Bayern to shadow some of Guardiola's training sessions.
"It's always a pleasure to meet him. He was a great player and an even greater character.
"When I joined the French national team in 2006, he helped me a lot. He won so many titles and his experience still helps today. We are still in contact and talk to each other. When he was in Munich we went to dinner and talked for hours."
Back to the season at hand, Ribery says another European title would be the perfect accomplishment in 2015.
"The Champions League," he said, when asked what his wish would be. "I want to win it again. I was able to lift the trophy in 2013 and it was incredible. The whole treble year under Jupp Heynckes was incredible.
"For me, my career, the club and the fans, it was hugely satisfying. I am convinced we can do it again. We have the squad to do it, we are a unit. There are very important matches coming in the next two months. We must hope everybody gets fit quickly and then we have a good chance."
Find the latest news on FC Bayern at www.fcbayern.de / www.fcbayernmunich.com