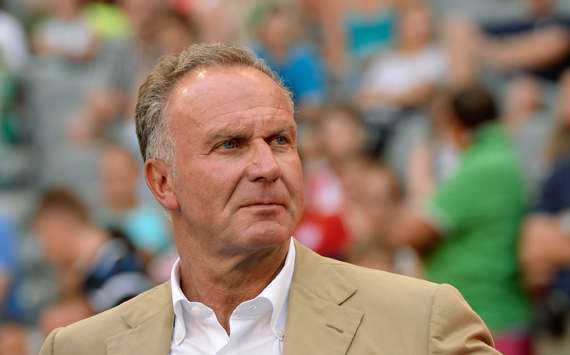 Bayern Munich chairman Karl-Heinz Rummenigge feels Uefa proved it is serious about Financial Fair Play by punishing Paris Saint-Germain.
The French champions were hit with a €60 million fine and forced to curb their spending for the coming seasons - while they also saw their Champions League squad allowance reduced by four players - due to a breach of FFP regulations.
Premier League champions Manchester City were also slapped with the same punishment, while the likes of Inter, Liverpool and Monaco have been asked to provide further information on their spending for 2012 and 2013.
Rummenigge - who is also acting chairman of the European Club Association (ECA) - is confident the measures now being enforced are vital for the health of the game in Europe.
"A huge company stands behind PSG, with almost infinite money. Since the strength of the squad is very dependent on the transfer market, PSG could be invested in indefinitely. We don't think this is fair," he explained to Goal.
"[PSG owner Nasser Al-Khelaifi] is in a very fast car, but even Ferraris get damaged if they drive too fast. PSG were convicted last summer for violations. They got a huge fine and had to cut the squad from 25 to 21 in the Champions League. You can not misunderstand the signs of Uefa. I do not think they can be threatened by any club president.
"Some clubs have been punished. Michel Platini wants his baby to grow slowly, and this is necessary. We have a professional football world, in which round about 65 per cent of all clubs in Europe are losing money. It is not a healthy landscape. Uefa must challenge and support or we'll continue with irrational transfer fees."
However, Rummenigge was keen to stress he sympathised with PSG's efforts to return to Europe's elite and admits Bayern's significant commercial revenue has been met with similar opposition by fans in the past.
"Many groups are against any kind of commerce, but without them, we would have no stadium of this quality, this atmosphere. We would have no Franck Ribery, no Manuel Neuer, no Arjen Robben. You have to find a healthy balancing act," he continued.
"Nevertheless, I do not condemn PSG. I even understand them. The club was in obscurity for 20 years until they were bought by a sheikh. Thanks to great financial expenses they are back, they are continually playing an important role in the Champions League."
Real Madrid have continued to spend astronomical sums in the transfer market despite debts totalling more than €600m, but Rummenigge insists there is no issue with clubs who spend lavishly as long as it is within their means.
"Real and Barcelona are not the big problem, although they have a higher mountain of debt," said the 59-year-old. "Financial fair play is based on the break-even rule - that's simply 'do not spend more than you earn'. The European Club Association [ECA] had a meeting in Manchester with 150 representatives in 2009. All were in favour."
Rummenigge went on to say the World Cup in Qatar could still potentially be held in winter, and could even be moved altogether should Michael Garcia's report into alleged corruption in the bidding process highlight any illicit activities.
"We at the ECA are always ready to talk about a change of date, regardless of whether it's November, January or whenever," he said. "Under a condition: club football is not the only one that foots the bill.
"Would it be fair to leave Qatar out in the rain? I do not think so. If the Garcia report brings out nothing, the World Cup will take place there. Then we have all options on the table: when is it possible to hold the tournament? When is it useful? What doesn't give the footballing family a stomach ache? It's not about dollars or euros."
Find the latest news about FC Bayern on
www.fcbayern.de
/
www.fcbayernmunich.com