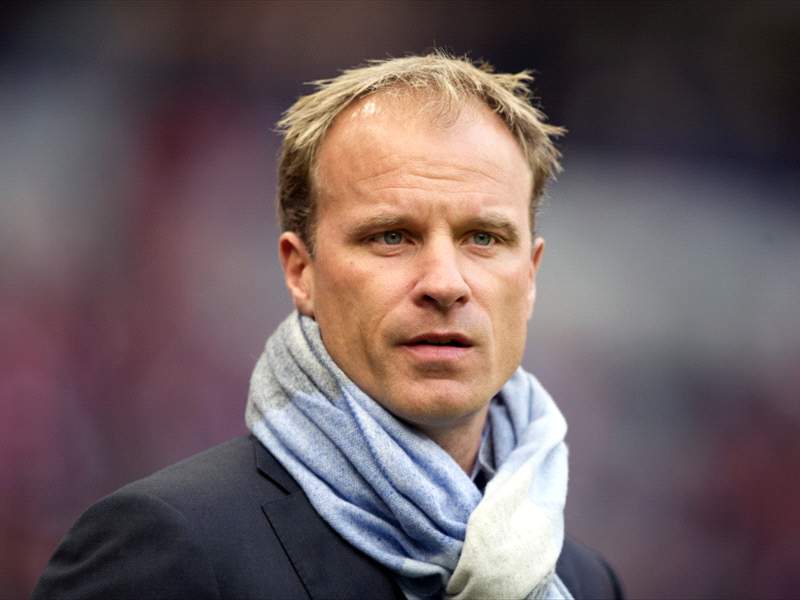 By
Wayne Veysey
| Chief Correspondent
Arsenal
will target
Dennis Bergkamp
for a first-team role as they prepare to make an internal appointment to replace outgoing academy chief Liam Brady this summer,
Goal.com
understands.
The Gunners' academy No.2 David Court, Under-18s manager Steve Gatting and Under-21s manager Terry Burton are the leading contenders to replace Brady, who has run the academy since 1996.
Club legend Bergkamp has also been considered to take over at the Hale End base but the Ajax assistant manager is being targeted for a senior role in Arsenal's first-team set-up.
Arsenal released a carefully-worded statement last week to announce that Brady would "leave his current role by May 2014", but it is anticipated that the former midfielder will actually step down this summer.
The 56-year-old, who has headed the club's academy since 1996, is likely to remain with the north Londoners in some capacity, most probably in an ambassadorial role. Brady will also be asked for guidance on the identity of his successor.
The club want to promote from within their current academy set-up rather than recruit from outside.
The short-list is headed by Court, a former Arsenal player who has worked for the academy since 1996 and is regarded by the club as Brady's right-hand man.
Gatting, who was been at Hale End since 2007 and was promoted to coach the Under-18s earlier this season, is also a strong contender and the third, least likely, possibility is Burton, the veteran coach who returned to Arsenal last summer to manage both the Under-21s and the Under-19s team that compete in the NextGen series.
It is understood that informal talks were held with Bergkamp last summer, when Brady first indicated that he was ready to bring down the curtain on his time in charge of the academy.
But it is now more likely that the Dutchman will be offered a position with the first team.
Bergkamp, whose 11-year spell at Arsenal ended in 2006, has gradually earned his coaching spurs at Ajax, where he came through the youth system as a player.
He has been fast-tracked through the set-up of the Dutch giants, heading the youth system before being promoted to work with the first-team under current manager Frank de Boer in June 2011.
Speaking in 2009, Bergkamp said he "wouldn't rule out" working for Arsenal again and added: "I want to work and train a team in England. Not as a head coach but instead as a member of staff, where I could work specifically with the strikers."
Wenger, meanwhile, says it is crucial Arsneal make the right choice: "We are starting the process now. We will choose the best possible person. It is very important."