EXCLUSIVE
By Rob Stewart
It might have taken him a few years but Manchester United midfielder Michael Carrick finally seems to be winning over his doubters in the Old Trafford stands.

The 30-year-old has been something of a scapegoat when things have gone awry for United but, as he prepares to return to his native Tyneside when the Premier League champions face Newcastle United on Wednesday, it would appear perceptions are changing.

Carrick had the toughest of acts to follow when he headed to the Theatre of Dreams in a £18 million deal with Tottenham in 2006 and was handed the No.16 shirt vacated by the iconic former skipper Roy Keane.

The West Ham United product had a lot to live up to and now, finally, after four Premier League titles and a Champions League winner's medal, he is silencing his critics amid crippling injury problems at Old Trafford that have seen him have to play at centre-half in his last two games.

Carrick, a married father of two, has been hailed as one of the club's "stand-out players" this season and United manager Sir Alex Ferguson says the England international has "grabbed the nettle" and urged him to become "the pivotal player of our team" after Paul Scholes' retirement.

According to former Red Devils defender Gary Pallister, Carrick – who signed a new three-year deal last March - seems to be relishing the challenge.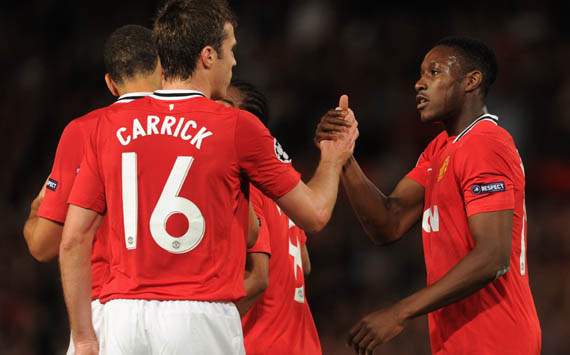 Leading man | Carrick has shown consistency in the United midfield this season
"He is one of the players that if things go wrong the fans berate and put all the blame on but he has been terrific this season," Pallister told
Goal.com
. "Michael has really come to the fore, especially during this injury crisis in central midfield and at centre-half. He has had a fantastic season up to this date.
"His reading of the game is what makes him such an effective player. He understands the game inside-out and he puts himself in very good positions, especially when he is protecting that back four.
"Plus in terms of range of passing, he is possibly the best player at the club for that, certainly now that Scholesy has left. His long-range passing is great and his ability to keep things ticking along in midfield with short, simple passing is superb. He has loads more experience now as well and he is playing really well."
CARRICK'S MANCHESTER UNITED HIGHS...

vs CHELSEA | 21 MAY, 2008



Savouring "best feeling ever" after scoring in the Champions League final penalty shoot-out with Chelsea in Moscow in 2008 as United win European crown.

vs BLACKBURN | 14 MAY, 2011



Helping United manager Sir Alex guide the club to a record-breaking 19th domestic title in a 1-1 draw at Blackburn in May 2011.

vs QPR | 18 DECEMBER, 2011



Scores for first time in 70 games with brilliant solo effort for depleted champions in 2-0 win over QPR at Loftus Road in December 2011.
...AND LOWS


vs CHELSEA | 26 APRIL, 2008



Conceding a late penalty against Chelsea that gave the Blues hope that they could beat United to the Premier League title in April 2008 after Michael Ballack converted.


vs BARCELONA | 27 MAY, 2009



Performing poorly and enduring the "worst defeat" of his career when Barcelona beat United 2-0 in Champions League final in 2009.


vs BENFICA | 14 SEPTEMBER, 2011



Struggled to contain Nicolas Gaitan against Benfica in Lisbon as United's failed campaign to qualify from their Champions League group started poorly.

Alas, that has not always been the case as Carrick – who has played for United 161 times – has come under fire following high-profile matches such as the two Champions League finals against Barcelona and the 3-1 walloping by bitter rivals Liverpool at Anfield last season when Raul Meireles and Lucas dominated the midfield exchanges.
Former Newcastle manager Glenn Roeder, who helped Carrick come through the ranks at West Ham as a coach and then also managed the midfielder at Upton Park, is not surprised that his former charge is winning over his detractors.
"He learned all about the game alongside the likes of Rio Ferdinand, Frank Lampard and Joe Cole, who are the ideal role models," Roeder said.
"They not only play football in a really pleasing way but their attitude to their work was absolutely spot on. They worked really hard in training and were always keen to stay on to do extra work.
"Michael had a great work ethic and he is a joy to watch. He is a graceful player, he is very clever and his temperament is first class as well which is essential if you are going to play at the top level."
Despite being a Newcastle supporter as a schoolboy when he was a centre-forward who idolised Peter Beardsley, Carrick, who has 22 England caps, headed to West Ham as a youngster because in those days his local club did not have a reserve team.
It is a move that has been emphatically vindicated by the way the former Burnside Community High School pupil has blossomed, and his progress has come as no surprise to Wallsend Boys' Club, where he took the first steps towards the summits of English and European football.
"Michael is a phenomenal role model for the youngsters at the club," Steve Dale, chairman of Wallsend Boys' Club. "He is an inspirational figure and it's nice to have someone of his stature come through the club that the lads can look up to.
"He is a lovely lad. He is such a well mannered, polite lad and he's also very humble for someone who has done as well as he has done. You don't see him ranting and raving on the pitch.
"His dad still plays five-a-side football with us on a Friday and it's like father like son because even though he is nearly 60 he very rarely gives the ball away and is a great passer of the ball, so you can see where Michael gets it from.
"Michael was a Newcastle fan and we always rib Vince about when he will come back and play in our midfield. We don't seem to get players when they are at the peak of their careers but he would be welcome back any time."
Follow Rob Stewart on