EXCLUSIVE
By Carlo Garganese & Kris Voakes
Former Italy coach Arrigo Sacchi has put to an end 15 years of speculation by claiming that a falling-out with Roberto Baggio was not the reason for him omitting the star attacker from his squad for Euro '96.
In an exclusive interview with
Goal.com
, Sacchi explained that it was due to an ongoing injury worry that he decided not to take Baggio to England for the failed bid to win a second European Championship.
"Baggio was not in one of the best phases of his career," Sacchi reasoned. "He had a problem with his knee. I only didn't take him because of his athletic form, no other reasons."
However, Sacchi, who had previously coached the Azzurri to the 1994 World Cup final in the USA, admitted that he was partly to blame for the country's group stage exit.
The ex-Milan boss came in for a great deal of criticism for his decision to make five changes for the defeat to the Czech Republic, after having beaten Russia 2-1 in the tournament opener. And Sacchi agreed that he erred in resting first-teamers including Gianfranco Zola, Pierluigi Casiraghi and Angelo Di Livio.
"I wouldn't make the same decision again today," he confessed. "I immediately knew that I had made a mistake because just before the game a journalist who always went against me actually said I had done a good thing.
"To be wrong is only human, everyone makes a mistake sometimes."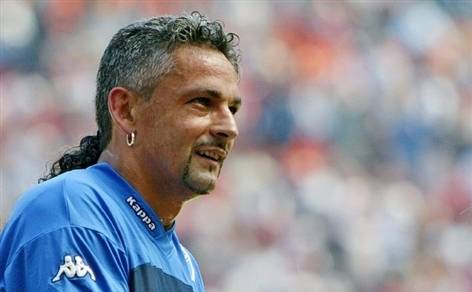 Left at home | Sacchi controversially opted against taking Italy legend Baggio to Euro '96
Italy lost 2-1 against the Czech Republic at Anfield in a game where a young Pavel Nedved dominated the midfield and first underlined his quality to a big audience. So did Sacchi realise how good Nedved was before the match, and did he make any special preparations to stop him?
"My style of coaching is not to stop a single player, but to stop a whole team," he stressed.
"My theory was that if I succeeded with Diego Maradona, I would have succeeded with Nedved too.
"However, I already knew about Nedved, I followed him with his club and I liked him a lot. When I was coach of Atletico Madrid I tried to sign him. Football is a team sport, why do we always have to speak about one player?"
Sacchi still believes that his team played well in the tournament overall, despite a draw with Germany in their final group game being insufficient to see them progress to the quarter-finals.
"Of course the end result in 1996 didn't make me happy. But I was very happy with how
we played in England, and that was my best team as Italy coach, better than the team
that finished runners-up at the 1994 World Cup."
The former national boss also had a word for the current man in charge, Cesare Prandelli, who will find out his team's opponents in the group stage of Euro 2012 later today. Sacchi believes the ex-Fiorentina coach's excellent record in qualification is the reason for the lack of pressure on him at the moment.
"He's only under less pressure for as long as he keeps winning," he claimed.
The group stage draw for the event in Ukraine and Poland takes place in Kyiv at 18.00CET this evening, with full coverage on Goal.com.
Betclic.com is one of the leading online gaming companies in Europe offering odds on all the top football action. Betclic.com works with football legends such as Marcel Desailly, Ruud Gullit and Arrigo Sacchi, who are all brand ambassadors for the online bookmaker. Visit Betclic.com for all the latest odds!