EXCLUSIVE
By Fabrizio Ponciroli
AC Milan youngster Stephan El Shaarawy has told Goal.com that he wants to stay at San Siro for the rest of his career after joining the club from Genoa this summer.
The 18-year-old, who has already made four appearances in the famous red and black, scoring on his home debut against Udinese, has admitted that he would prefer to commit his future to Milan despite having a liking for the football played in the Premier League.
In the interview, the Italo-Egyptian also admitted that a Euro 2012 call-up for the Azzurri may well be too much to ask, but he has a World Cup 2014 inclusion in his sights.
You can read the interview in full below:
Goal.com:
Let's start off strong: what sensation did you feel upon scoring your first Milan goal, which was a rather important one too, seeing as it drew the side level with Udinese?
Stephan El Shaarawy: It was an incredible sensation. I went onto the San Siro pitch without expecting it. I came on only because [Alexandre] Pato was hurt, and thus I didn't expect it at all. Maybe it was better like this - I didn't have time to think about it. Then the goal came too, so I would say it was all great.
Goal.com: It was a goal that you celebrated in a rather quiet manner. Did you realise what had happened?
SES: You think I contained my excitement? No, I always celebrate! If you remember well I did it with my first goal with Padova, too. I celebrate like this, opening my arms, only this time I did it under the Milan side of the stadium [laughs].
Goal.com: It seems that the coach [Massimiliano Allegri] holds you in great estimation. What kind of coach is he?
SES: Well, I thank him for all that he's doing for me. He pushes me often, especially during training, but I know that it's for my own good. He's a great coach who, when he has the opportunity, does not hold back youngsters and lets them play.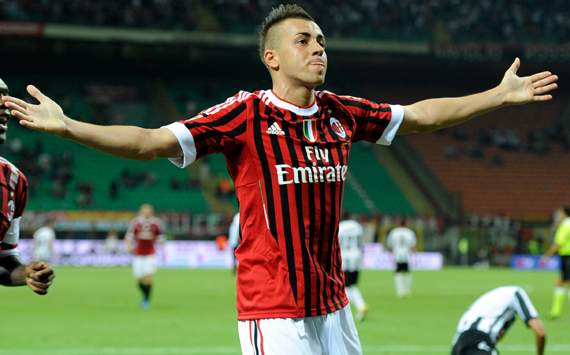 El Shaarawy | "It was an incredible sensation to score my first Milan goal"
Goal.com: You were not put on the Champions League list of eligible players, along with a certain Filippo Inzaghi, how did that make you feel?
SES: These are the choices of the coach and must be accepted. I'm young, I will have other opportunities. I must think of doing well with Milan when I have the chance.
Goal.com: Speaking of the Champions League, are Barcelona still the team to beat?
SES: Yes, definitely! Barcelona are the strongest team; they know how to combine technique and running and always look like a squad from a video game.
Goal.com: For you Milan is the best, but is there another European league that, one day, you would like to experience?
SES: Personally, I really like the English game. Many people always tell me that I have the characteristics to play in the Premier League. Honestly, I like it a lot, both in terms of environment and football. However, if I must be honest, I would like to stay at Milan forever and not go abroad. After all, I've always had a soft spot for Milan, beginning when I was young. Kaka was my role model, and thus I place Milan before everything.
Goal.com: And yet, increasingly more Italian players find themselves in foreign leagues.
SES: Yes, and many do well: this is important for the growth of our football and it seems to me that [Italy coach Cesare Prandelli] is taking this into account. He's a coach who watches many youngsters, even those who play in Serie B, for example.
Goal.com: Speaking of Italy, did you never think about choosing Egypt as your national side? After all, your father is Egyptian.
SES: To tell you the truth, there was the possibility of playing with Egypt. The Egyptian federation was looking for me but I always thought of only the Azzurri shirt, and thus I gently declined the offer. If I had played even a single game with Egypt, I would not have been able to wear the jersey of Italy and thus I preferred to let it go.
Goal.com: Italy will be at Euro 2012; perhaps you will be one of those called up for it.
SES: [Laughing]. I don't know, it seems a bit soon. First I must find space at Milan.
Goal.com: Maybe World Cup 2014, then?
SES: That's a whole other case, it's three years away. If I become a starter for Milan, then why not? One never knows.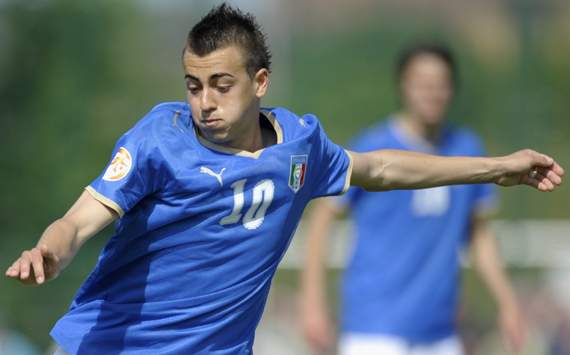 Representing his country | "I always thought of only the Azzurri shirt"
Goal.com: Maybe you could partner Mario Balotelli in attack?
SES: Who knows? We are certainly speaking of a great player.
Goal.com: A great player, but very different from you in terms of characteristics ...
SES: Sure, I am a timid guy and he's more extroverted.
Goal.com: Let's return to Milan. After a slow start, the team is recovering, would you say?
SES: We had some difficulties, but we have many champions and we have everything we need to do well.
Goal.com: How does Serie A seem to you this year?
SES: There's a lot of equilibrium, and there are many squads who can go far. I think of Napoli and Udinese, two teams we have already faced. Both run a lot, and in modern football, whoever runs has the better possibility of winning.
Goal.com: What is your objective for this year?
SES: I want to convince Mister Allegri that I am worthy of the first team. I hope to score and play as much as possible: this is my objective.
Goal.com: One final question: who do we blame for your bizarre haircut?
SES: Do not joke about the spikes [laughs]. It was done by Salvo, my hairdresser from Arenzano, a town in Genoa close to my house. He's been my hairdresser of choice for three years, and I would not change him for anything in the world.