EXCLUSIVE

By Ralph Hannah in Asuncion
Francisco 'Chiqui' Arce is a man with a vision to transform the Paraguayan national team from one of traditional long ball, anti-football to free flowing offensive play reminiscent of Barcelona or Arsenal.
Just six weeks into his project he sat down exclusively with
Goal.com
to chat about his plans for the future and the upcoming World Cup qualifiers which are 16 days away.
Relaxed, in a traditional cotton shirt with the obligatory terere (Paraguayan ice cold tea) on a hot spring day, Arce spoke with a steely determination about his plans for the Paraguayan national side.
"Obviously first we have to qualify [for 2014 World Cup]," he begins. "I don't know if we'll get there easily but I'm confident that we'll qualify."
But like at Rubio Nu, the small, unfashionable club he took from the second tier of Paraguayan football to a fight for the title in their first Primera season and left, three years later, safe both from relegation and financially (he also owns a stake in the club) there are bigger ideas.
"We want to change some things, the development of young players", he states, and adds that he believes the team must change the way of working "to create the kind of player needed for the current time, dynamic and who plays well".
The style is offensive and with a lot of possession, 'piki piki' as they say in Paraguay, something Arce learned to love as a player. He spent over half of his professional career in Brazil, where "they enjoy the game". He wants to mix "a bit of the footballing quality [from Brazil]" with "what we have plenty of…guts, sacrifice and motivation" to create the ideal balance.
He has great faith in young players, particularly those still based in Paraguay, but is adamant that they need to offset the surplus of fast, versatile young players with experience. But there is certainly still a place for the old guard; some of whom, like Roque Santa Cruz, Arce lined up alongside as a player.
He insists that he has not imitated other teams' styles. "In reality Rubio Nu and Barcelona appeared at the same time," he notes with a wry smile – he is an articulate and witty man. To prove a point he also cites the exciting, young German team when talking about Rubio Nu, asserting: "in 2009…before the World Cup, we played like that, 4-2-3-1 with [Pablo] Velazquez as a lone striker".
The Albirroja coach is currently reading Marcelo Bielsa's biography. "I identify with it a lot ... but I'm not so much like Bielsa [in reference to his attention to detail], but I believe a lot in drills, in player's movements to find space." Arce is always well informed on his upcoming opponent, with training sessions often tailored to how the opponents will come at his side.
One player that seems to have already profited from the change of management and the new training sessions is Benfica's Oscar Cardozo. Frozen out by Gerardo Martino, he scored three goals in his first two games under Chiqui Arce, and the former Palmeiras full-back singled him out for special praise.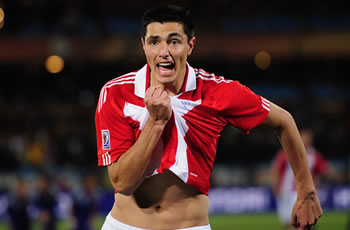 Oscar Night | The striker will come back in from the cold to start once more for Paraguay
"I think he is in a good run of form, he is confident, happy in good physical shape," the coach explained. "We also need the others to understand and sacrifice themselves for him so that he can help us with his goals."
There is no doubt that an in-form 'Tacuara' will be vital for Paraguay to succeed in, what is set to be, a tough qualifying campaign. In relation to the opposition, Arce is unambiguous; Paraguay fear nobody and will always send out a team looking to win whoever the opposition is.
"It's going to be a good battle" he says, relishing the upcoming games against Peru and Uruguay. "Those first two games are going to test us."
He recognizes that Peru will be a tough challenge, as he comes face to face with Sergio Markarian, who, he explains, was like a father to him and who he believes has reorganized the Peruvians.
Arce sees the Copa America champions Uruguay as "very solid and compact", and believes "the teams that haven't qualified recently have improved a lot".
But he is under no illusions about the huge expectation that surrounds those two qualifiers. "The country expects. At Rubio Nu there were 1,500 managers, now there are six million", he affirms, referring to the fact that everybody has an opinion as to how the national team should be run.



"I would like to play Barcelona, and to meet Pep Guardiola"





- Arce shows his admiration for the Catalans

For now, there is only one way, 'The Chiqui Way'. "We will never renounce our style," he states. "My own practical experience and the achievements that I was part of occurred in teams that did things that way."
To emphasise his point, he contrasted his two World Cup experiences - both of which ended in tight defeats, 1-0 in 1998 to France and in 2002 to Germany - to the recent Copa America side, commenting: "I would prefer to lose having given everything than win by a fluke".
On October 7 and 11 he can finally put all this talk behind him and show the world that 'The Chiqui Way' is here to stay.