EXCLUSIVE
By Ben Hayward
Arsenal's interest in Villarreal's Spain midfielder Santi Cazorla is real, but the move depends on Juventus' move for his club colleague Giuseppe Rossi,
Goal.com
can reveal.
Gunners boss Arsene Wenger is resigned to losing club captain Cesc Fabregas to Barcelona this summer and is in the market for a creative midfielder to replace the Catalan.
Arsenal had targeted Valencia's Juan Mata, but the Spain star appears in no rush to leave the Mestalla outfit and that has seen Wenger switch his attentions to Cazorla, a player he has long admired.
Wenger's Arsenal edged out Villarreal in the semi-finals of the Champions League in 2006 and also got the better of the Yellow Submarine in the last eight of the same competition three years later.
Curiously, Cazorla didn't appear in any of those matches, but Arsenal have closely monitored the player's development and recently enquired as to his availability.
Arsenal had suspected that a deal with another club may already have been done, but were told that the player hadn't agreed to join anyone else and a bid from the north London outfit was encouraged.
Cazorla is also attracting signifcant interest from Malaga, but Villarreal are reluctant to sell to another side in Spain, especially because the Andalusian outfit are likely to represent a direct rival in the race for Champions League football next season.
Villarreal fans would also be loath to losing their star player and symbol [Cazorla came through the youth system at El Madrigal and is hugely popular within the club and with supporters] to a domestic competitor and – currently, at least – smaller side.
Malaga's €20 million bid for the midfielder was therefore rejected this week, with the Andalusians told that they would need to up that figure by a further 50 per cent to meet the player's €30m release clause and secure the signature of the Spain star.
Privately, Villarreal accept that Cazorla's value is some way short of that figure, but the Spanish side are in a strong bargaining position and nobody at the club wants to see the player leave.
A possible departure, therefore, could depend on team-mate Giuseppe Rossi, who is attracting strong interest from Juventus.
Villarreal will sell either Rossi or Cazorla this summer, with the Italy striker the most likely to leave the Yellow Submarine at this stage.
Initial interest from Barcelona in the New Jersey-born forward fizzled out, however, and Juventus now look to be leading the chase for the frontman.
If that move goes ahead, Cazorla is unlikely to leave El Madrigal this summer, but should Rossi remain in Vila-Real, his team-mate is expected to move on – and Arsenal will be in pole position.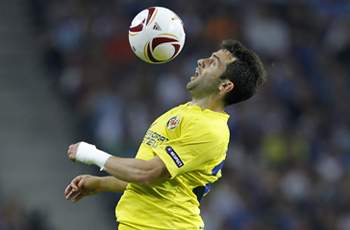 Villarreal will cash in on either
Cazorla or Rossi this summer
Liverpool have also been touted as a possible destination for the midfielder, but the player's preference is the north London club and Villarreal will be happy to do business with the Gunners, with whom they maintain strong relations since the deals to bring Robert Pires and Pascal Cygan to Spain.
The Gunners would have to match Malaga's offer of €3 million per year in wages for the midfielder, who made the Spain squad for Euro 2008 but was cut from the provisional party ahead of last summer's World Cup following an injury-ravaged 2009-10 campaign.
However, Wenger's side could capture the player for €25 million [the lowest bid Villarreal will consider] or perhaps slightly less if an Arsenal player moves in the opposite direction.
Villarreal had been keen to sign the Gunners' Brazilian midfielder Denilson, but the player has returned to his homeland to join Sao Paulo on loan for a single season.
Nevertheless, several other Arsenal fringe stars could interest coach Juan Carlos Garrido and make a move mutually beneficial.
Indeed, the Spanish side had hoped to negotiate such a deal with Barcelona, with Rossi moving to Camp Nou and Bojan Krkic travelling in the other direction, before the Catalans' switched their attentions to Chile's Alexis Sanchez.
Cazorla has just returned to Europe from China, having travelled to Asia with several other members of the Villarreal squad [including Nilmar and Marcos Senna] to shoot a spot with the club's kit manufacturer.
The midfielder, who scored five goals in 37 league appearances for Villarreal last term, could feature in Sunday's friendly against Wolfsburg in Germany, having met up with his team-mates on Saturday.
Cazorla signed a new contract with Villarreal in 2008, after the club turned down a €16 million bid from Real Madrid, and is tied to the Spanish side until 2014.
Talks between the player, his agent [former Madrid utility player Julio Llorente] and Villarreal will take place this week, with the club hoping for a quick resolution in order to finalise their plans for the coming season.