EXCLUSIVE

by Jesse Wieten

Why did you decide to join Ajax at the age of 16, even though there was also interest from clubs from bigger leagues?
The culture and mentality in Netherlands is pretty similar to the way of life in Denmark. I also had the chance to move to England or to other countries. England is very different, though, and the mentality in Italy is nothing like the Danish way of life. I enjoyed trial periods at Chelsea, AC Milan and Barcelona. I visited some great clubs and saw some interesting things, but eventually opted to sign for Ajax. It was a big step, but not too big. You are running the risk that your progress stalls if you make a step that is too big. I knew that I had the chance to develop here and it is pretty obvious that my decision was the right one.

What's your opinion on Dutch youngster Luc Castaignos' decision to join Inter from Feyenoord at the tender age of 18?
It's very hard to say no to such a great club. I wish him all the best if he thinks he's ready for a move abroad. Some players succeed and some do not. There will always be a debate about whether it is the right choice to join a bigger club.



"At this moment, Spain would suit my style of play better than England. I am happy at Ajax for now, though."





- Christian Eriksen

Henrik Clausen, your former youth coach at Odense, previously told Goal.com that La Liga suits your style of play better than the Premier League. Do you agree?

I think that is a fair assessment. The English style of play is very demanding physically. You don't get the chance to run with the ball in the Premier League. They will get you if you do that and that is not something everybody can cope with. I am still working on improving my physical strength. I also have to become a bit smarter. That is very important and training is the perfect way to improve. The coach gives me a lot of advice about how to use my body in the best way. The Spanish league is all about football, football and football. I really like that. That is why Spain suits me better than England at the moment. I will not think about a transfer until the moment is there though. I am happy at Ajax for now.

You have already played at the World Cup, but you really rose to prominence after the international friendly against England in February. Did the extra attention change anything for you?

I put in a pretty good performance against England. That was definitely my best international appearance so far. Everybody wanted to talk to me shortly after my breakthrough and things then calmed down a bit. Everything started all over again after the match against England. I apparently impressed. I read that the people in England went crazy out of enthusiasm. It is a nice thing to have a good reputation in England. That is very important for my career.

How do you feel about the alleged interest of clubs such as Arsenal, Chelsea and Liverpool?

Those clubs are all great teams, but that is all for me. I am not ready yet in the Eredivisie. I have not even been a starter at Ajax for a full season and still have a lot to learn. There are some good things in store for Ajax.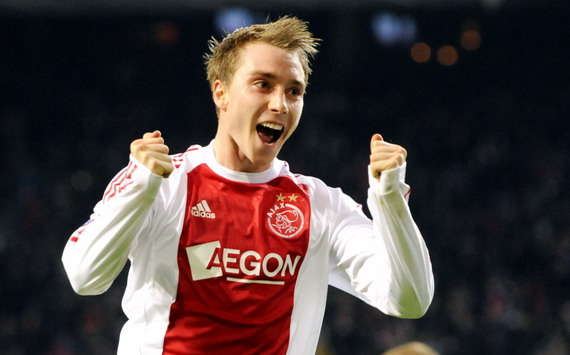 Sunday's home match against Twente will decide the Eredivisie title race. How bad do Ajax want the title?

The majority of the players in this squad have been at Ajax for several years and we all know that the club has not won the league title for quite a while. It is not easy for the club, for the fans and for the players. We all know that a league title will result in a great atmosphere. The fact that we have struggled to play our best football does not have anything to do with the stress of the title race. It is all about that little bit of luck. The same thing counts for Twente and PSV. We really want the title and will continue to fight for it. Everybody will be happy if we win that final game of the season.

What is the role of Frank de Boer in the revival of Ajax in the second half of the season?

The team plays a lot more combination football again. We played pretty direct with two dangerous attackers when Martin Jol was in charge. We are now building up play from the back again and try to create chances via quick combinations.

What is your role in the improvements?

I am the type of player who is good in the combination and I am a good passer. That could be one of the reasons for our improvement. We played in a 4-4-2 formation under Jol and I was stuck out on the left. I will always play where the coach wants me to play, but the playmaker position is my preferred spot.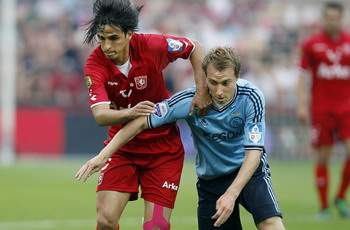 Ajax have had a number of big names playing at the No. 10 position in the past with Dennis Bergkamp, Jari Litmanen, Rafael van der Vaart and Wesley Sneijder. Martin Jol stated that you could become the best No. 10 ever at Ajax - how do you feel about that?

That is a huge compliment, but I am not really into comparisons like that. It is always nice to be compared to a great player, but it does not help you any further. Van der Vaart is probably the player who is most like me of the aforementioned players. He also has the qualities to drop deep to direct play. I do not really know how much Bergkamp and Litmanen got involved in the build-up play.

Did all the commotion about the return of Johan Cruyff affect the team's performances?

No. The technical staff did a great job to keep that kind of stuff away from the dressing room. Obviously, we read papers, but it never really distracted us.

Cruyff is pleading for more individual training at the club's youth academy. Did you get much individual attention?

That was one of the biggest differences with Denmark when I got here. We never got any individual training there. You really had to ask for it and make arrangements with the coach yourself. It always took a while before something actually happened. I remember that I immediately got individual training here. Sometimes once per week and sometimes once every two weeks. So the club was already making steps forward in this area when I arrived at Ajax. I do not know exactly what Cruyff wants to change.