EXCLUSIVE
By Patrick Reilly in Belfast & Kent Mensah in Accra
Belfast is justifiably proud of its famous football sons; Danny Blanchflower, George Best, Norman Whiteside and Afriyie Acquah.
You may not have heard of the last one. Palermo's new teenage Ghanaian star Afriyie Acquah took the path less travelled to Sicily via Glentoran FC in Belfast's east side. While Acquah grew up in Sunyani, it was his stint in Northern Ireland back in 2007 with Glentoran that set him on his way to a dream career in Serie A.

Following Forsythe's Footsteps
It's a story that's never been told before but in order to find out how Acquah made this extraordinary journey we need to go back further. The talented 18-year old midfielder was following in the footsteps of his compatriot Christopher Forsythe who moved to Belfast in his teens some years earlier. He quickly became a fan of his adopted club - Glentoran FC.
Football historians will recall that Glentoran were the first side to ever be knocked out of European competition on the away goals rule back in 1967. Not by just any side but the mighty Benfica who drew 1-1 at The Oval in Belfast, courtesy of a late Eusebio strike, while the return leg finished scoreless in Portugal.
The same Benfica side went onto reach the European Cup final later in the competition where a certain George Best helped Manchester United win 4-1 at Wembley.
Forsythe was hooked on the beautiful game and when he returned home he set up the Glentoran Football Academy Ghana in 2005. Acquah's talent was first spotted here as he trained with 25 other youngsters.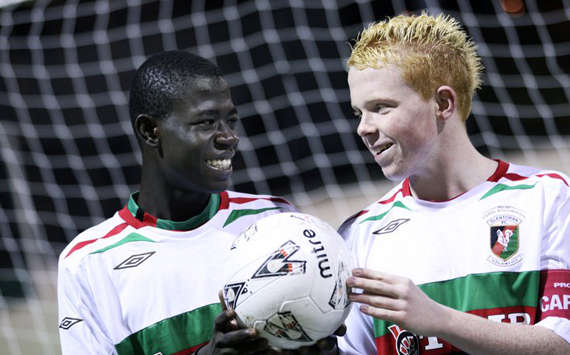 | Afriyie Acquah pictured with a Glentoran team-mate during his time in Belfast in 2007
Sam Robinson, of the Glentoran Community Trust, told
Goal.com
in Belfast, "The project was designed to get kids off the streets. We had no funding to speak of so the club sent kits and footballs over to Sunyani where Christopher was working very hard to get the academy off the ground.
"At a local level in Belfast the response was amazing as people here sponsored individual players. Acquah was sponsored by a guy called Gavin Campbell, who is half-Italian, so it must have been fate that he was signed by a Serie A club," quipped Mr Robinson.

Excelling In Belfast
The Glentoran Academy in Ghana was a resounding success with over 100 players of both sexes benefiting from the coaching provided by Glentoran. Their outstanding graduate, Afriyie Acquah, was rewarded with a trip to Belfast to train with the Glentoran senior team in late 2007.
"When Afriyie arrived the first thing he said was 'I just want to see football not Belfast.' He was here for a fortnight and his talent was immediately apparent," said Sam Robinson.
"He was only 15 at the time and quite a wiry lad compared to his build today. Afriyie had such a great touch, lovely passer of the ball and you could tell how easy it came to him after years of playing on rough uneven terrain in Ghana.
"To be honest he floored a few of our senior players with his ability. Our chief scout Billy Spence (pictured below) said he was the brightest star to wear a Glentoran shirt," added Mr Robinson.
ACQUAH FACTFILE

Age
Club
Contract
Position
Nation

18
Palermo
2014
Midfielder
Ghana

A teenage Acquah and Sam Robinson struck up a friendship and the two remain in close contact. When Acquah inked his recent four-year deal with Palermo one of his first phone calls was to Robinson to share the good news.
After a fortnight in Belfast the midfielder returned to Ghana and was reunited with his mentor Christopher Forsythe who told
Goal.com
that the academy's star pupil was the same as ever.
"Acquah was sharing his usual jokes with his peers. His whole life has been about football and the zeal to make it to the highest stage in the game."
Mr Forsythe added, "I remember on his first day training with the Glentoran first team all the players were amazed with his pace. Their head coach Alan McDonald said this lad has got all the qualities to become a great star in the not too distant future.
"Acquah was very serious in his chosen career and therefore I threw every dime that I had to make sure he is able to make it to the highest level."
Destination Serie A
Forsythe's investment in Acquah paid off when he moved from local club D.C. United to Palermo, making his Serie A debut in February this year against Fiorentina. The Glentoran Academy in Ghana was bought by the Sillsport Group last year and, with Forsythe still at the helm, continues to give an opportunity to kids who want to gain professional coaching.
"His success story has been a great lesson to the children at the Sillsport Football Academy. Acquah is an inspiration to the young lads at the academy and they all want to emulate him and become stars of the future," Mr Forsythe told
Goal.com
.
The links between the academy and Glentoran remain with the club shipping over a 24 seat minibus to Sunyani. However, some minor alterations had to be made first as Sam Robinson explains.
"When we took delivery of the bus it was blue and as anybody knows Glentoran's greatest rivals are Linfield who wear blue! Before we shipped it over there we painted it in the Glentoran colours of red, green and black!"
STAR IN THE MAKING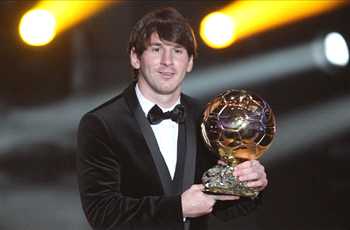 "Acquah will become one of the Messis, Xavis or Iniestas in no distant time."


Now aged 18 and breaking into a Palermo first team featuring stars such as Fabrizio Miccoli, Josip Ilicic and the prodigious Javier Pastore, Acquah stands on the cusp of a glittering professional career.
Although Glentoran facilitated his development they won't receive a penny of any future transfers.
The club almost went out of business in 2010 before a mystery benefactor came forward recently with a £450,000 donation on condition of anonymity.
Naturally, the Northern Irish outfit are hugely proud of their role in Acquah's success story.
"Glentoran wanted to help kids in Ghana. It was a totally humanitarian thing and we know how grateful Acquah is for the support he received.
He was keen to come on loan with us before he got into the Palermo first team. We are great friends cheering him on from Belfast," said Sam Robinson.
Acquah's mentor Christopher Forsythe believes his star pupil can go even further. Having broken into the Ghana Under-17 team in 2007. He said, "The sky is the limit.
"As I told him, within the next two years he will be donning the jersey of the Black Stars and vying for the African Footballer of the Year award and the Ballon d'Or in five years time.
"I am hopeful that Acquah will become one of the Messi's, Xavis's, Iniesta's, Essien's in no distant time as he has got all the qualities to emulate them," added Mr Forsythe.

Photographs kindly supplied by Sam Robinson of the Glentoran Community Trust.