EXCLUSIVE
By Wayne Veysey | Chief Correspondent
Cesc Fabregas
has told Arsene Wenger in a face-to-face meeting today that he wants to quit
Arsenal
and rejoin
Barcelona
,
Goal.com UK
can confirm.
In a showdown described only as "emotional", the midfielder delivered the bombshell to his mentor and the man to whom he feels he owes his career that, following some agonising soul-searching, he wants to leave the club that he joined as a 16-year-old.
It is understood that the talks between Wenger and Fabregas, who flew into the UK today from Spain for treatment on his injured knee, took place in London.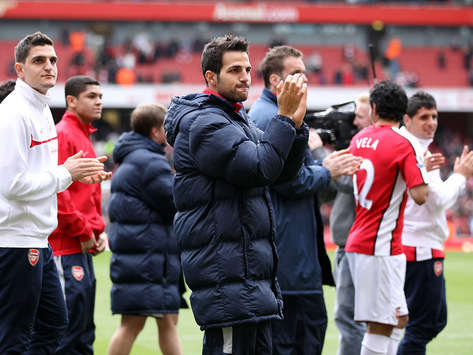 Dedicated | Cesc applauding Arsenal team-mates after 4-0 win on final day of season
The Arsenal manager is believed to have taken the decision calmly and asked him to stay at Emirates Stadium for one more season, but the 23-year-old has set his heart on returning to his boyhood club this summer.

Fabregas, who had already said that he wanted his future decided before the World Cup, has spent the last few days thinking long and hard about whether his ambitions could be fulfilled in north London.

He fears that he will miss out on major honours if he does not commit the prime years of his career to a Barcelona side that is in the middle of a golden era.
Comment | Sulmaan Ahmad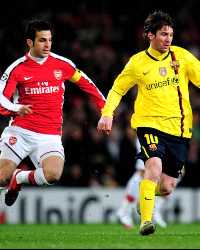 The shattering news for Arsenal supporters follows a claim by Barcelona's vice-president that Fabregas had expressed the same view to them.
Rafael Yuste told the Catalonian radio station Ona FM that he remained confident that deals for Valencia's David Villa and Fabregas were both on: "Negotiations are progressing well, especially in the case of Villa.
"The situation with Cesc is different because even if you have the will of the player it is very important to talk to his club and, if you can, find an agreement. But what makes it easier is that both players want to come to Barca."
Barcelona are now expected to table a £30 million bid for the player who Arsenal signed for nothing from Camp Nou in 2003.
However, the Londoners are likely to demand more than £40m for a player who is regarded at the club as irreplaceable and one of the finest midfielders in the world.
Fabregas, who played alongside Lionel Messi in the Barcelona youth teams before moving to Arsenal, had previously said he "would like to go to Barcelona", but had maintained that no move was imminent.
"I am happy at Arsenal and I am not in a rush to leave. Before I go to the World Cup I want my future sorted out because it benefits nobody if I go into the tournament with something else on my mind."
Reacting to Fabregas's initial comment about wanting to return, Barcelona's president Joan Laporta said: "It is remarkable that the player has said that. If the technical secretary [Txiki Begiristain] believes we must make an effort, we will do and will talk to Arsenal."