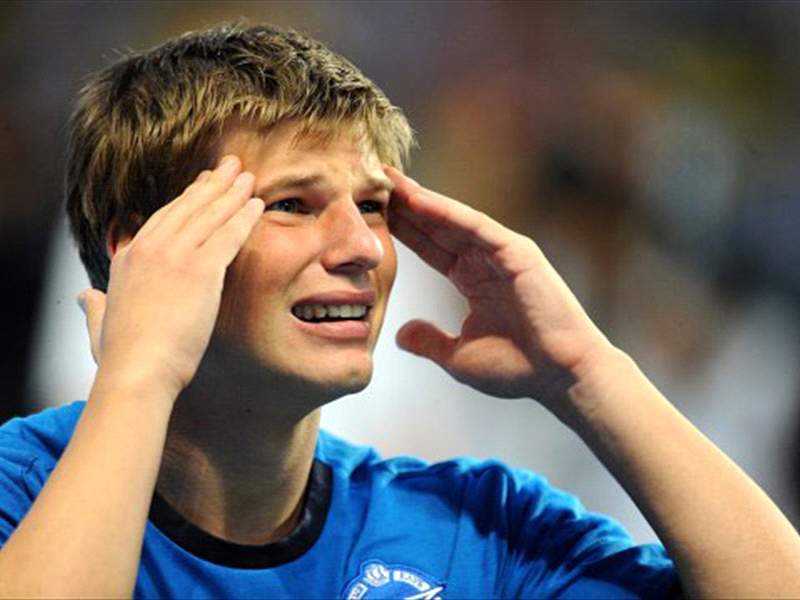 Key News: Andrei Arshavin is officially an Arsenal player.

Enter Andrei Arshavin LIVE - your chance to keep up with all the latest news and views on this transfer saga as it happens. We've also provided a chronology of events building up to the

Below you will find timestamped news, updated as soon as it becomes available on our site, as well as links to each day's editorial content.

So, simply scroll down and find out what's happening with Arshavin! Or if general transfers are more your think, be sure to check out Transfer Window LIVE, our sister feature covering all the big moves.
Wednesday 4 February
03:53 Reports in the English tabloid press indicate that there remains some controversy over Arshavin's move to the Gunners...

Tuesday 3 February
21:50 Arsenal coach Arsene Wenger waxes lyrical about Andrei Arshavin, his latest acquisition.

19:24 Agent Phil Smith reveals that Arsenal's attempt to bring Andrei Arshavin over from Zenit almost fell through.

18:28 In limited English, Andrei Arshavin declares himself 'happy to be a Gunner.'

17:56 Sure enough: Andrei Arshavin is officially unveiled as an Arsenal player, with the red shirt on and a smile on his face.

17:16 A report in the Russian press has it that the Arshavin move is "50/50", according to an FA official. Nonetheless sources in the UK state that it is ready to take place any minute...

11:05 Zenit have confirmed that Andrei Arshavin is joining the Gunners.

Monday 2 February
21:26 Oh no it's not! Not quite anyway. The Premier League infrom Arsenal that the paperwork to finally seal the move should be completed tomorrow.
20:05 And there it is. Andrei Arshavin signs a 2.5 year deal at Arsenal from Zenit St. Petersburg. The new Gunners' #23 arrives for an undisclosed fee.
19:56 Some good news for Gunners? Arsenal coach Arsene Wenger has denied that the Andrei Arshavin deal is dead, and says that it is likely to proceed!
18:33 A Zenit spokesman says that Andrei Arshavin's move to Arsenal is off - but we don't think the saga is over quite yet. Stay with us. There will be an update within an hour.

18:00 The UK transfer window is closed. No new deals can now be set in motion. No unexpected transfers will take place. However, the Arshavin move, due to its still being active and taking place "in principle," MAY still happen thanks to an FA extension!

17:58 Nothing has changed in the last half hour as the transfer window comes to an end. Still, as the transfer is still open "in principle" it may not be subject to the deadline.

17:24 Andrei Arshavin has passed his medical at the Emirates - yet the deal is not confirmed. It remains down to Zenit and that aforementioned payment from Arshavin to his (possibly) former club.
17:02 Following up from the earlier report, a fee has almost certainly been agreed, as have player terms. Just the player's own payment to Zenit remains to be the sticking point.

16:06 Could Andrei Arshavin make it to Arsenal after all? The transfer is edging closer, but Zenit need more money - from the player himself!
13:15 The fat lady hasn't sung just yet: talks are actually ongoing between Arsenal and Andrei Arshavin.

10:00 It looks like it's all off! Andrei Arshavin has reportedly left his Hertfordshire hotel base in order to seek the first private jet out of England after talks break down. But they may resume later in the morning...

Sunday 1 February
22:52 Is it finally happening?! According to reports, Andrei Arshavin is flying from St. Petersburg to London for Arsenal talks...
21:18 Meanwhile former Arsenal midfielder Emmanuel Petit would rather see Mathieu Flamini return to the Emirates than Arshavin sign.

20:51 Former Arsenal vice-chairman David Dein implies that Andrei Arshavin is needed at the Emirates.

20:04 Despite the Gunners' 0-0 draw with West Ham at the weekend, coach Arsene Wenger says that Arsenal are in no need of 'saviour' Andrei Arshavin alone.

11.16 Andrei Arshavin's agent denies the player flew to London yesterday and instead claims he travelled back to St Petersburg.

Saturday 31 January (all times CET)
19:57 Arsenal boss Arsene Wenger has claimed that 'anything can happen' with regards to the Andrei Arshavin move.
09.17 Andrei Arshavin flies to London for talks with Arsenal, according to reports.

00:22 Arsenal coach Arsene Wenger has explained exactly why he wants Andrei Arshavin of Zenit at the Emirates.
January 30
15:32 Arsenal coach Arsene Wenger claims that in fact no work permit was issued for Andrei Arshavin - or anyone else - contrary to earlier reports.
January 29
15:26 A Russian tabloid report claims that Arshavin is refusing to train during Zenit's pre-season camp in the UAE.

12:01 Editorial: Our poll results suggest that most readers think that Arshavin should join Arsenal, as opposed to other clubs or Zenit.

10:09 Arsenal boss Arsene Wenger says that the Arshavin deal is '90 Per Cent Completed' and hopes that the situation will be concluded within 48 hours.
January 28
20:06 Arshavin is named in the Russian squad for a training camp scheduled to take place in Turkey from February 8th-12th.
18:19 Maxim Mitrofanov tells Arshavin that buying out his contract so that he can leave Zenit will not happen.
15:40 Vincenzo Iaquinta's agent has rubbished reports linking his client to Zenit, but he was interested in the Arshavin to Arsenal saga.
13:42 Editorial: We ask whether or not a move to Arsenal is right for the player himself in our Goal.com Poll.

12:57 Arsene Wenger says that any player who would seek to break the Gunners' wage structure simply will not join Arsenal.
12:20 Editorial: Our poll results from yesterday indicate that fans have more faith in Arshavin's transfer going through than they do any other of the big January rumoured moves.

11:16 Arsenal coach Arsene Wenger admits that the Arshavin transfer saga is becoming a burden for his side.

January 27
22:24 Zenit beat Litex Lovech 1-0 in their Dubai training camp. Andrei Arshavin does not take part, fuelling speculation that a move is upcoming.

19:34 Maxim Mitrofanov asks whether Arshavin is interested in playing success, or just cash?
16:20 Zenit director Maxim Mitrofanov reveals further details of Arshavin's supposed wage demands from Arsenal.

16:13 Former Arsenal legend Paul Merson argues that Arshavin would bring nothing new to the Emirates table in terms of play style.

15:21 Arsene Wenger announces that it's "all quiet" on the Arsahvin front, and advises reporters to stick to official sources.

10:09 Official news: Zenit state that they have practically accepted an offer from Arsenal, and only Arshavin's personal terms remain as an obstacle to a transfer.

January 26

14:48 Andrei's former Zenit teammate, Martin Skrtel, states that Arshavin would prefer to go to Spain than England.

January 25

14:00 Reports emerge stating that Arshavin could use a FIFA clause to buy out the remainder of his contract, although this probably would not take place until November.

January 24

12:30 A report in The Guardian indicates that Arshavin could go on strike if he is not permitted to leave for the Gunners.

00:09 Rumours that Arshavin is set to leave gather pace as Zenit look to sign Juventus' Vincenzo Iaquinta by way of attacking replacement.

00:01 It is reported that Zenit are set to 'reject' Arsenal's 'final' offer, but negotiations actually continue.