---

COMMENT
---
Lionel Messi has had enough. After losing the Copa America Centenario final with Argentina on Sunday night in New Jersey, the five-time Ballon d'Or winner announced that he would not be wearing the blue and white of his national team ever again.
Messi missed a penalty in the shootout as Argentina lost out to Chile in a scenario similar to last year's events in Santiago. Two consecutive Copas (as well as the 2007 edition), plus the World Cup: four finals lost with the Albiceleste. And according to the player himself, there will be no fifth time lucky.
"It's a difficult moment to analyse," a distraught Messi said afterwards. "The first thing that comes into my head is that it's over. For me the national team is over."
---

WAS MESSI RIGHT TO QUIT INTERNATIONAL FOOTBALL?
---
And he added: "It has been four finals. It was what I most wanted. It didn't work out. I think that's it. It's what I feel now, what I think. There is great sadness. I missed the penalty, that's it."
And Messi may be the first of many to leave Argentina behind. Later, Sergio Aguero said: "We're all messed up. But that's the worst I have seen Leo. He did everything he could to get us here. But Messi probably won't be the only one to quit the national team. Several us are thinking about not carrying on."
Aguero said during last year's Copa that "it would be a failure if this generation of players didn't win anything" and his team-mates all agreed with that statement. But they still haven't and now the likes of 'Kun', Javier Mascherano, Angel Di Maria and Gonzalo Higuain could all follow Messi out of the national team.
It is a travesty that such a group of talent has failed to win a major prize at senior level (after claiming the Under-20 World Cup in 2005 and the Olympic title with the U-23 side in 2008). And perhaps the saddest thing of all is Messi's assertion that many will be happy to see him go.
"It's for the good of everyone," he said. "For me and for everyone. Many want that. People aren't happy with reaching the final and we are not happy either."
Messi in Argentina has always divided opinion. Even now, some supporters continue to treat him harshly simply because he has never played club football in his homeland. Likewise the media. But Messi cares deeply about his national team and that surely showed more than ever by his tearful reaction after this latest loss.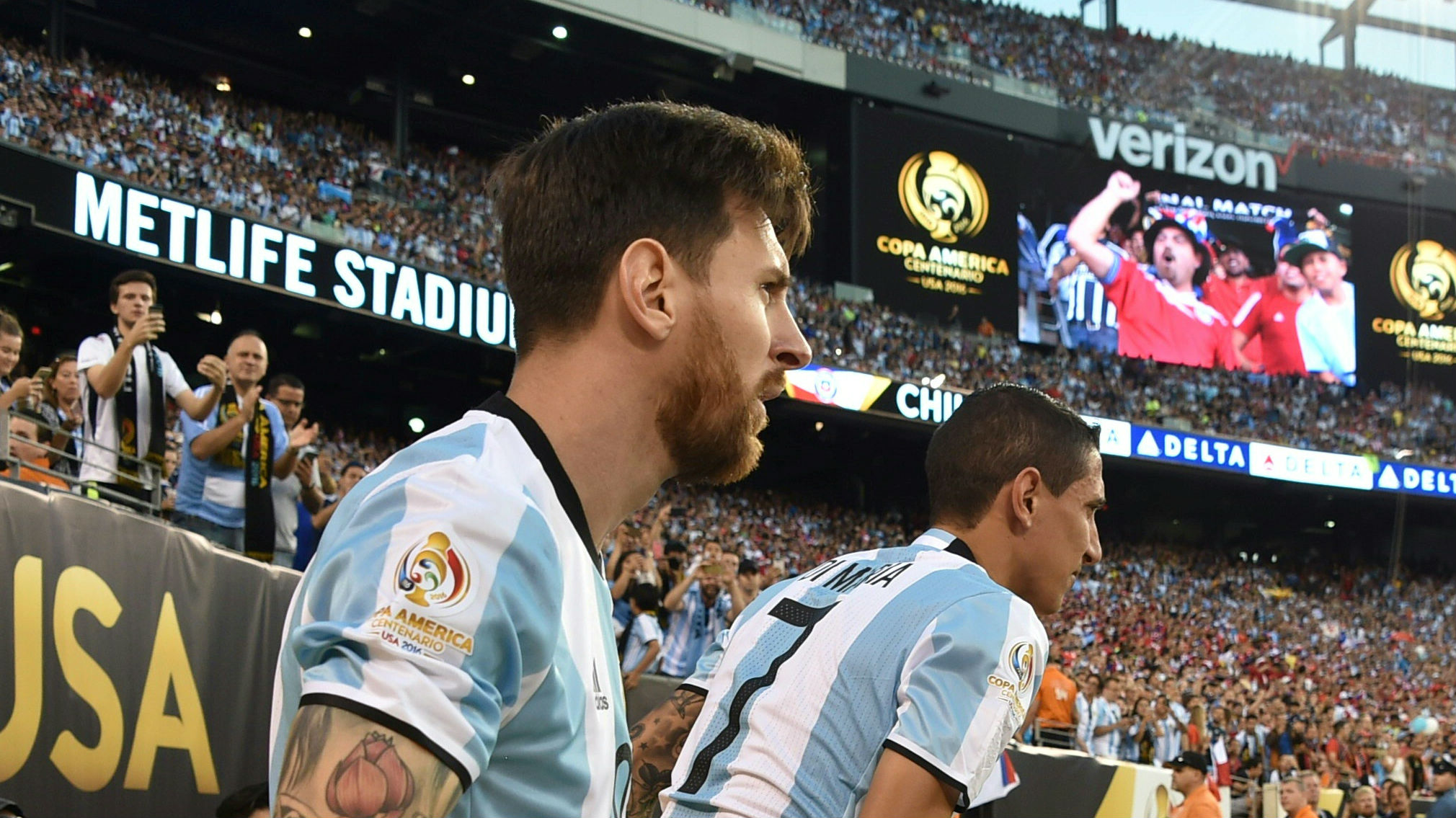 Even Diego Maradona has hit out at the Barcelona forward, telling Pele recently at an event in France that the four-time Ballon d'Or winner "doesn't have the personality to be a leader" like players from previous generations.
But Messi is just one player and if anyone has led Argentina to three consecutive finals, it is he. That they have ended in defeat is not the fault of only Messi, not by any means. Maradona did not score in the final of the 1986 World Cup and whie he did provide the assist for the winning goal, Jose Burruchaga still had to put it in the net. Had Gonzalo Higuain done similar in any of the last three finals, the story would surely be different.
Those are the fine lines between success and failure. And the result of one isolated match should not determine whether Messi is the greatest player ever. He already is. As Jorge Valdano once famously said: "Messi is Maradona every day. He is the Maradona from the World Cup in Mexico."
Valdano told Goal recently: "Winning the Copa America would strengthen his emotional ties with Argentina, but a Copa would add nothing to his status as a genius."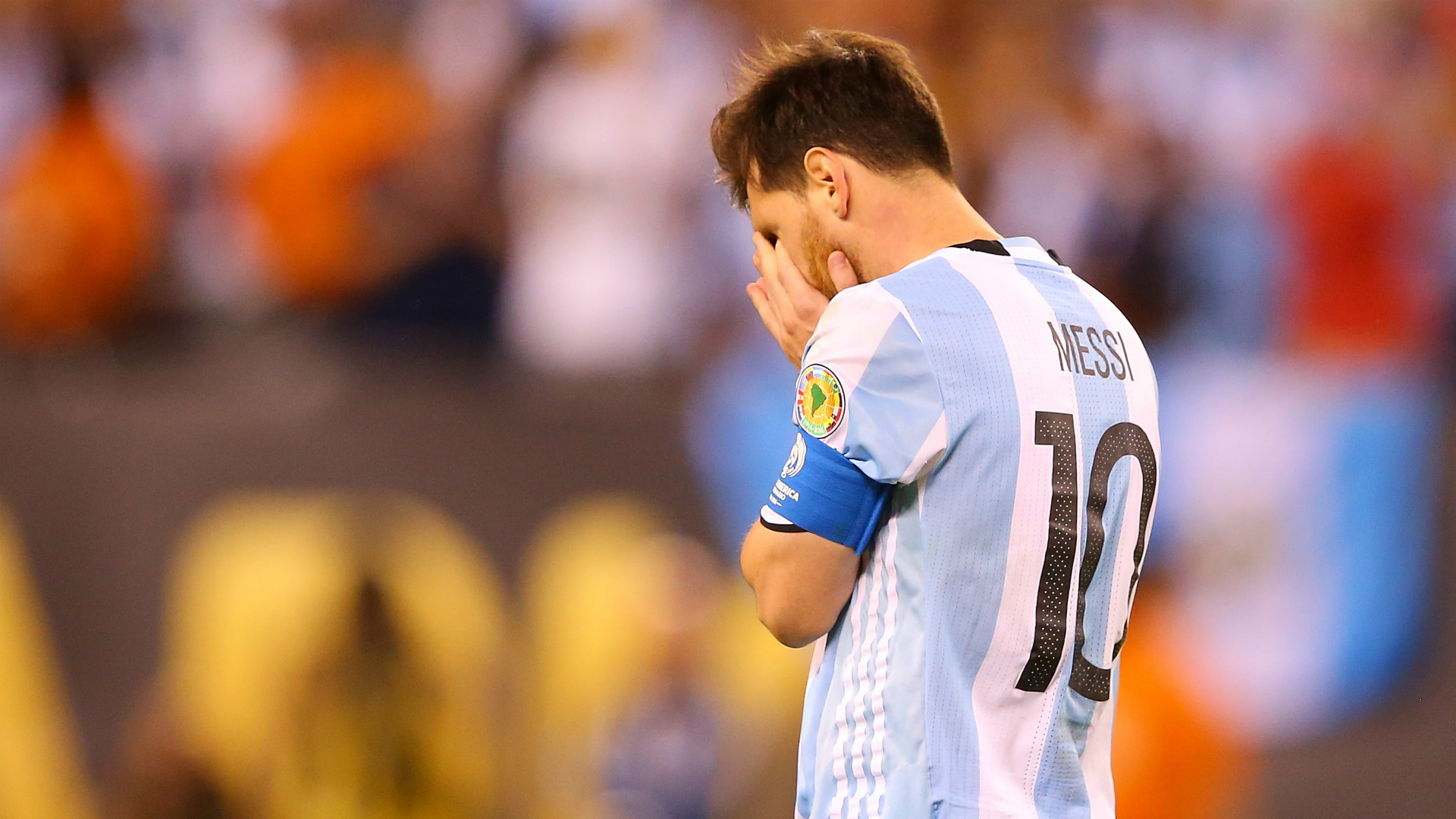 And Jorge Sampaoli, who as Chile coach denied Messi the Copa America in 2015, told Goal in an interview earlier this year: "I think that whoever cannot recognise Messi as the best is a fool."
But Argentina have not been able to keep Messi happy on or off the pitch and that is perhaps their biggest sin. Berated and blamed by fans and the media, the Barcelona forward, whose every touch is idolised by those at Camp Nou, feels the weight of a nation each time he pulls on the shirt.
"What I would tell that man is that Leo does not play like he does in Barcelona for Argentina because here he may not enjoy himself," Sampaoli said in that same interview.
"We have to make people accept that he can play well and badly, for Leo to feel loved. If we do not enjoy him, nothing can make us happy. I can assure you that all the comments reach Messi and make him feel bad, and that feeling enters the pitch."
And therein lies the biggest problem. But there are also others. The Argentine Football Association (AFA) is in chaos at the moment with no president and Messi complained on social media just last week of organisational issues that had left the squad stranded on a plane in the US. That is no way to treat the world's best player - especially days before a major final.
Conditions on the pitch have not been the best either. Gerardo Martino is a good coach who likes to play attractive football, but he is not a winner and his track record at Barcelona and now as Argentina boss over the past two seasons have shown that. At Camp Nou, Messi has been given all the ingredients he needs to succeed. With Argentina, he has not.
Now he has gone and they will surely realise quite quickly what they are missing. But if they are to coax him back for one last shot at glory in the 2018 World Cup, then there have to be big changes. At the AFA, with the team itself, and also the attitude towards Messi. Treat him better, charm him, give him what he needs, including a winning coach like Diego Simeone or Sampaoli - and beg him to come back for one final fling in Russia.
Argentina have to qualify first, of course. But they should, despite a possible player exodus, and Messi will only be 30 (almost 31) when the World Cup kicks off. Still in his prime.
Messi has shown his love to the Albiceleste for more than a decade, he has given everything he has. Now he needs a break to recover emotionally; then all the love and affection he should have been given before. And maybe, just maybe, he'll come back for what could yet be a fantastic finale in Moscow.
Over to you, Argentina.