SANTA CLARA, Calif. — Mexico manager Juan Carlos Osorio didn't hesitate when asked which Chile player he would like to have in his squad.
The midfielder picked Arturo Vidal, Chile's box-to-box midfielder. Osorio said he would provide a fearsome complement to Hector Herrera and Andres Guardado in the middle of the Mexico team. And beyond simply coveting the Bayern Munich star, Osorio said his skill stands out when compared with other players in the Copa America Centenario and throughout the Americas.
"Vidal," Osorio said Friday when asked who he would add from Saturday's quarterfinal opponent. "I think if we had another midfielder like him, in my humble opinion, similar to what Hector does for us or Andres does for us, we'd have a trident that I think very few teams are able to have. For example, France has Pogba, but you don't find another like him with the physical qualities, with the attacking opportunities, the box-to-box abilities.
MORE: Very different Chile, Mexico sides meet in Copa America rematch
"I think that's something that Latin soccer, Hispanic soccer lacks. Not all the teams have that. With all respect, Aranguiz isn't the same, Diaz isn't the same, Fernandez isn't the same. Argentina, Mascherano, Fernandez, two very different midfielders. So, I think that it's notable the lack of this type of midfielder there is at the highest levels. So, I think Arturo Vidal is among the three best in the world (at that position)."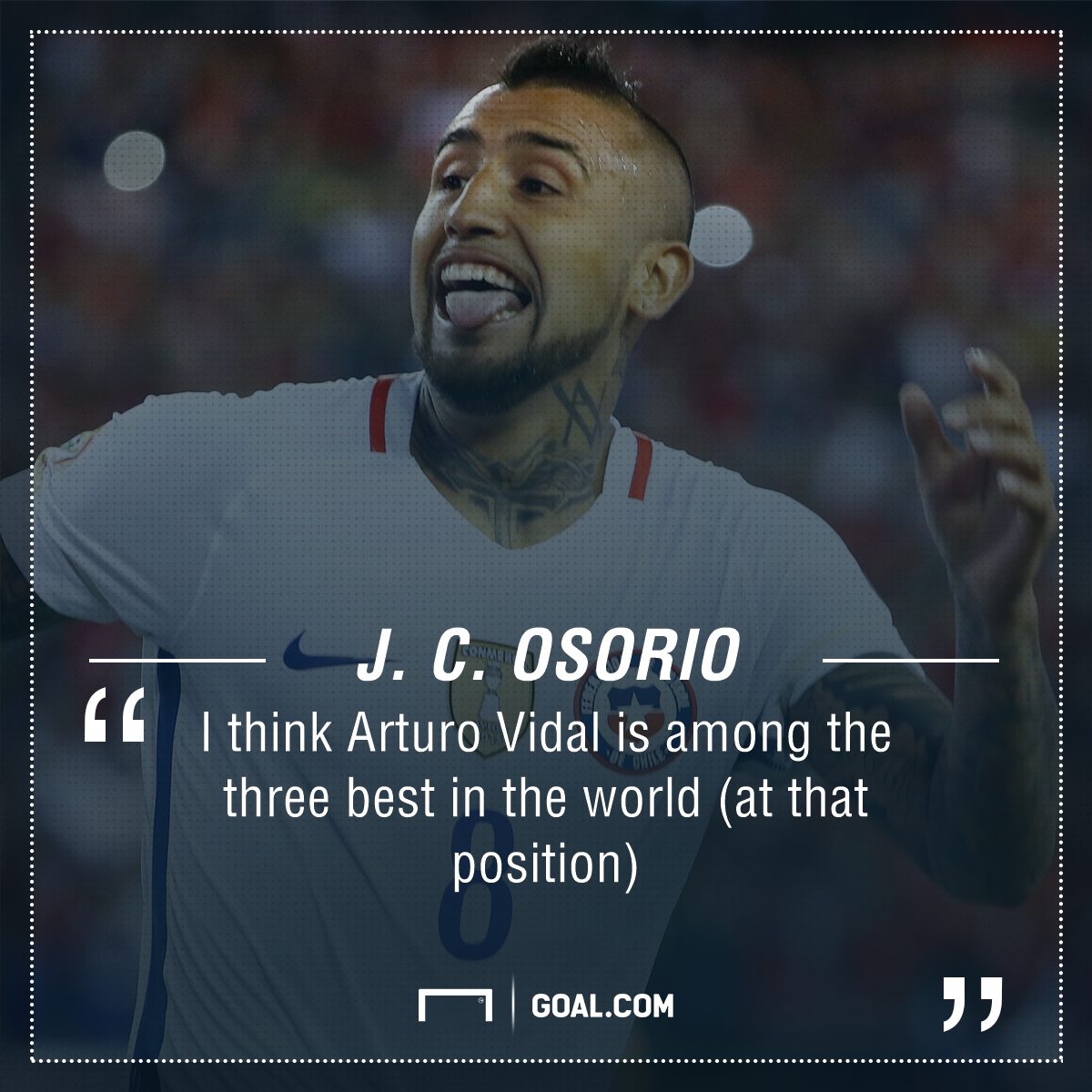 Stopping Vidal is a critical part of Osorio's game plan, the coach said, since his arrival in attacking situations helps Chile get a numerical advantage in the final third. Another contributing factor is Chile's fullbacks who also like to get forward. Though right back Mauricio Isla is suspended and left back Jean Beausejour left Chile's group win over Panama with an injury, Osorio said the potential replacements normally play farther forward and could be threats for Mexico. Beausejour also could be fit for the contest.
"They're two wingers who join the attack, so we've got to limit those chances, pay attention to them and try to keep them occupied with our offensive game," Osorio said.