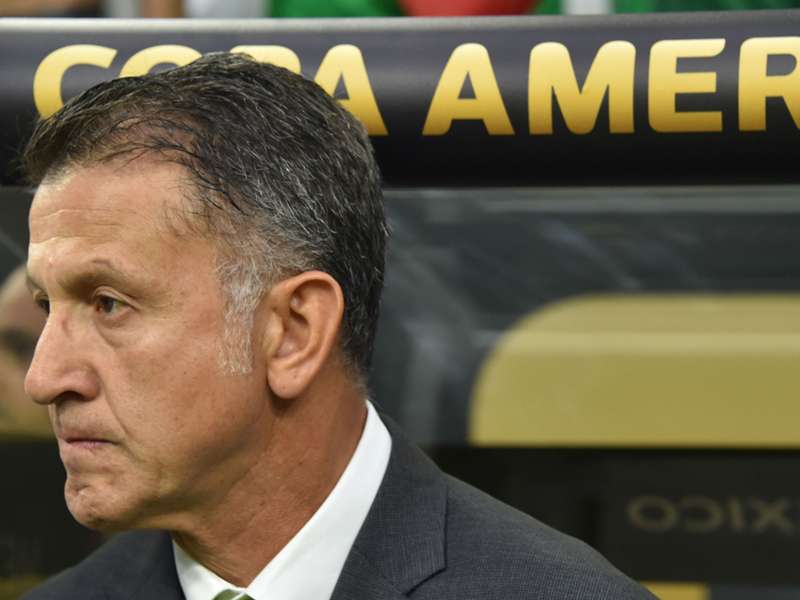 SANTA CLARA, Calif. — The margin of error has never been slimmer for Mexico manager Juan Carlos Osorio.
The Mexican federation stated this winter that the goal for the senior team was to finish in the top three of this summer's Copa America Centenario. El Tri are nearly there, but there's a thin line between success and failure.
It all comes down to this weekend's quarterfinal. If El Tri top Chile, as they did in a pre-tournament friendly, they'll reach the final four. Mexico could lose in both the semifinal and the third-place match, but even the FMF isn't so demanding that they'd remove a manager over a loss in a contest between defeated semifinalists.
But a quarterfinal exit would again mean disappointment at a major tournament. Mexico wants more from this tournament, and it should get more. This is not the best Mexico team in history, but it's the deepest squad in recent memory. It might even be the team that has the greatest number of in-form players.
By now, you know their names and their stats - Javier "Chicharito" Hernandez lighting up the scoreboard for Bayer Leverkusen, Miguel Layun leading the Portuguese league in assists, Andres Guardado and Hector Moreno guiding PSV to a championship in the Netherlands, and Raul Jimenez and Hirving Lozano winning the Portuguese league and Liga MX, respectively.
Getting out of the group stage is nothing new. Mexico has reached the knockout round at the last six World Cups. The team has lost in the round of 16 each time. Getting to the fourth game is easy, but it's the fifth game that Mexico has found elusive. It would not be a good omen for the Osorio era were he to fall into the same pattern.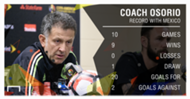 Up to this point, Osorio hasn't had to deal with much outside pressure. That happens when you're winning, when you're meeting objectives. It's easy to forget that the man still hasn't overseen a Mexico defeat. It's also easy to forget how toxic the atmosphere can become after losses.
After the 2011 Gold Cup, you'd have thought Mexico would build a statue of winning manager Jose Manuel "Chepo" de la Torre, so fervent was the praise for the boss. It would've been a very temporary installation. Not two years later, Chepo was out of a job, with El Tri struggling to string together the dominant run of results needed to secure automatic World Cup qualification.
Osorio is rolling along just fine in that regard, and even a loss to Chile likely wouldn't see him lose his job. The team has won every World Cup qualification match since he arrived. His methods are unorthodox, and even with his success that doesn't sit well with some Mexicans - some of whom are in power and some of whom simply enjoy whining in comments sections online.
Those voices will only grow louder if Mexico stumbles in the fourth game of a major tournament once again. Beat Chile, and this tournament will be considered a success. Drop the result, and even though it would be the first loss in the Osorio era, the Copa will be remembered as a failure.