PHILADELPHIA — For 10 tense minutes, another Claudio Bravo blunder had Chile on the cusp of embarrassment. Then, per Copa America tradition, Eduardo Vargas came to the rescue.
A year ago, it was Vargas who stepped up with a tournament-leading four goals — including two in a semifinal win over Peru — as Chile claimed the Copa America on home soil. With La Roja needing a result against Panama on Tuesday to reach the Copa America Centenario knockout round, Vargas again rose to the occasion.
Erasing a fifth-minute deficit with a brace before halftime, the 26-year-old paved the road to the 4-2 win at Lincoln Financial Field — and a collision course with Mexico in the quarterfinals.
MORE: Copa America for Euro 2016 - which has prettiest fans?
The performance from Vargas, who also teed up Alexis Sanchez's stunning second-half volley, couldn't come at a better time for a Chile side now braced to face El Tri on Saturday in Santa Clara, California. By pouncing on a Sanchez-forced rebound in the 15th minute and nodding home a Jean Beausejour cross moments before the break, the Hoffenheim striker surpassed his goal total (one) from the past 24 matches for club and country.
At times benched for the likes of Mauricio Pinilla and Nicolas Castillo, or omitted in favor of a false 9 alignment, Vargas has found a rhythm hard to come by since his heroics last summer. But with the striker boasting 56 caps and 27 goals, there's no doubting that resume when Vargas is in form.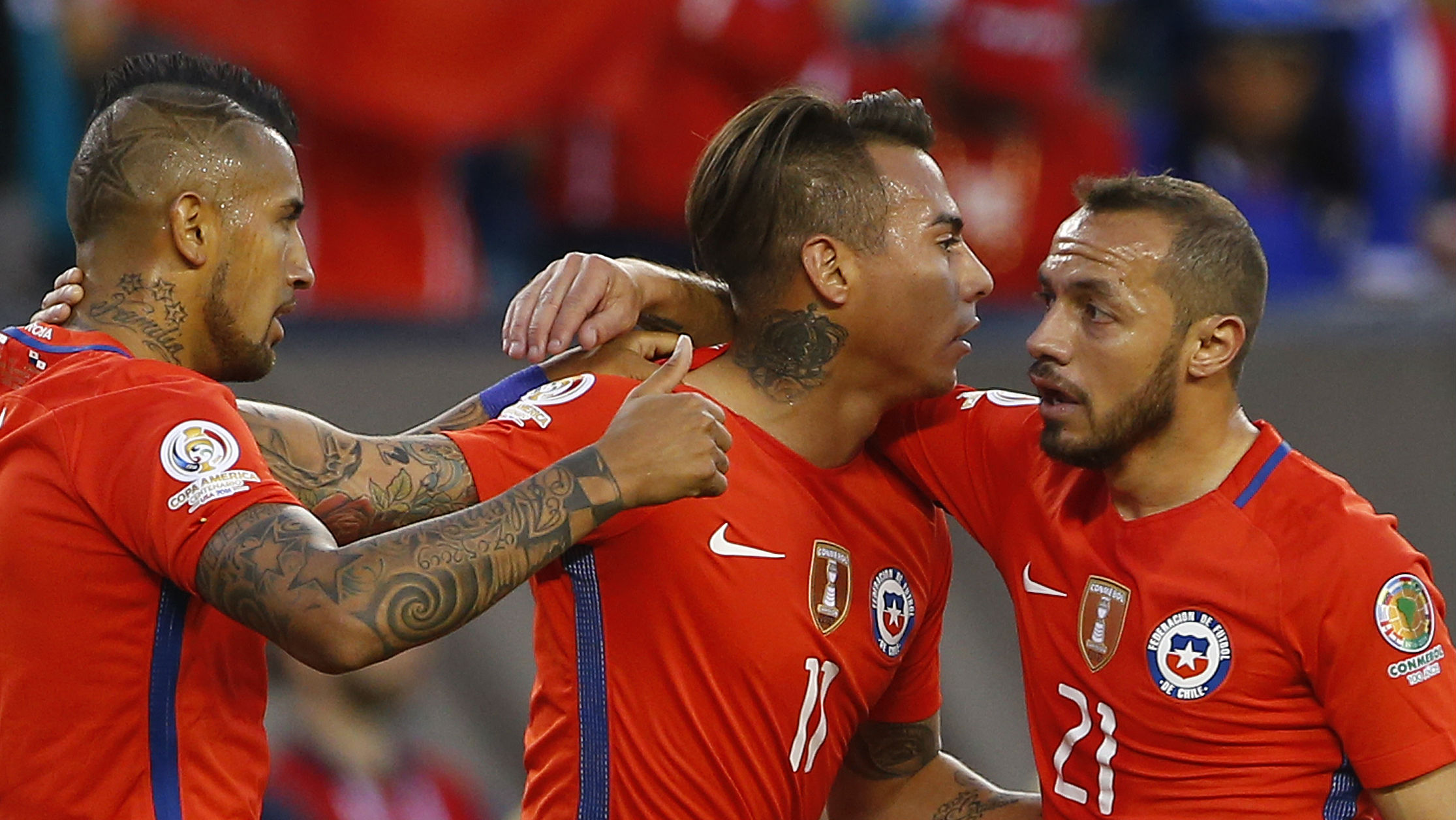 "I trust Eduardo and Pinilla and Nico Castillo to play in that position," Chile coach Juan Antonio Pizzi said via a translator. "Some of the decisions go through feelings that I get as to how I see it day by day. Based on that, I make decisions — and in today's case we had the luck that everything worked as we were hoping."
Although Vargas is far from a traditional target forward, he fits the bill in Chile's 4-3-3. With Arturo Vidal and Charles Aranguiz providing support underneath and Sanchez presenting the opportunity for interchange up front, Vargas has the goal-scoring instincts and technical prowess to make that system click. A look at Sanchez's second strike Tuesday — an 89th-minute header — shows just how lethal the Arsenal man can be when swapping spots with Vargas.
And Chile could need plenty of goals against a loaded Mexico attack, especially with Bravo mired in an inconceivable slump. While Pizzi is unlikely to bench his captain, the Barcelona goalkeeper has looked like a shell of himself throughout the Copa America.
Beaten to his near post twice in the opening loss to Argentina, Bravo saw his struggles escalate with a pair of howlers Tuesday. Although Miguel Camargo's early strike from distance had plenty of pace, it still should have been easy pickings for Bravo — who instead let the shot slip through his arms. Abdiel Arroyo compounded the misery in the 75th minute, when Bravo spilled the substitute's angled header into the back of the net.
"Claudio is not only my starting goalkeeper — he's also the captain of this generation of players that has given a lot of happiness to the country," Pizzi said. "Besides respecting him as a player, I respect him as a professional. I'm sure that he's going to overcome the sadness that he may have."
La Roja can only hope. As became clear when Mexico defeated Chile 1-0 in a Copa America tune-up two weeks ago, El Tri are perfectly capable of punishing a dominant team that makes one defensive miscue and lacks a cutting edge.
It's worth noting that Vargas was not on the field for the first half of that match, as Chile's commanding possession failed to produce a breakthrough. Those struggles in the final third cost Chile in the friendly, and they'll do so again Saturday unless the problem is remedied.
"I don't think that this is going to be a walk in the park," Pizzi said. "I think this is going to be quite the opposite. In order to deal with that match, we really need to be above everything that we can do."
In other words, if Chile wants to hand Mexico its first defeat of the Juan Carlos Osorio era, the defending champion will need the clutch performer who resurfaced Tuesday — and not the Vargas of the eight months prior.