SEATTLE — Anyone who has watched Jefferson Montero play knows the speedy and shifty winger can be a handful for any right back, so having to face him without your starter at the right-back position is enough to give any coach and fan some anxiety.
Jurgen Klinsmann doesn't seem so troubled, and neither does the man most likely to be called on to take on the Ecuadorian left winger in place of suspended U.S. right back DeAndre Yedlin.
MORE: Copa America for Euro 2016 - which has prettiest fans?
"It's a bummer that DeAndre cannot play, but I'm not worried because I know whoever plays instead of him will get his job done, will give everything he has," Klinsmann said on Tuesday. "The team know it, the starting team. The bench know it and everybody feels appreciated in his own role right now."
Klinsmann wouldn't come out and say who will replace Yedlin in the U.S. defense, but all signs point to Michael Orozco having the job. Orozco came on after Yedlin's red card against Paraguay, and he is a player Klinsmann has shown faith in time and time again.
"I'm always honored to defend my country, and this will be no exception," Orozco told Goal USA. "If I get a chance to play, I'll do as best as I can. Obviously I've got to defend first, I don't plan on attacking. I'm a defender, and my goal is to keep the zero in the back."
Working in Orozco's favor, along with having had almost an entire half of action under his belt against Paraguay, is being familiar with Montero, having faced off against him in Liga MX play in the past.
"I've played against him when he was in Morelia," Orozco said. "I defended him in a couple of matches. Obviously not just Montero, their whole squad is very good. They made it to the next round for a reason. We've just got to do our game, and obviously just defend, be very organized, and all the chances that we get hopefully our players put the ball way."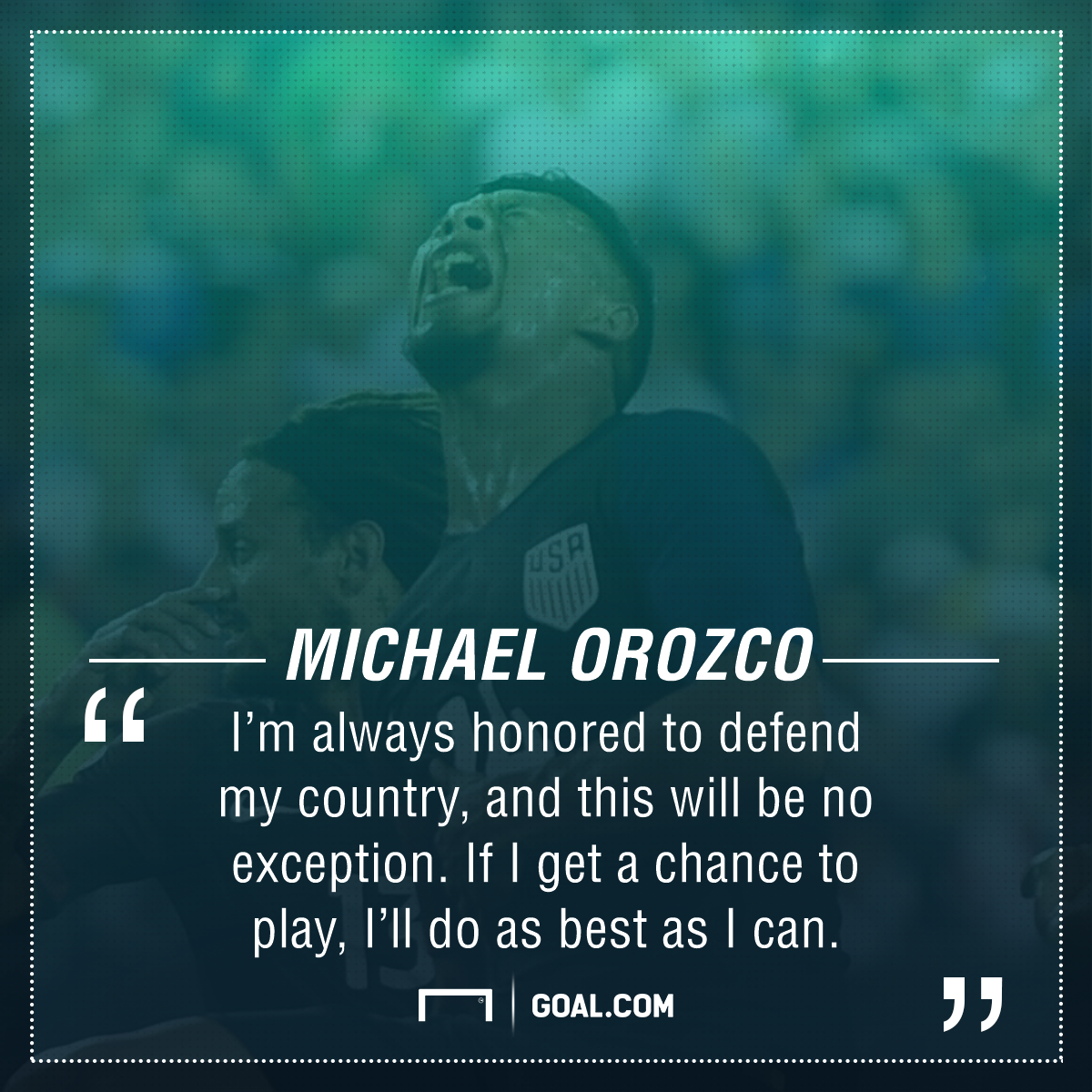 Montero's blazing speed and quick and shifty moves gave Yedlin all he could handle in last month's friendly, but while Orozco doesn't possess Yedlin's recovery speed, he believes he knows how to deal with Montero.
"Try to pressure him, not give him that much space because he's a guy that likes to cut a lot," Orozco said. "If you go at him hard, maybe the first play, obviously to the ball, he'll back off. But you just can't give him time, he's one of those players that gets confidence and he'll go at you."
Orozco was a bit of a surprise addition to the U.S. Copa America roster after struggling for playing time with Club Tijuana in the recent Liga MX seasons. Klinsmann didn't let that keep him from choosing the 30-year-old defender.
"It was always up in the air. I probably had played half of the season with Xolos, playing the cup tournament and then the last three games. It was just hard with the new coach," Orozco said. "I was working double sessions and I was ready for anything to happen. I spoke to Jurgen about it, and it was a hard situation in Tijuana. Obviously things changed towards the end, but I was always ready to see if I could get a chance to be on this squad. Thank God I was, and I'm very happy for that."
Klinsmann hasn't come out and said Orozco is the choice to start at right back on Thursday, but the other options for the position seem much less likely. Klinsmann could give D.C. United defender Steve Birnbaum the nod, but he has less experience at the position than Orozco. Moving Johnson to right back and having Edgar Castillo slide in at left back is another option, but Castillo could be very vulnerable in a matchup against Ecuadorian captain Antonio Valencia.
Orozco may not be the most highly regarded option among U.S. fans, but his teammates believe he is up to the task.
"He has tenacity. He's good on the ball. He's smart and he finds himself in good positions, so I think he'll do fine if he steps in and plays," Geoff Cameron told Goal USA. "When he came in (against Paraguay), he did a fantastic job, and it's hard coming into a game like that and adjusting so quickly. I think he only got beat once, and we were there to back him up. And then he adjusted to the speed and he was fine."
If Orozco can keep Montero contained, while also ensuring that dangerous Ecuadorian left back Walter Ayovi doesn't also cause problems, the U.S. will have a very good chance of earning a place in the Copa America quarterfinals. He doesn't know — or at least isn't letting on — if he is indeed the man who will have the job, but Orozco's confidence bodes well for him being handed the task, and being able to pull it off.
"I'm ready," Orozco said confidently. "If I get a chance I'm going to give it all. Like I said, I'm a defender. I'm not a forward.
"People always say 'Why don't I attack' or 'Why don't I do this.' I think I'm a defender, and that's what I'm good at. If I go out there I'm going to defend Montero or any forward. If I've got to go all the way to the left side and defend then I'm going to do it because I want to win, and I want to see the zero in the back."