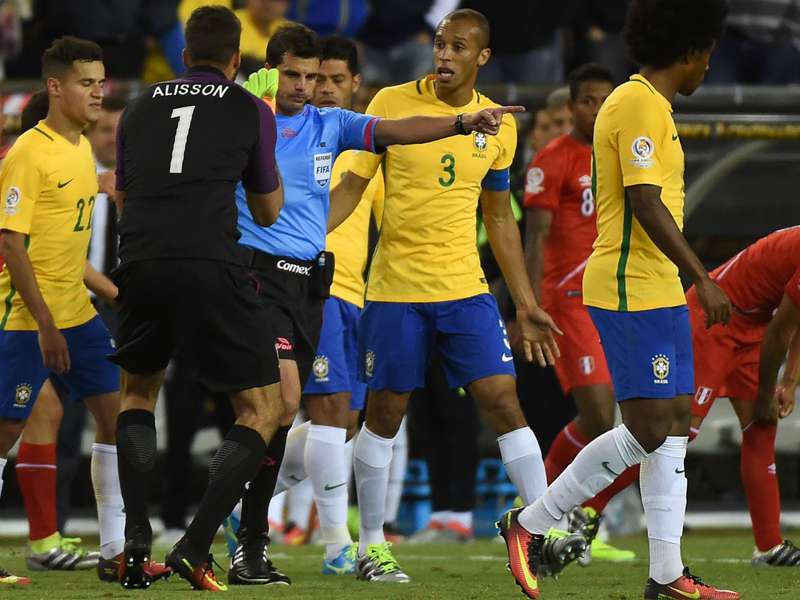 FOXBOROUGH, Mass. -- Brazil has crashed out of the Copa America Centenario in extremely controversial circumstances, ones which may have repercussions around world football.

After almost four minutes of consultation between the referee and somebody on the other end of his headset - apparently not a video referee - Raul Ruidiaz's winning goal, scored with the aid of his hand, was allowed to stand.
MORE: Was it really a handball ... you be the judge!

The Selecao's final group game against Peru, in which the winner qualified in first place and the loser was eliminated, was a dull affair for 75 minutes. Dunga's side looked blunt, but was in control nevertheless and appeared to be heading towards the quarterfinals with a draw.

But the game sparked into life in incredible circumstances when Peru substitute Ruidiaz bundled in Andy Polo's cross with a combination of forearm and thigh.
A look at Raul Ruidiaz's goal that has Brazil on the brink of crashing out of #CopaAmerica. #BRAvPER #MyCopaColors https://t.co/dlcsDhiq7c

— FOX Soccer (@FOXSoccer) June 13, 2016
The Brazil players were adamant it was a handball and surrounded the referee, who went to consult with his assistant. It quickly became clear that neither could make a call one way or the other.

Referee Andres Cunha, in the face of rabid complaints from all 22 players and a fair few substitutes, tried to pull himself away from the crowd to hear the information coming back at him down the earpiece. But who was he speaking to, and what information was passed on?
Dunga found it "strange."
"My question is, despite all the technology, we still make mistakes. The refs consulted. They were talking to somewhere else when they should be talking to each other," he said after the match. "I don't understand why they had to be on the headset to consult. This is very strange."

This edition of the Copa America, held in the United States, was announced on the eve of the tournament as the first around the world to implement new rules put in place by the International Football Association Board.

It had been earlier reported that the use of video assistants would be permitted, but the Copa's press release confirmed only minor tweaks to the rules regarding yellow card accumulation, a lack of extra-time until the final, and the ability to bring on a fourth substitute if the final does require an extra 30 minutes.

To repeat, there is no video referee at this tournament. So who was the referee talking to for almost four full minutes? That amount of time may not seem a lot to those accustomed to U.S. sports, but it is a lifetime in this sport.
"Everyone saw what happened today. There's nothing to do. If you do not have images, all work can be off," Dunga said. "We cannot change what everyone saw. The imponderable, there's nothing we can do."
Our rules analyst Dr. Joe Machnik chimes in and analyzes Peru's controversial goal. #BRAvPER #MyCopaColors https://t.co/tsl8jp7hw5

— FOX Soccer (@FOXSoccer) June 13, 2016
But while the handling of this decision will provide the main talking point from this match, another low point in Brazil's footballing history cannot be ignored.

For so long in here it looked as though their group stage amounted to how they fared against a very poor Haiti side. Until Ruidiaz's goal Brazil was heading through thanks to that 7-1 victory against the team ranked 74th in the world, and two goal-less draws against historically middling CONMEBOL nations.

Filling their boots against the Haitians was one thing, but struggling to break down Ecuador and Peru was quite another. In both games against the South American teams they had most of the ball but just could not fashion much in the way of a presentable chance. Dunga, to his credit, went with an attacking line-up in Foxborough. He started young striker Gabriel up front, and replaced the suspended Casemiro with the attack-minded Lucas Lima, pushing another attacking midfielder, Renato Augusto, back into a deep role. Still, though, they floundred.

Had they qualified, they would have had one hell of a challenge on their hands against Colombia in the quarters. It will come as no consolation whatsoever but at least they do not have to worry about that.

What they do have to worry about now is where they go from here. The decision to install Dunga as manager on the back of the disastrous World Cup exit on home soil two years ago appeared strange, not least given his own failure at the previous edition in South Africa.

The questionable men in charge of Brazilian football - the president of the CBF has not set foot in the U.S. this month out of fear of arrest - wanted a tough task master. Dunga has certainly provided that.

He has excluded the likes of Thiago Silva, David Luiz and Marcelo. Oscar, Firmino and Fernandinho did not make this squad, either. Six players there who would have improved this team.

Heading into this Copa Brazil was sixth in CONMEBOL World Cup qualifying: if team finishes there, it will not be at the next World Cup.

Dunga referred to the fact he needed to "fix" a few things in his team on a number of occasions over the past 10 days or so. It could be argued he has fixed very little in two years.
"We have to be patient, we have to persist with the awareness of what we are doing," Dunga insisted despite the recent failures. "The president knows what we are doing, how we are working. We also know how the position is exposed to criticism."

The Olympics are up next, a competition Brazil is clearly taking seriously. Neymar was not selected for the Copa so he can lead his country on home soil in August. Having lost in the final at London 2012, and given the accumulating embarrassments in the intervening four years, the pressure will be incredible.

Sunday night, though, should be a night of reflection. The referee's decision, and how he reached it, was poor, and at the very least raises questions that need to be answered. But the second Dunga era is just not working, and Brazil deserved to go out.