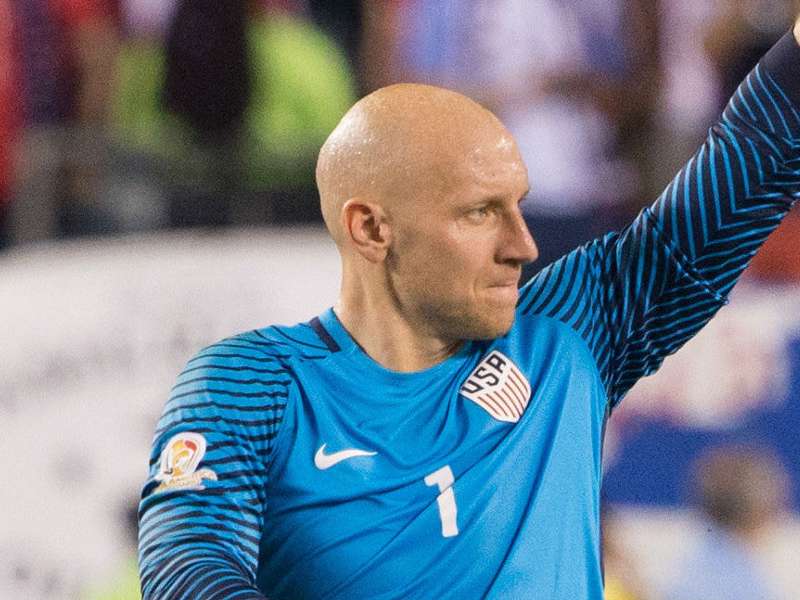 PHILADELPHIA — For the past decade, Brad Guzan has served as the U.S. national team's good soldier. The intercontinental flights were numerous. The chances to play? Much less so.
Having sat behind Tim Howard at the 2007 Gold Cup, the 2009 Confederations Cup, and the 2010 and 2014 World Cups, Guzan has been a staple of the U.S. program. Although only two players on the Copa America Centenario squad predate Guzan's 2006 debut — Howard and Clint Dempsey — it wasn't until last summer's Gold Cup that he entered a tournament as the Americans' starter in goal.
That Gold Cup ended in disappointment as the U.S. finished fourth. But with Howard back in the fold after a yearlong sabbatical and getting the nod for key World Cup qualifiers, it was Guzan who earned the No. 1 shirt when U.S. coach Jurgen Klinsmann named his Copa America roster last month.
"I've been fortunate to be around the national team for quite some time, and now to be the guy that is called on and to be in the starting XI, it's obviously an honor and a privilege," Guzan said. "It's exciting, and I just wanted to step up and do the job."
MORE: Luis Suarez flips out on bench | Is Venezuela Copa's surprise team?
Thus far, Guzan has risen to the occasion. Since conceding a set-piece strike and penalty kick in the first half of the opening loss to Colombia, the 31-year-old has delivered 228 minutes of shutout soccer at the Copa America.
As DeAndre Yedlin's red card reduced the U.S. to 10 men early in the second half against Paraguay on Saturday, Guzan held down the fort behind a stingy back line to secure a 1-0 win. With that victory at Lincoln Financial Field came a quarterfinal berth and, ultimately, the top spot in Group A.
"Everyone needs to be on the same page, and when you play a man down in the conditions like they were tonight, for so long, for 45 minutes, it's always going to be hard," Guzan said. "You need that resolute defending, you need that hunger and desire to block shots."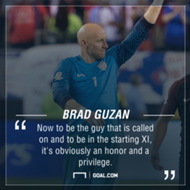 After being called on to make just two stops in a 4-0 win over Costa Rica on Tuesday, Guzan found himself much busier against Paraguay. Included among his six saves was a one-on-one denial of Dario Lezcano before halftime and a stunning double-save on Jorge Benitez and Miguel Almiron that preserved the clean sheet late.
"As a goalkeeper, you're called upon to make a save or two," Guzan said in typically understated fashion. "Fortunately I was able to do that."
.@bguzan #USAvPAR #MyCopaColors https://t.co/hFku3XcFOn

— FOX Soccer (@FOXSoccer) June 12, 2016
Klinsmann added: "When the minutes were rolling down, obviously you felt better and better because it's not easy against the back line that we have right now to score two goals. But they hung in there and got a clean sheet — Brad Guzan with a couple of wonderful saves. I think everybody in the stadium enjoyed it."
Coming off a rough Premier League campaign with Aston Villa, which saw the club relegated and Guzan briefly lose his starting spot, the veteran shot stopper has enjoyed a reprieve of sorts at the Copa America.
While Guzan's club future remains up in the air, that conversation will be put on hold until after Thursday's quarterfinal in Seattle against Ecuador, Peru or Brazil — and, if all goes well for the Americans, even longer than that.
"We'll enjoy this for the next day or so," Guzan said, "but we know there is some work to be done."
PODCAST | Discussing the USA's Group A-clinching win over Paraguay