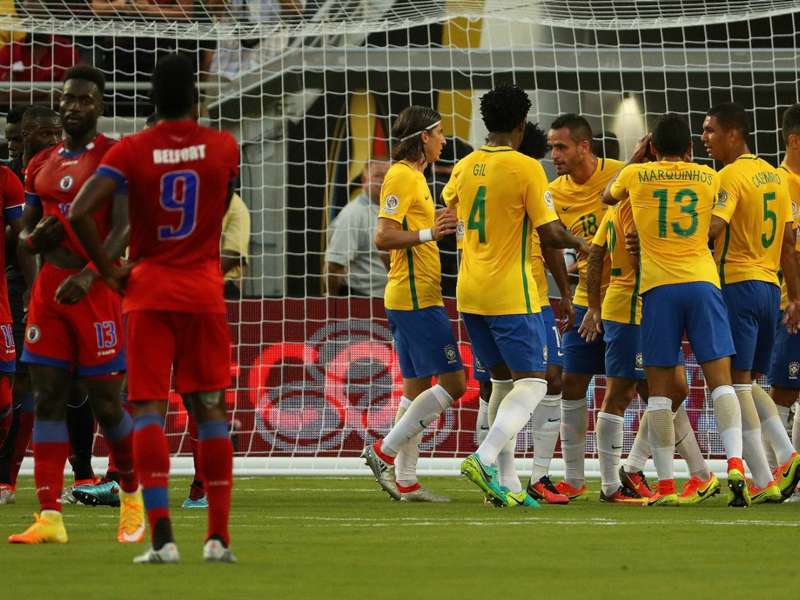 ORLANDO, Fla. - A night that started with boos for Dunga and an almost silent rendition of the national anthem ended in a rout that puts Brazil firmly back on track in Group B.
There is a significant Brazilian population here in Orlando, Florida, and Dunga hoped before the game that playing in front of something like a home crowd would provide extra motivation.
He was sadly mistaken on that front. The appearance of his face on the big screens around the Camping World Stadium was booed by those who follow the national team's fortunes.
Those fans, whether they knew the words or not, then reacted coldly to the national anthem, one that was sung so heartily by players and supporters alike at the World Cup two years ago. The way Brazil crashed out of its own tournament, that "eternal" 7-1 defeat to Germany, has helped change national public opinion.
COPA AMERICA: Fan fights in Glendale | Wrong national anthem played
Dunga, the replacement for Luiz Felipe Scolari, has been unable to change that over the past two years, but in fairness he can do nothing about the domestic political situation which has also done little to improve the average Brazilian's sense of patriotism.
Then, despite racking up a 7-1 win of its own, the loudest cheer of the night was reserved for James Marcelin as the Haitians in the house celebrated a momentous and equally unlikely goal.
But fortunately for the Selecao – aside from that hiccup - they took care of business on the pitch. Haiti's defensive gameplan quickly unraveled and Dunga's men, who have so often failed to live up to the Nike-endorsed perceptions of how they should play, streamed through at will, and increasingly with style.
The Haiti fans certainly made more noise than their counterparts on the night, and started the match full of excitement at what were, at times, the most rudimentary plays. A straight-forward save by goalkeeper Johnny Placide and a 20-yard pass by Kim Jaggy had the crowd cheering enthusiastically. Their expectations, they themselves will admit, are low.
Even so, for the next 35 minutes or so they had little to shout about.
Philippe Coutinho, on the day it is said Paris Saint-Germain made a concrete bid for his services, bagged a fine hat trick. He opened the scoring with a trademark drive cutting in from the left, one that Liverpool fans have seen so often in recent years, and one of the reasons why they have greeted PSG's reported bid with such mirth.
Coutinho added a second from close range after being presented with an open goal by Jonas, and Renato Augusto headed in a third after Placide relinquished possession and the center backs, slightly off guard, parted to allow the Beijing Guoan midfielder in.
Dunga talked in the build-up of still needing to "fix" a few issues in his side as the tournament progresses, and despite the meager opposition on Wednesday he will have been left scratching his head regarding Jonas, his central striker.
Although the Benfica man did not get on the score sheet in the first half, he did help create Brazil's first two goals. Even so, he was withdrawn at the break and replaced by Santos sensation Gabriel.
The 19-year-old duly gave Dunga further food for thought when he slid in Brazil's fourth 14 minutes after being introduced. He missed a couple of chances to increase his tally, but he got himself into space on a number of occasions and certainly posed a threat, albeit to this poor defense.
His club mate, Lucas Lima, also staked a claim for a starting role. Moments after replacing Casemiro, who will miss the next match through suspension, the 25-year-old playmaker added Brazil's fifth. He has been tipped to play a starring role for his country just months after making his international debut, and perhaps things are starting to fall into place for Dunga.
The real moment of magic, however, was provided by Marcelin. Racing onto a loose ball after Alisson had spilled a shot across his area, the Fort Lauderdale Strikers man buried his chance. The chance appeared to unfold in slow motion, but the celebration which greeted ball hitting net was vibrant and in full color.
Placide then made a string of elaborate saves that further entertained the passionate Haitains, who by the end, perhaps knowing they had had their moment of fun, did not complain too loudly as Renato Augusto ran through unchecked to make it 6-1, or when Coutinho smashed in his hat trick goal for 7.
Brazil can now look ahead to facing Peru in Boston, a game which will decide who finishes top of Group B. Current leader Peru takes on Ecuador immediately after this game, but if Dunga's side can emerge victorious next time out it will be top of the pile no matter what happens between now and then.
With Lucas Lima in the frame to replace Casemiro, and Gabriel putting pressure on Jonas for a starting berth up front, the under-fire Dunga has some decisions to make over the coming days. It may not make up for all Brazil's ills, but this 7-1 provides something to build on.