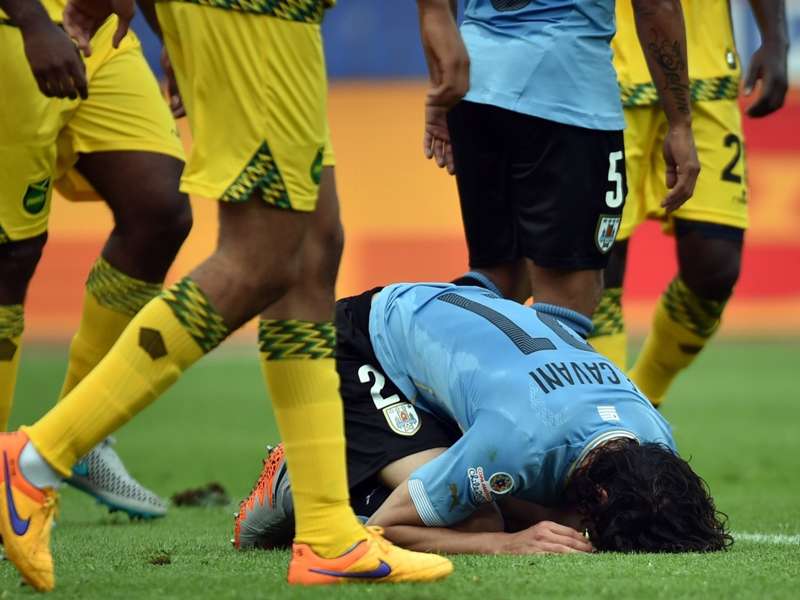 Edinson Cavani is considering leaving Uruguay's Copa America camp following the arrest of his father over allegations of causing death by dangerous driving while under the influence of alcohol, according to head coach Oscar Tabarez.
Uruguay outlet Subrayado alleges the Paris Saint-Germain star's father, Luis Cavani, is being held in police custody after his car collided with a motorcycle in the South American nation on Monday night.
The motorcyclist, confirmed as a 19-year-old man, is believed to have been taken to the nearest hospital in the city of Salto with a diagnosis of "multiple trauma and loss of consciousness, in a severe condition".
However, in the early hours of Tuesday he was pronounced dead as details of the incident emerged, including allegations that the PSG striker's father tested positive for being over the legal alcohol limit.
Tabarez has confirmed that Cavani will train with the national team ahead of Wednesday's quarter-final clash with host nation Chile but said it is possible he will return to Uruguay before the game takes place.
"It is a personal issue regarding Edinson who was not involved in anything but is nonetheless affected," the coach told reporters on Tuesday.
"We talked to him to extend our support to him. He is affected as anyone who would have such a thing happen to a member of their family.
"What will happen in between now and the game is we can assess how the player has been affected. The game is at 20:30 (01:30CET Thursday) tomorrow, not today, so we will train. In the coming hours we will continue to talk to him."
Luis Cavani's sister Sandra added: "We are waiting and will see what's going on. We need to wait. My head is confused, Luis is unreachable.
"Edinson can't do anything, he will probably stay at the tournament. He is talking with his mother and brother."