By Peter Staunton in Santiago
As it transpired, Lionel Messi was not able to drag Barcelona to the treble all by himself. The squad needed to be replenished following a fallow 2014 and the arrivals of Ivan Rakitic and Luis Suarez in particular were enough to help transform the Catalans from also-rans to multiple champions. Success, however, depended upon, if not more from Messi, then something different.
Rakitic and Suarez were two goalscorers in the Champions League final, along with Neymar, but it was all facilitated by this latest, greatest iteration of the best player in the world; Lionel Messi 2.0. Barca changed; Messi changed. It worked spectacularly well.
"We won every competition we entered and it's incredible to do the treble again," Messi said shortly after touching down in La Serena on Tuesday following a quick break.
"Thankfully, we were able to fulfil our objectives with our club and hopefully we can now gain more success with the national team which is what we all want."
The game against against Juventus in Berlin will not go down as the Messi final by any stretch of the imagination but it had his hallmarks of quality all over it. His arrowed pass to Jordi Alba drew the first goal for Rakitic and exemplified the evolution his game has undergone in such a short spell in 2015. He flashed the ball into the path of Alba before most inside in the stadium had spotted the pass was on. He did it from deep, too, demonstrating that his days as a forward to be serviced are very much gone. His dribble and shot prompted Gianluigi Buffon to spill the ball into the path of Suarez for the second and was redolent of days gone by. His was the clever pass which permitted Neymar and Pedro to race clear for the third.
The skinny Messi with the shirt too big and the awkward teenager's haircut shimmied and scampered effervescently through matches when he first emerged. This Messi proved he can still do that too but he does not have to do so as often these days. He is content to work away in the background and his let his team-mates reap the rewards. There is no visible sulkiness as there was last season, no shrugs or indifference which spread throughout an under-performing team like a sickness.
Messi is peaking. Again. He is doing all the things he could do when he first burst on the scene but is doing plenty more besides. His first goal against Athletic Bilbao in the Copa del Rey was awe-inspiring; it will ensure Messi will be the first recipient of both the Ballon d'Or and the Puskas Award in the same year. A quintuple of sorts but all in the Barcelona shirt.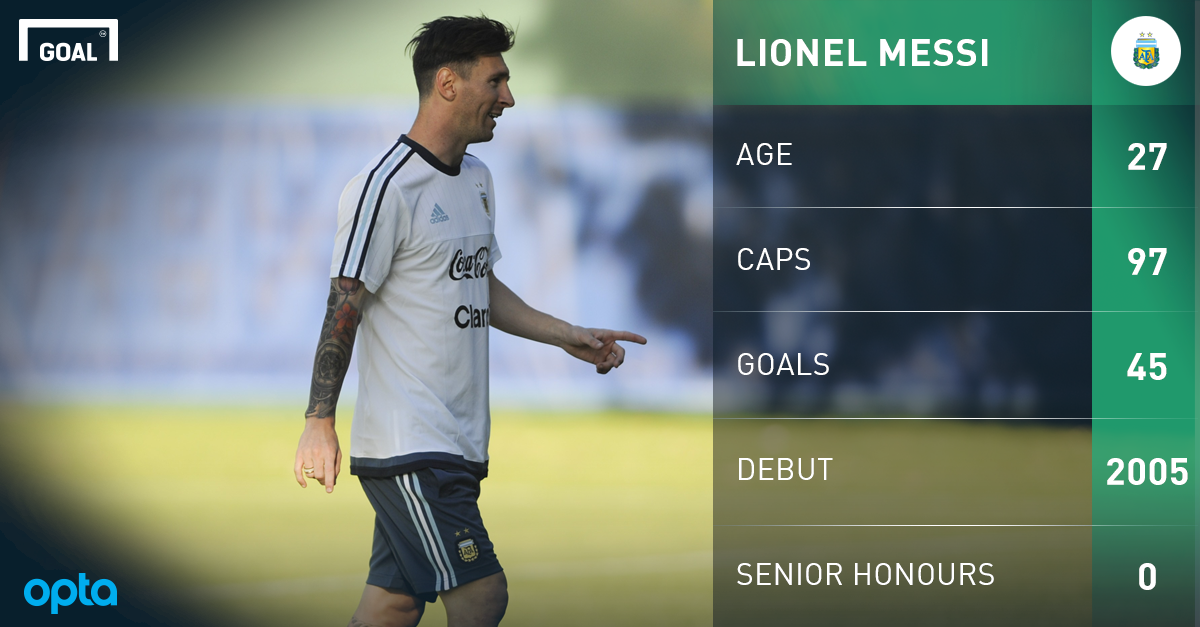 A sixth trophy for 2015, the year of Messi, remains possible and remains desired by the player himself and, crucially, by his country. For too long his compatriots have looked to what he achieves on the old continent and wondered what it would take for him to replicate that success in the famous white and light blue stripes. It was too much to bear at World Cups and Copa America tournaments gone by but Messi 2.0 is now ready for Chile 2015.
"I'd love to win the Copa America for everything it would mean for us after enjoying a spectacular World Cup and coming so close," Messi said shortly after touching down in La Serena on Tuesday following a quick break.
"This Argentina generation wants to win and we're aware that we are the favourites. As a team, we deserve to win something. We know that it would be the best thing ever to end the season by lifting the Copa America."
Argentina have not won the Copa America since Gabriel Batistuta helped deliver it against Mexico in Guayaquil, Ecuador in 1993 when Messi had barely turned six. Twenty-two years on and Messi, now captain, will win his 100th cap for Argentina here in Chile and is within 11 goals now of 'Batigol' - la Albiceleste's record scorer. He is a long way from the crying boy sent off two minutes into his Argentina debut against Hungary in 2005.
To end Argentina's more than two-decade trophy drought will take Messi in all his forms. Tata Martino needs the creator, the conjurer, the inspiration and the goalscorer. He did not have that player when he was Barcelona coach; he had a Messi who looked to have topped out. This year has been Messi's alone. He has recovered from what was, by his and Barcelona's standards, a bad year to reclaim his place as best player on the planet.
There is certainly enough talent for them to win this tournament and for the first time they will enter a tournament with the new Messi unleashed. Angel Di Maria and Sergio Aguero are world class players in their own right while the midfield support offered by Ever Banega and Javier Pastore will be second to none. Can his team-mates benefit from his metamorphosis like Barcelona did?
"With the national team we are all in good shape and we have some great players who can help us to achieve what we want," he said.
"We're going into this in better shape than we did at the World Cup because we had a few players injured. It's important for us, and for Argentina because it's been a while since we last won it."
Last year, the comparisons with Diego Maradona reached a crescendo; Messi could not match Maradona's achievement of taking Argentina to a world title; those are the plain facts of the matter. That stands against him in the public consciousness regardless of the rabbits he continues to pull out of his hat for Barcelona.
Argentina's barren streak in international football now stretches so long that the Copa America, once upon a time a second-rate competition for the Argentines, is priority. It is a tournament never won by Maradona; Argentina had bigger fish to fry during el Pibe d'Oro's reign at the top of his game but the crime during his career was the crime of indifference. Now they are desperate and have the man to deliver it. Maybe 30 years ago a player like Messi would have been given the Copa off in order to recover and recharge for the season ahead. No more.
The Copa America is a tournament that has transformed for Argentina from a mere opportunity to try out new players to a necessity. Messi, like his countrymen, is hungry.
Argentina have the competition of hosts Chile, expectant but anxious, Brazil, chastened but redoubtable, Uruguay, steadfastly predictable and Colombia, gloriously offensive. The Argentines, however, have a strong team, battle-hardened by their experiences in the World Cup final against Germany and ready to exact vengeance on the continent of South America.
This tournament may not grab at the global conciousness like the World Cup but boasts quality nonetheless. Never before has the line-up of teams here contained so many of the world's top players; Alexis Sanchez, Neymar, Edinson Cavani and James Rodriguez are among them and it would be more if Luis Suarez was not serving his ban for biting Giorgio Chiellini in Brazil last summer.
"All of our rivals are going to be difficult," Messi said. "This is one of the closest tournaments in a long time. I love good football and would pay to watch Brazil, Colombia and Chile."
None of those players can match Lionel Messi; indeed, it is insulting to Messi's increasing dominance at the top of world football to even mention him in the same sentence as the other lesser lights.
He is leading Argentina and they are expecting great things from the man who helped Barcelona to the Liga, Copa del Rey and Champions League treble. It would be fitting for Messi to win again, on a personal level, and to also lead his country to glory here in Chile. Indeed, it would merely confirm his Midas touch.