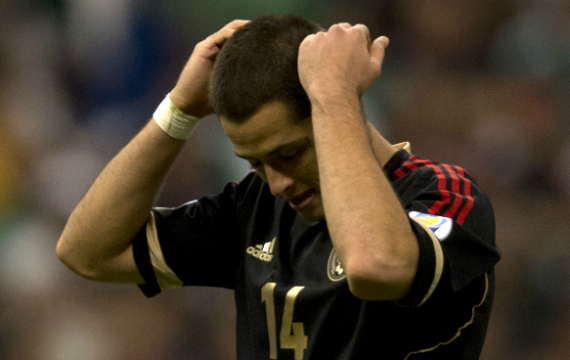 Mexico coach Miguel Herrera has released his 30-man preliminary squad for this summer's Copa América in Chile - but there is no place for Real Madrid striker Javier Hernandez.
El Tri have named an initial 23-man roster, with seven additional players on standby, with the final list of 23 to be confirmed by June 1.
However, with Herrera also having to contend with Mexico's upcoming participation in the Gold Cup this July, a few big names have been excluded from the plane to Chile as the 47-year-old seeks to balance his squad across two competitions.
Hernandez and Jonathan dos Santos of Villarreal will miss the Copa, as will Porto midfielder Hector Herrera and Andrés Guardado of PSV.
Javier Aquino has not featured in any capacity for Mexico since October 2014, but has been named in the initial squad.
The midfielder has struggled at Rayo Vallecano, where he has played 90 minutes in only three of his 22 Liga appearances this season.
He is one of only four Europe-based players in the 30-man list, alongside Verona's Rafael Márquez, Raúl Jiménez of Atlético Madrid and Jesús Corona of Twente.
Mexico have two friendlies against fellow Copa sides to contend with before the tournament begins. They visit Lima to face Peru at the Estadio Nacional on June 3, before heading to Allianz Parque in São Paulo to take on Brazil four days later.
Viña del Mar will be the locale as El Tri open their tournament against Bolivia on June 12. Three days later, the Concacaf side will square off against hosts Chile in Santiago and will travel to Rancagua to face Ecuador in their Group C finale.
Mexico squad for Copa América 2015
Goalkeepers: Jesús Corona (Cruz Azul), Alfredo Talavera (Toluca), Édgar Hernández (Veracruz).
Defenders: George Corral (Querétaro), Gerardo Flores (Cruz Azul), Hugo Ayala (Tigres UNAL), Julio Domínguez (Cruz Azul), Carlos Salcido (Guadalajara), Miguel Herrera (Pachuca), Adrián Aldrete (Santos Laguna), Efraín Velarde (Monterray).
Midfielders: Mario Osuna (Querétaro), Juan Medina (Atlas), Javier Güemez (Tijuana), Jesús Corona (Twente), Javier Aquino (Rayo Vallecano), Luis Montes (León), Marco Fabián (Guadalajara).
Forwards: Raúl Jiménez (Atlético Madrid), Eduardo Herrera (Pumas), Enrique Esqueda (Tigres UNAL), Vicente Vuoso (Chiapas).
Standby: Enrique Pérez (Atlas), Luis Fuentes (Pumas), Rodrigo Salinas (Pachuca), Isaac Brizuela (Guadalajara), Jürgen Damm (Pachuca), Alfonso González (Atlas), David Cabrera (Pumas).