---

COMMENT
---
Argentine football has never been the same since June 25, 1994. A golden era ended when Diego Maradona was led down the tunnel in Foxboro Stadium to take a random drugs test that would smash his international career into pieces. The little No. 10 was never seen again in the Albiceleste shirt, leaving his nation to begin the impossible task of finding a replacement.
Lionel Messi has now also drawn a curtain on life with the most demanding national team on the planet. His journey ends, like Diego's, in that most incongruous of football backdrops, the United States, just days past his 29th birthday. The Barcelona star came closer than anyone to finally putting the Ghost of Diego to bed once and for all, but despite four finals, he ultimately failed.
There were no recriminations in the bowels of New Jersey's MetLife Stadium. No wild conspiracy theories, no scores to settle, no easy headlines to please lazy newspaper hacks. A repeat of Maradona's "my legs were cut off" laments was never likely to occur. Just the recognition that, having failed to break a trophy drought that spans five finals and 23 years, he had no more left to give in his quest to match El Pibe de Oro.
"The national team is finished for me, that's it," he told reporters in the mixed zone, and with those few words pulled the curtain down on an international career that, if compared to anyone apart from a demigod like Diego, would be the source of infinite pride and honour.
Messi, however, will always see an asterisk next to his name when his Argentina record comes up. He may be the nation's highest-ever scorer, having unseated Gabriel Batistuta against the United States to move on to 55 strikes. He may have lit up the country with some unforgettable performances. But he is not Diego, and the nation has never lacked those who were more than willing to point that fact out.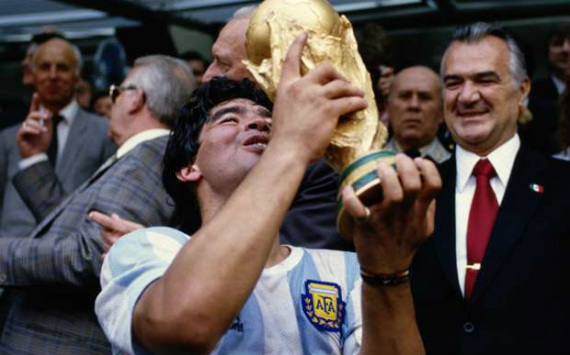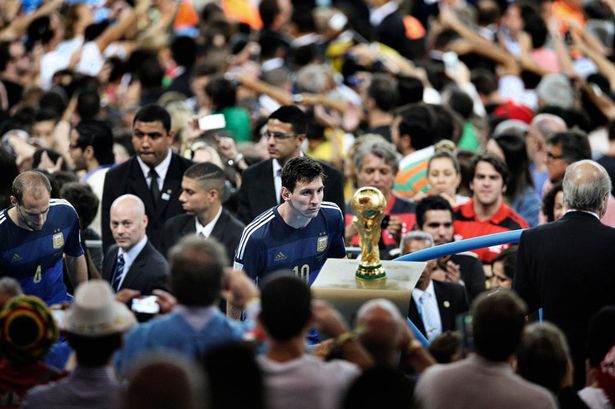 Diego delivered a World Cup, and Messi did not. That is the simple fact that will live with him until the end of his career, unless he can somehow be talked into a return ahead of Russia 2018. But this is also a victory for the most cynical, manipulative elements of the Argentine press, who refused to analyse Messi's achievements without first putting them up against the man known simply as D10s (God). It was an impossible challenge.
Argentina have been searching for a new Maradona for the last 22 years. It is a peculiar national sickness. In Brazil, after all, secure in the knowledge no team can match their five World Cups, nobody demands Neymar, or Rivaldo, Ronaldo, Romario or Zico before them, be the living reincarnation of Pele. Mario Gomez does not buckle under the strain of matching Gerd Muller's Germany exploits, and when Cristiano Ronaldo takes the field for Portugal he does so as Cristiano Ronaldo the Real Madrid scorer, not a 21st century version of Eusebio.
But the Albiceleste cannot let go of the legend of 1986, as the wall-to-wall coverage in Buenos Aires of the Mexico World Cup's 30th anniversary acutely demonstrates. And the pressure to live up to the man whose name is still synonymous with the No. 10 has sank more than one career.
Ariel Ortega was the first man to try, literally in his case as he replaced Diego in the United States at the outset of his career. El Burrito had the wayward temperament of the Napoli legend, but could not channel it into the commanding performances Argentina demands of its playmakers. Alcohol, indiscipline on and off the field and a marked decline later on meant that, even with more than 80 caps, he fell well short of that mark.
Another iconic '10', Juan Roman Riquelme, suffered the double nightmare of trying to live up to the great man's legacy while being coached by him from the sidelines for part of his international career. The ex-Barcelona, Villarreal and Boca Juniors man had a brilliant career, but it could never live up to the man he replaced in the Bombonera for his final ever professional appearance back in 1997.
Marcelo Gallardo, Pablo Aimar, Carlos Tevez and Andres D'Alessandro were also saddled with the mantle of the New Maradona as they took their first steps in football. While each of those players has enjoyed a career packed with success, not one has been able to fill the shadow left by their predecessor. And the less said about Carlos Marinelli and Franco Di Santo, two other failed candidates, perhaps the better.
Messi appeared to be the only man capable of filling those shoes. But even with a virtuoso Copa America, the Barcelona star was destined to fall short once again, as if he felt the weight of that impossible comparison pressing on his shoulders.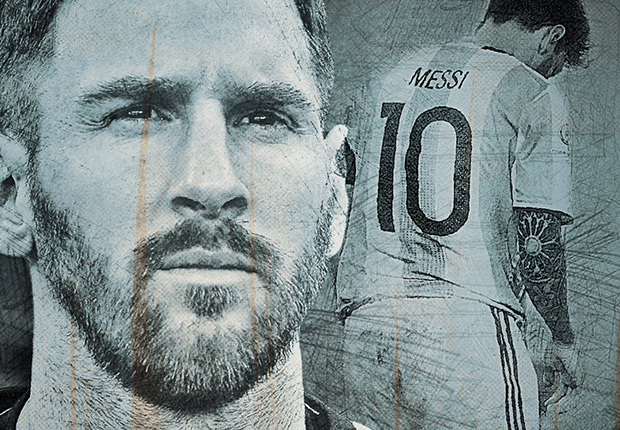 "Win the Copa America, or do not come home," Diego had told his compatriots from Buenos Aires in the run-up to the final. As Messi watched his penalty soar over the crossbar of Claudio Bravo those words must have come rushing back to his head. His tears as Chile celebrated their second Copa title in as many years were not just the tears of a man who has tasted defeat.
They were the tears of a defeated man, a man who has given everything he has only to see that it was not enough. The undoubted truth of a statement, oft-repeated in these days, that if the likes of Gonzalo Higuain and Rodrigo Palacio had taken their chances as Jorge Burruchaga and Jorge Valdano did in 1986 Messi would now be a hero, is no consolation.
"Diego Armando Maradona was adored not only for his prodigious talent, but also because he was a dirty god, a sinner, the most human of the gods," the late Eduardo Galeano wrote of the Argentine legend.
"Anyone could see in him a living synthesis of human weakness, or at the very least male weakness: adulterer, drunk, cheater, liar, braggart, irresponsible. But the gods do not just fade away, as human as they may be." Perhaps that too explains why the best player on the planet could never live up to the example set by Diego. The 1986 World Cup winner's all-too evident human failings were compensated by his incredible bravery and skill on the field, while Messi, clean-cut and barely perceptible off the field, was just too perfect for the Argentine public to take him to their hearts.
Messi will still come home to Argentina, but it will no longer be his footballing home. Barcelona now becomes the centre of his sporting universe, the city where he is idolised without the painful addendum of Maradona qualifying his greatness. And his retirement is a catastrophic loss for the Albiceleste. The captain put himself through hell to escape from Diego's shadow; and if he could not do it, it is unlikely that anyone can.