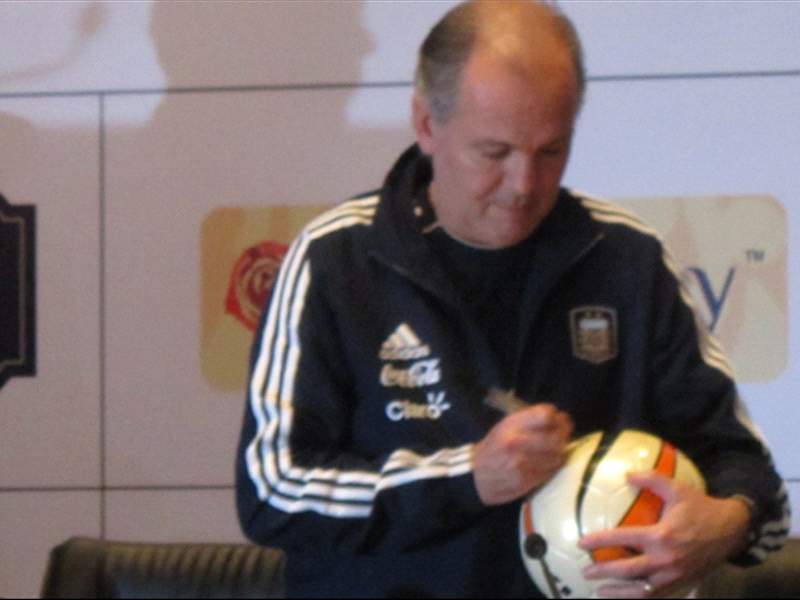 Argentina coach Alejandro Sabella expects a gripping clash when his side meet Brazil in Wednesday's Superclasico de las Americas, although he admitted that the loss of Juan Roman Riquelme and Juan Sebastian Veron is a blow to the local selection's chances.

The Boca Juniors and Estudiantes veterans were originally selected by the trainer to play the first of a double-header of matches against their South American rivals, with both squads drawn from the domestic leagues. The pair, however, were ruled out when it was revealed that niggling injuries from club matches would leave them unable to complete two games in a matter of days.

Speaking on the eve of the fixture in Cordoba, Sabella recognised that his side was hurt by their withdrawals, but remained upbeat.

"With Riquelme and Veron [in the squad] we would have had more options," he speculated, before elaborating further.

"Maybe that it is a poor way to put it, I would say that there would have been a little more elasticity. Their experience encourages greater flexibility in the play, and we would have been somewhat more fluid. Now we must look elsewhere for ideas."

Asked how he saw the game developing, Sabella admitted that he was not sure what to expect against Neymar, Ronaldinho and the rest of the Serie A's brightest talents.

"It is difficult to picture it. Argentina will have to be disciplined and watch closely the Brazilian full-backs. At the same time, we will have to create our own play, and move well in order to conserve energy," the ex-Estudiantes man explained.

Argentina and Brazil meet on Wednesday evening in Cordoba's Estadio Mario Kempes, at 21:50 local time (02:50 CET).