Watching Diego Maradona trudge off the field in Johannesburg, after his Argentina side had been humiliated in a World Cup quarter-final by Germany, few expected the coach to ever sit on the Albiceleste bench again. These expectations have been fulfilled by the AFA's declaration that they will not be renewing the controversial legend's contract; the only surprise is that it took weeks of drawn-out wrangling to do it, a period in which neither party covered themselves in glory or integrity.
In purely footballing terms the exit of 'Dieguito' makes sense. At the helm of a country boasting the best player in the world, and with the depth of talent which almost justified leaving behind such geniuses as Juan Roman Riquelme, Javier Zanetti and Esteban Cambiasso at home twiddling their thumbs, the tactical naivety and indecision shown throughout Maradona's reign guaranteed four more barren years for the Albiceleste.
After stumbling through qualifying following three abject performances against Paraguay, Bolivia and Brazil, Maradona proceeded to pick his squad's seemingly by throwing darts blindfolded into an Argentine PFA directory. Over 100 players pulled on the
celeste y blanca
in just over a year; even allowing for the specially arranged domestic friendlies, such a scattergun approach to selection meant that there was no way Lionel Messi and other certainties knew how to play with those around them come the World Cup.
Tactically as well 'El Diez' eventually and inevitably showed himself incapable of matching himself against the brightest minds in football. Forget throwing rookie Nico Otamendi on against Germany to face the marauding and in-form flyer Thomas Muller; his insistence on placing Javier Mascherano as a solitary anchorman against the five man Teutonic powerhouse in midfield was nothing less than suicide. Attacking flair early in the tournament prevented a Buenos Aires lynching on arrival, but it was clear that the coach was not cut out for top-class management.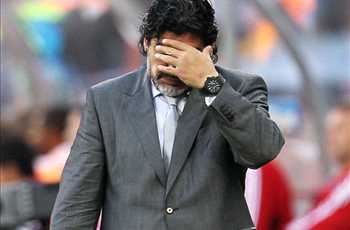 If the reasons behind his dismissal were sound though, the handling of it was positively shameful on the part of the AFA and to a lesser extent Diego himself. Maradona would have loved to go out with a bang, in tears and with all emotions riled in the immediate aftermath of the Germany game. Let's not forget then, that it was AFA President himself Julio Grondona who sat in the dressing room and discouraged his prodigal son from falling on his sword - why?
What followed was a pathetic game of chicken, in which neither side wanted to blink first. Maradona not once in the three and a half weeks that separated the two events said he wanted to continue, and hid behind his trusted inner circle and vaguely worded rambles. The AFA on the other hand said that their man was the only person in the country who could do what he wants, before trying to force him into shedding half of his allies in the backroom staff.
Terrified of the public reaction that would follow if they outright canned him, they instead twisted and cajoled him until the famously emotional and unstable man said enough was enough. The board was so spineless they even refused to censor Maradona when he jumped the border to Venezuela and played baseball with Hugo Chavez; knowing that they just had to bide their time and drop the backroom bombshell and he would walk away with no further effort on their part.
The AFA and 'Don Julio' have their wish then; the coach that they never really wanted in the first place is gone, and inevitably will be painted as the volatile, ranting and stubborn cartoon character who threw his toys out of the pram. Undoubtedly one of the many quick-witted, intuitive and tactically astute domestic coaches will be called up, and the national team will benefit from the change in personnel; the AFA's despicable treatment of their flawed genius however will not be forgotten overnight.