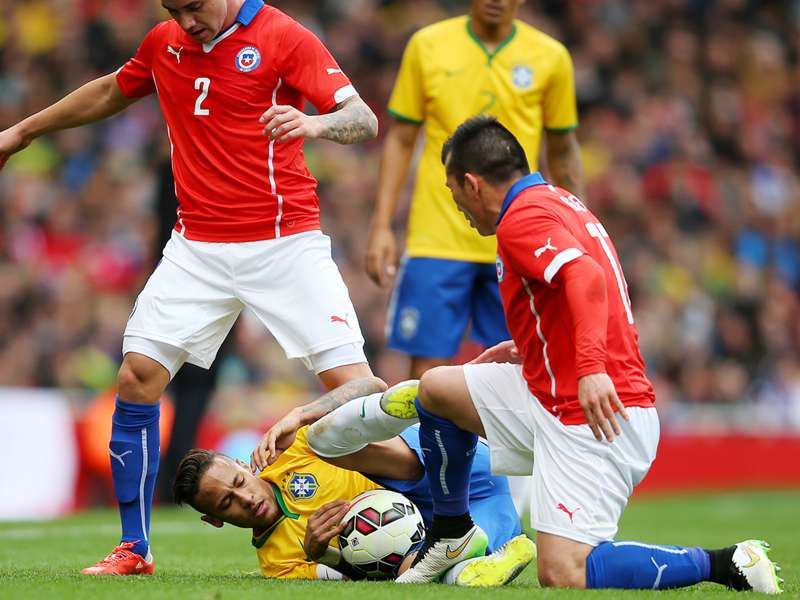 Neymar accused Chile of employing "UFC" tactics after he was on the end of some rough treatment during Brazil's 1-0 friendly victory at the Emirates Stadium.
Roberto Firmino's 72nd minute strike was enough for the Selecao to extend their winning streak to eight matches, but the major talking point was Gary Medel's stamp on Neymar.
The Inter midfielder appeared to tread on the Barcelona star during a first half altercation, but escaped without caution, much to Neymar's dismay.
"This wasn't a game of football," he said. "It's meant to be football not UFC. The referee is there to stop these things from happening, but there were four referees and none of them saw anything!
"It seems we have to suffer. I am a sufferer!"
Medel, meanwhile, rejected the post-match protests of the 23-year-old in a scathing response on Twitter, in which he accused him of "theatre".
"Tackles are normal in a game. Some players do theatre, others play football ... it's a pity that not everyone gets on with the game."
The victory means Brazil boss Dunga has won every game since taking over from Luiz Felipe Scolari following last summer's World Cup.