Brazil international Luiz Adriano says he was delighted to find a family atmosphere in the squad when he arrived to make his international debut in the November leg of the Brasil Global Tour.
Former coach Luiz Felipe Scolari's 2002 World Cup-winners were famously referred to as the the 'Scolari family' after marching to glory in Japan and South Korea 12 years ago.
And the 27-year-old believes that feel-good atmosphere has returned to the camp under new coach Dunga, saying he was humbled by the reception he received from his new colleagues.
"The guys received me well, congratulated me, and told me to stay calm and these things could happen again," he told the
official Copa America website
.
"Everyone said they were there to support and help me. There it is a family, and everyone was very supportive."
The former Internacional striker went on to reveal he underwent the infamous initiation process of standing up in front of the group and singing a song.
"Oh! I had to do it, yes (laughs). I was very nervous, I'm very shy. I had to make a speech and sing a song by Fundo de Quintal, but it was pretty cool."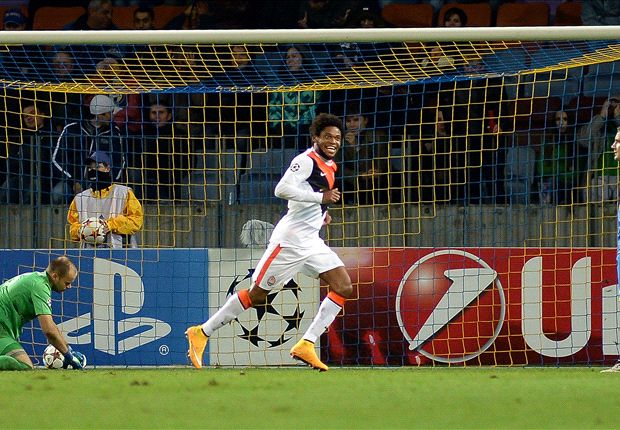 Champions League hotshot | Luiz Adriano hit nine goals in the group stage
The Shakhtar Donetsk forward earned his first senior international caps in the victories over Turkey and Austria last year after a prolific year in Ukraine which has left him as the Champions League's top goalscorer with nine goals in the group stage.
Some said his call-up was long overdue, suggesting his decision to leave Brazilian football after just one season in Porto Alegre had left him with little support back home, but Luiz Adriano says he has no regrets.
"I left for Shakhtar at the right time, I attained new goals and reached new achievements," he said.
"In Ukraine, I also experienced a new culture, therefore it was very important for the growth of my football.
"At Internacional, I won the world title which will go down in club history since it's the most important title, even more due to a victory over Barcelona.
"For me it was great to have gone to Shakhtar and earn what I have today."
The six-time Ukrainian league winner is now hoping to retain his place in the squad ahead of June's Copa America in Chile.
Following the disappointment of a World Cup semi-final defeat to Germany on home soil, the pressure is on for coach Dunga to return the Selecao to their former glory – but Luiz Adriano is unperturbed by the expectations on the squad following six consecutive Brasil Global Tour victoires.
"The Brazilian national team always has pressure because we have high-quality players, the best. Everyone expects the Selecao to play good football and to always win.
"When it comes to the Selecao, you have to have victory. This is a good form of pressure. Players like it, which is important."