Few outside of Brazil will remember Carlos Dunga's tenure as Selecao coach with much fondness. For the purists, his pragmatic policy with emphasis on being robust in defence is about as far as one can be from the stereotypical 'samba-style' football that Brazil 'should' play. Until now, no one can argue with its success.
Dunga has now released his 23-man squad for the World Cup in South Africa, and scrutiny is being cast on his choices. Pragmatic football is fine and well if it results in a trophy being lifted at the end of the tournament, and there is no doubt that his roster contains numerous champions. Arguments exist for labelling Julio Cesar as the best goalkeeper in the world, while Brazil have the two best right-backs on the planet in Maicon and Daniel Alves.
Lucio, Juan and Thiago Silva are all fine defenders, but it is looking further up the pitch where question marks begin to appear. Luis Fabiano will lead the line in South Africa ahead of Kaka, who has been well below his best for Real Madrid this year, Robinho, who has been playing at little more than a schoolboy level in the Campeonato Paulista since signing on loan for Santos, and Benfica's Ramires.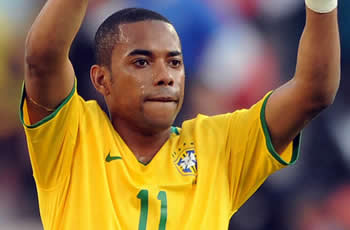 More pressing than who is in the squad is who is not in it though. The name that football fans around the world will be searching for in the list is that of Ronaldinho, but the AC Milan star is absent along with his team-mate Alexandre Pato. According to
Goal.com Brazil
's Andre Baibich, "[Dunga] wasn't satisfied with Pato and Ronaldinho in the Olympic Games" and has consequently omitted the duo.
While their underwhelming performances in the 2008 Olympics did the pair no favours, it is no secret that Dunga has his favourites - and those that he does not favour. Ronaldinho, who once allegedly left a party at 11am the following morning hidden in the boot of a car following an international against Ecuador, falls into the latter category. A recent survey in
O Globo
newspaper revealed that the vast majority of Brazilians were in favour of Ronaldinho returning to the national team following his resurgence with the Rossoneri this term, but Dunga has been unmoved.
As a result, Ronaldinho is the stick with which Dunga will be beaten if Brazil fail in South Africa. Serie A fans have been enraptured and delighted with some of the former Barcelona man's performances this season; the familiar smile has returned to his face as he prospers under Leonardo, and some have even said that he is back to his best. While that is a matter for conjecture, few can argue that he has been one of Milan's - and Serie A's - standout players this season. Almost any other coach would be falling over himself to include him in their team.
However, Robinho is the current occupant of the berth on Brazil's left wing and unlike Ronaldinho holds the complete trust of Dunga. Many of the 26-year-old's 73 caps have come under the Selecao's current coach - of the 23-man World Cup squad, only Lucio, Gilberto Silva and Kaka have more caps than Robinho - and Dunga's insistence on invariably utilising the Santos winger rather than the revitalised Ronaldinho in recent matches was sadly the precursor to the announcement today.
Dunga is renowned for sticking to his principles and ensuring that his squad is built on a solid foundation. As Andre Baibich points out, "Dunga called up the players that he trusts and that have played with him throughout these four years." The exclusion of promising youngsters Neymar and Paulo Henrique is therefore self-explanatory.
Unfortunately for Pato, he has neither the international experience - only eight caps - nor the defensive discipline in his game for Dunga to justify selecting him. Pato would certainly provide an injection of pace and dynamism to the attack, as Neymar would, but Dunga insists that even his attacking players commit themselves to their defensive responsibilities. Milan fans will testify that this is not one of Pato's strong points.
For all of Dunga's loyalty to his players and determination to keep the squad that took him through the World Cup qualifiers and to Confederations Cup glory together, questions about the absentees will continue to be raised until the Selecao's World Cup campaign kicks off against North Korea on June 15.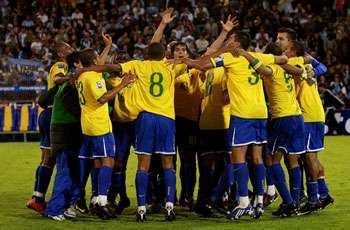 Brazil will be glad that the attacking forces of many teams around the world appear to be as impotent as their own. The forwards of England, Italy and France will strike little fear into the Selecao's almost impregnable backline, but will Dunga come to regret leaving out the exciting talent of the relatively unknown Neymar, the experience of the great Ronaldo or the magic of Ronaldinho?
Dunga plays a dangerous game by omitting such luminaries of Brazilian football at the expense of Grafite and Julio Baptista. World Cup glory will have to follow if such a decision is to be justified.
Become a fan of Goal.com International on Facebook! Just click onto
Facebook.com/Goal
to joint he beautiful game's leading fan community...