EXTRA TIME
Times Square became the third venue to be struck by mysterious signs and symbols this week when a series of unidentified images flashed on the commercial intersection's digital billboards.
Witnesses reported seeing a sequence of blinking lights and streaming codes on Tuesday night that left New Yorkers scratching their heads at just what they were watching.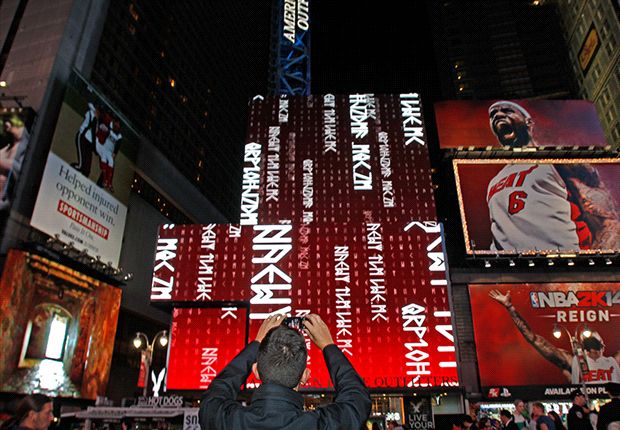 Strange symbols | The mysterious shapes stand out next to the advertisements
Alongside advertising for animated film characters and basketball stars, an electronic billboard suddenly revealed the illuminated image of a giant circle with a football shape carved into the centre. The hashtag #WINNERTAKESEARTH soon followed.
"The images reminded me of a science-fiction movie," said bemused Dutch tourist Michael Stupp from Rotterdam.
Andrea Costa from Mexico added: "At first I thought it had something to do with computers because of the glitches and the codes, but then when you see the football sign and the hashtag you start opening up your mind and asking who is out there trying to challenge us."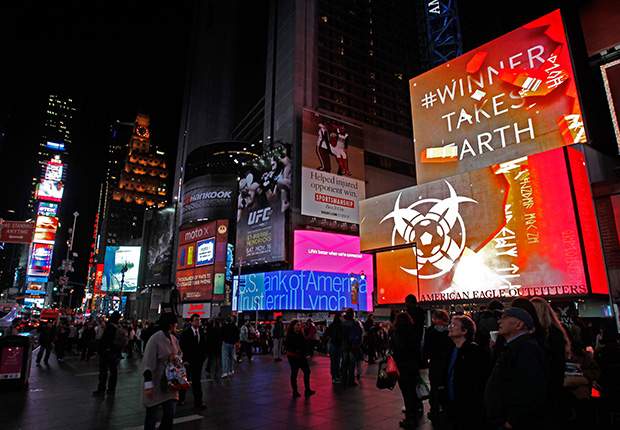 Sign of the Times | Baffled onlookers watch the cryptic messages in New York
On Sunday a mysterious hologram of the same symbol was projected on Rio de Janeiro's Sugarloaf mountain, while London sports venue Hackney Marshes was gouged by a three-metre football the following day. The hashtag #WINNERTAKESEARTH was spotted at all three venues.