Tottenham Hotspur
Manchester United target Dier is worth more to Tottenham than £50m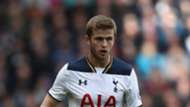 ---
COMMENT
---
Eric Dier continues to be linked with a move from Tottenham to Manchester United this summer. Spurs chairman Daniel Levy takes a particularly hard-line stance when it comes to transfers - the sales of Dimitar Berbatov and Michael Carrick to United were protracted affairs - and is understood to have placed a value of around £50 million on the England international.
However, in today's market, that appears to be exceptional value for a player who has excelled in both defensive midfield and central defence. As such, Tottenham would do well to revise their valuation, as Dier is one of the most grossly underappreciated players in the Premier League right now.
Ronaldo doing what he does best
Neil Custis, a journalist for The Sun newspaper, claimed on Radio Five Live recently that Dier had been "led to believe he is better than he is". This came after a display against France where the Three Lions were beaten 3-2, despite Les Blues being reduced to 10 men.
Dier was overrun but, on the night in questioned, he had been supported by Alex Oxlade-Chamberlain, a winger, and Dele Alli, a No.10, so it was unsurprising that Paul Pogba and N'Golo Kante won the battle for midfield supremacy.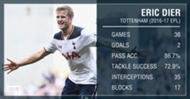 Assessing one's value on international performances is a folly. Frank Lampard and Steven Gerrard would be seen as average midfield players if England displays were used as a barometer. Ditto Michael Owen, John Terry, Rio Ferdinand and Ashley Cole. In fact, even Harry Kane would be widely seen as a lumbering striker if Euro 2016 was used to assess his abilities.
Dier is far more effective in Tottenham's cohesive unit. Deployed alongside Mousa Dembele at White Hart Lane, he greases the wheels of Spurs' attacks, showing off his remarkable ability to both win the ball cleanly and distribute it effectively, either to the wings or through the middle, to Kane.
Mauricio Pochettino, a manager who covets multifunctional players and those willing to go above and beyond for the cause, adores Dier. He missed just two Premier League games in 2016-17, a 2-1 win over Middlesbrough and a 1-0 loss to Manchester United.
"I think that together we created a new style of player," the Spurs boss enthused in May. "He can play different roles.
'It's fantastic, that flexibility he provides with his quality for the team. He's been a fantastic signing for the club."
The work done by Dier is unspectacular but that does not, and should not, decrease his value to Tottenham. In 36 games for Spurs, Dier has more successful passes (1656) than Christian Eriksen (1541), Dembele (1345) and Alli (1053), with an 86.7 per cent accuracy – only worse than that of the Belgian, who boasts an impressive 92%.
Dier's defensive stats are equally as impressive; his 35 interceptions top the superb Toby Alderweireld, who has just 26, while he has blocked just four less shots than the Belgian – 17 to 21.
Only two Manchester United players – Paul Pogba and Ander Herrera – boast more successful passes than Dier. Only Eric Bailly and Herrera have more interceptions.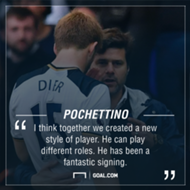 Dier would slot seamlessly into United's starting XI but he does not boast the 'Galactico' quality the Red Devils so desperately crave. Cristiano Ronaldo is flirting with his former club, while Andrea Belotti, of Torino, and Alvaro Morata, of Real Madrid, are reportedly targets.
Dier is not the kind of player to barrel into a new club and immediately grab headlines. After all, Spurs secured his signature for just £4m from Sporting Lisbon in 2014 and he has since gone about his business quietly but effectively.
He is a Premier League centurion, and is captain material at both club and international level.
In recent weeks, we have seen Jordan Pickford – a goalkeeper with one full Premier League season under his belt – move to Everton for £30m, while reports continue to circulate suggesting that both City and United could spend as much as £500m this summer.
Securing Dier for a fee of £50m would be something of a bargain for United, but he is indispensable for Spurs, and they would dearly regret letting him go.
While United would be securing a superbly talented player, Spurs would be losing one like no other.