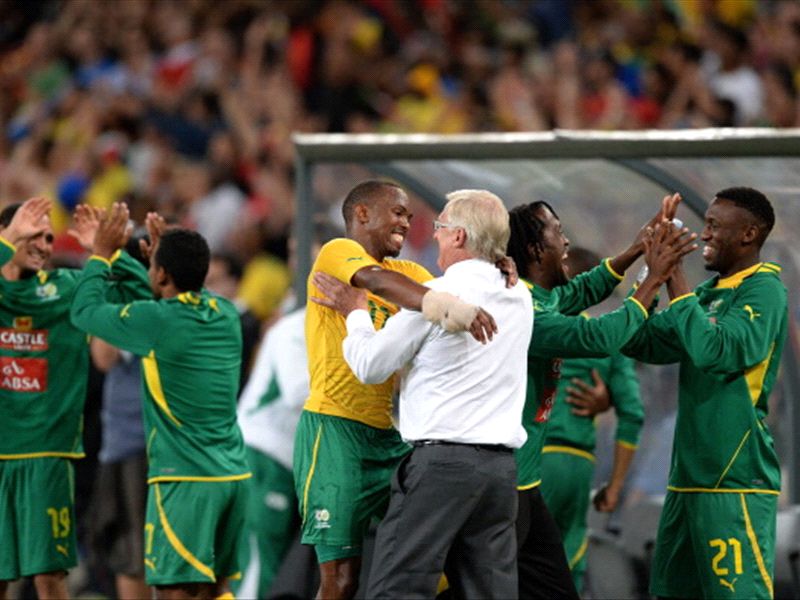 South Africa
are set to lose the Fifa world ranking points accrued in beating
Spain
on Tuesday because of an illegal substitution during the sides' friendly fixture in Johannesburg.
The two nations had agreed on a maximum of six replacements each, but Vicente del Bosque had used up all of his changes when goalkeeper Victor Valdes went down injured after 76 minutes.
Right-back Alvaro Arbeloa went in goal initially, but Spain soon sent on Pepe Reina - despite the protests of
Bafana
boss Gordon Igesund.
"The Spanish players asked me if I minded and I told them to ask the referee," the South Africa coach told reporters afterwards.
For his part, Del Bosque explained: "It was all about fair play. I am normally cautious with the last change but I wanted to give [Andres] Iniesta a rest. We asked to make the substitution and were given the thumbs up."
The home side held on to win the game 1-0 thanks to Bernard Parker's 56th-minute strike, but will miss out on the precious points that would have boosted their world ranking position because the game is set to be declared null and void by Fifa.
South Africa are currently ranked joint 61st in the world and were set to earn around 500 ranking points for victory over the world champions. Ranking points are used by the game's governing body when deciding seedings for major tournaments.
Fifa are yet to make an official announcement, but their website has removed the result from its 'points calculator' section. All other nations that played on this Fifa date have their matches listed.