NETHERLANDS
Stekelenburg: 7 -
Didn't have anything to do really and although he conceded the early goal, he shouldn't be put held to blame.
Van Der Wiel: 7.5 -
Combined perfectly with Dirk Kuyt on the right in the first half and also whipped in numerous crosses into the Hungarian penalty area. He was strong at the back, too.
Heitinga: 7 -
Didn't have much defending to do in central defence today but he did make a good clearance with a header from a cross in the 38th minute.
Mathijsen: 7 -
Like his fellow central defender, Heitinga, he didn't really have to do much but did snuff off any dim threat of a Hungarian attack.
Van Bronckhorst: 7.5 -
Played important roles in two second half goals. He was perhaps guilty for the Hungarian goal but from then on Van Bronckhorst was a gem, playing brilliantly on the left side and carving in cross after cross.
Van Bommel: 7.5 -
Scored a wonderful goal in the 72nd minute and had a brilliant game in central midfield too.
De Jong: 7 -
Like Van Bommel had a good game protecting the backfour and linking up with his team-mates, allowing the more attack-minded players to do the tricks upfront.
Kuyt: 8 -
Played only for the first 45 minutes but he was terrific. It was his assist that led to Robin Van Persie's goal; the Liverpool midfielder's tireless runs along the right flank and his sharply chiselled crosses made life difficult for the Hungarian defenders.
Sneijder: 7 -
Scored a good goal and should have scored another when he was teed up by Van Persie early in the second half. Sneijder didn't look very creative down the middle but he still had an encouraging match.
Van der Vaart: 6 -
The Real Madrid midfielder started on the left and couldn't make much of it. He became slightly more lively in the second session but he had a pretty average game today.
Van Persie: 7 -
Scored a well-crafted goal in the first half, came close on many occasions. Van Persie started as the lone striker upfront for the Netherlands but his movements, class and finishing make him a superb all-round striker.
Substitutes:
Robben: 9 -
Scored two goals - the second one was a stunner - and also played a major role in Van Bommel's strike. He expressed his class right from the time he came on and made a few attempts on goal on his own too. However, the Bayern Munich winger suffered a late injury.
Ooijer: 7 -
Came on for Heitinga on the hour mark but didn't have to do nothing much.
Huntelaar: 6 -
Came on for Van Persie for the final 20 or so minutes, but didn't get into the game.
Elia: 8 -
Scored arguably the goal of the afternoon after coming on as a substitute a minute earlier. Elia got past three players on the left side to fire in his side's fifth goal.

De Zeeuw: N/A

Afellay: N/A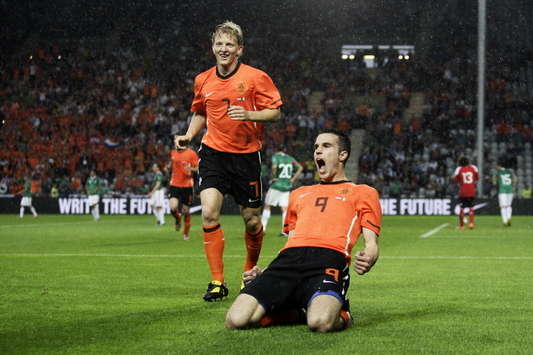 HUNGARY

Fulop: 6 -
Made a few good saves and looked to be one of the two players in the Hungarian side who was up for the match. He conceded six but his defenders let him down.
Bodnar: 4.5 -
Floated in a good cross late in the first half and was trying to push back the Dutch attackers.
Vanczakr: 3 -
Had a terrible time battling against the Dutch midfield and attack.
Horvath: 3 -
Did no better than the rest of his teammates.

Bodor: 4 -
Made one or two good challenges.
Szelesi: 4 -
Was hardly seen in the match and didn't add anything to the game.
Juhaszr: 4 -
He was late in his challenges at times and left Van Persie unmarked for the first goal. However, he did try to battle after that.
Dzudzsak: 6.5 -
The only outfield player for Hungary who did something of note. His goal was breathtaking and he was giving his best to create something for his team, but without any support, he was lost.
Huszti: 4 -
Was blown away by the quality of the Dutch midfield and attack. Also, was taken for a ride by Van der Wiel and Kuyt for the first goal.
Torgheller: 4.5 -
Looked to be trying to do something concrete in the first half but except on a couple of occasions, looked lost.
Priskin: 3 -
He was hardly seen in the game as he was lost on his own.
Substitutes:
Elek: 4 -
Did nothing much of note.
Lazok: 4 -
Another second half substitute who looked clueless right from the start.
Laczko: N/A
Vadocz: N/A
Become a fan of Goal.com UK's Facebook fan page for all the latest news and insight into everything related to the beautiful game!