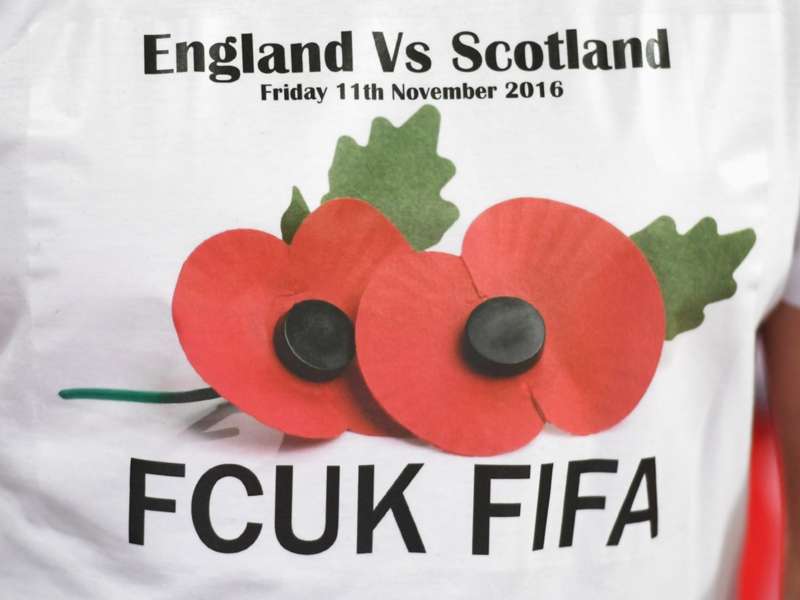 Football fans across the United Kingdom are in outrage following the news that England, Scotland, Northern Ireland and Wales have been fined for 'displaying political symbols' during World Cup qualifiers on Remembrance Day.
Black armbands featuring poppies were worn by both sides at England took on Scotland at Wembley in November, while Northern Ireland donned black armbands to commemorate Armistice Day.
Wales' team avoided wearing any symbols on the pitch, but were still fined due to fans in the stand wearing poppies.
Naturally, people are not happy.
What poppycock.

— Gary Lineker (@GaryLineker) December 19, 2016
I think it's disgraceful that @England have been fined over £35,000 for wearing a poppy in remembrance of the real heroes of the world.

— Joshua Kerr (@JoshuaKerr10) December 19, 2016
@fifamedia @FIFAcom what a joke you are! The poppy is a symbol of remembrance! You should be ashamed! @FA #FIFA #England

— Chris Lundy (@Lundy5586) December 19, 2016
Questions are also being asked over the severity of the fine compared to other, more serious misconducts.
England's poppy fine is greater than those fined for 'unsporting conduct by fans inc. homophobic chants'.

Right.https://t.co/AcNFaaNh1k

— Michael Hincks (@MichaelHincks) December 19, 2016
Racism by fans = £10,000 fine
Respecting the dead with a poppy = £40,000 fine
Something not right there.

— Nathan Storey (@NathanrbStorey) December 19, 2016
While others are slamming the nerve of a historically corrupt governing body.
@FIFAcom I wore a poppy, are you going to fine ME as well? HYPOCRITES!!!!

Sorry, but I dont intend to BRIBE you!!

— Dave Wragg (@alchemist2k9) December 19, 2016
so one of the worlds most corrupt organisations are fining the FA £35k for @England wearing the poppy on there shirts v Scotland #disgrace

— Darrel Bryant (@darrel_bryant) December 19, 2016
Fifa fined England Wales &Scotland I'm sure that's paid for their Christmas party! #justsaying #poppy #remember #fifa #Ridiculousness

— Diane Hambley (@HambleyDiane) December 19, 2016
Elsewhere, people are defiant and happy to fork out the fee.
i would pay double to show my support to the poppy.. i applaud england team for showing their support...

— lynn chambers (@lynn_chambers66) December 19, 2016
@FIFAcom @England So FIFA fine England for wearing the poppy against Scotland £35,000 worth every penny

— Robert Eaton (@Robbyeaton) December 19, 2016
England Only got 35k fine for the Poppy's ...bargain lets do it every year now

— Andy catanach (@AndyCatanach) December 19, 2016
And someone has a plan to shove it to the man.
The FA fined £35,000 for England wearing Poppy's...ridiculous

Please pay this fine in 1p coins with a Poppy attached!

RT!

— Josh Wright (@joshylfcwright) December 19, 2016